Valvhalla Also This Month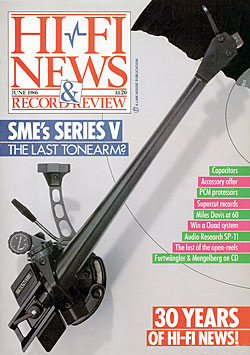 Also in HFN this month in 1986
30 YEARS OF HI-FI NEWS
John Atkinson, Donald Aldous, Stanley Kelly, John Crabbe and Christopher Breunig look back over 360 issues of HFN.

THE BASSET 16
Trevor Attewell concludes his ultimate DIY subwoofer project.

BI-WIRING
Martin Colloms experiments with loudspeaker connections.

SME SERIES V
Is this 'the best tonearm in the world'? Martin Colloms reviews the latest offering from SME.

THREE PCM PROCESSORS
Martin Colloms assesses the Sansui PC-X11 Tricode, Sony PCM 501 and JVC VP-100BPS.

REEL TO REAL
Ken Kessler takes TEAC's X-2000 open-reel recorder on safari.

THE ANACHROPHILE
Bert Edwards and John Atkinson reminisce over a classic valve tape recorder – the Revox G36.

BACK DOOR
Miles Davis at 60... Steve Harris celebrates the jazz icon's career.

FURTWANGLER & MENGELBURG
Christopher Breunig examines their repertoire on CD.