Two Konnektikut Yankees Also In HFN This Month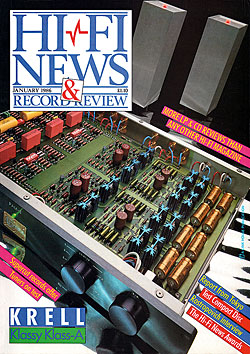 Also In HFN This Month In 1986
LETTER FROM JAPAN
John Atkinson reports from the 1985 Tokyo Audio Fair.
DYNAMICS and DECIBELS
John Crabbe describes how the test signals on the HFN/RR test CD can be used to measure the dynamic range of music.
THE REAL STEREO STORY?
Barry Fox unearths the earliest stereo recordings.
SUPER-CUT RECORDS
Peter Herring takes a look at the Hi-Fi Today catalogue of LPs pressed by Nimbus.
FOUR TUNERS
Angus McKenzie reviews models from Japan and Canada: the Hitachi FT5500 Mkll, Magnum Dynalab FT101, Trio KT-990SDL and the Rotel RT-850L.
POT POURRI
Musings from Ken Kessler on the Merrill AR turntable modification kit and Sansui's DS-77 surround-sound processor.
WHAT'S IN A NAIM?
Christopher Breunig hears the new Naim 32.5 preamplifier.
STARTING POINT
Martin Colloms considers system optimisation choices at the £1000 level.