Thorens TD 202 Turntable Package Page 2
Ok, Computer
The USB output also proved refreshingly easy to use – my MacBook Pro immediately recognised the TD 202 as an audio device and I was soon recording with freely downloadable Audacity software. On the whole, my 44.1kHz/16-bit WAV rips gave an enjoyably clean sound that would be perfectly useable for portables or in the car.
I made nice enough recordings of some old Ian Dury singles, including 'What A Waste' [Stiff BUY27]. On tonally richer '70s cuts such as this, the inbuilt phono amp/USB's slightly over-crisp sound was offset nicely by the track's smooth balance. Although the digital renderings were not of archive quality, I was nonetheless impressed by how well this feature worked.
Returning to 'hi-fi mode' with the AT-95E's output routed direct to my Arcam phono stage, the TD 202's slightly lightweight sound was still both engaging and insightful. Sure, this is very much a budget turntable, but it's a decent one that gets the basics right – speed stability is excellent, rumble very low and the arm/cartridge tracks securely. By smartly sidestepping any of these elephant traps, this deck lets you enjoy the fundamentally pleasing sound of vinyl with more confidence than is typical with budget 'USB vinyl spinners'.
The cartridge helps here, for although the AT-95E is now officially discontinued, replaced by the AT-VM95E, it was a strong £40 contender. It has a light, slightly mid-forward sound with quite a lot of detail and a snappy rhythmic gait – and the TD 202 doesn't obscure these qualities, offering up the music with a goodly amount of get-up-and-go.
Music With A Smile
The essence of the TD 202 then is its cheery nature and general good manners. Feed it a snappy pop single from the good old days, like 'Walking On The Moon' by The Police [A&M Records; AMS7494], and you get a peppy sound that's generally clean and open. Arguably, it's a bit bass light by contemporary Rega and Pro-Ject standards but the deck never seems to stand in the way of musical fun.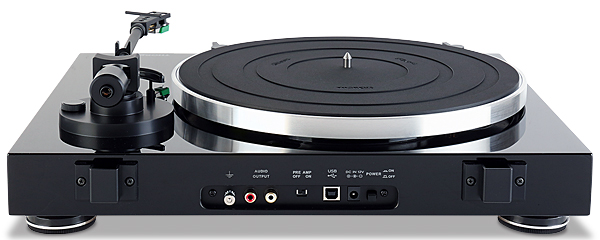 Instead of adding the unpleasant artefacts suffered by cheapo vinyl spinners – speed instability, poor tracking and noise – the sins of this turntable, such as they are, seem to be those of omission, a softening of very low-level detail, of precision and articulation. But a little fettling goes a long way... Bass, for example, can be optimised by very careful siting of the deck (I used a £250 Pro-Ject Ground-IT Deluxe platform) and also by the simple expedient of gently tightening up the cartridge mounting screws in the headshell.
In my sample they weren't as tight as they could be – as is so often the case – so a quick nip up gave more definition and greater low-end grip. This made for an enjoyable rendition of New Order's 1990 World Cup-inspired 'World In Motion' [Factory FAC293], where the TD 202 properly got to grips with the bass synthesiser. The treble, too, sounded a little crisper as the drum machine hi-hat punched through the pervading smoothness of the TD 202's top-end.
Vocal Strength
However, the midband is this deck's core strength. Rarely thrown off course here, even this modestly high energy indie dance music came over in a tidy if not exactly super-detailed fashion. I enjoyed the way that the lead vocal line appeared in the centre of the mix, with a very natural texture. I also liked the reproduction of the chiming keyboards too, which had plenty of energy and impetus.
It's only when you focus in on the 'hi-fi aspects' of the TD 202 that you become aware of its slight cloudiness. Soundstaging, for example, is also a bit narrower than the sort of three-dimensional experience you'd expect from a good mid-price design but while the TD 202 sounds a little shut in, in absolute terms, there's still plenty of music to take in and enjoy.
Vintage Classical
Classical music on vinyl often amazes me. One can get addicted to those silent backgrounds you get from digital sources, but then you go back to LP and this evergreen format delivers more than you were expecting! Even the TD 202, with its modest pretensions, gave more than a snapshot of the concert hall from my vintage pressing of A London Symphony by Vaughan Williams [HMV ASD 2740]. The music flowed well, the massed strings sounding vibrant and alive – tangible even – in a way that 'budget digital' often fails to deliver. Then again, Thorens is a resolutely 'analogue' brand.
Hi-Fi News Verdict
With its built-in phono stage and USB digital output, the feature-packed TD 202 turntable makes no claims to being a 'purist' product. Nevertheless, what it does, it does surprisingly well, offering an easy-to-set-up budget vinyl experience with cheery panache. Thorens offers costlier, and more 'minimalist' turntable solutions, of course, but as a carrot for up-and-coming audiophiles it'll be very tempting.