TechDAS Air Force III Premium Turntable Page 2
Using any TechDAS deck requires a ritual to which one soon becomes accustomed. The switch-on activates the air-bearing, while a separate button labelled 'Suction' draws the LP to the platter, and the process is swift. The preferred speed is then selected via the 33 or 45 buttons and the platter begins to rotate. Thanks to its great mass, getting up to speed takes a few seconds, but the digital display shows 'Locked' when this is achieved to two decimal places. Conversely, when the stop button is pressed – holding it down for a few seconds actually switches the unit into standby mode – it takes a while for the platter to stop rotating. Press the suction button once more and the LP is then freed of its vacuum hold-down.

Take To The Skies
Fitted with the Graham Phantom Elite tonearm and TechDAS TC01 Ti MC cartridge [HFN Sep '14], the III Premium immediately demonstrated the sort of prowess that lets you know you're in the presence of a true high-end performer. The revelation was instantaneous, the sound of the Crew Cuts' Surprise Package [RCA Living Stereo LSP-1933] filling the space in front of me while exhibiting so much air and atmosphere I almost failed to recognise my own familiar system.
Yes, it was that substantial a gain in performance. I have many hundreds of hours on my Audio Research REF6/REF75SE electronics through Wilson Audio Yvettes [HFN Feb '17]. Surprises are rare, but this time? The only alterations I can name that show similar degrees of difference are alternative loudspeakers, even within brands.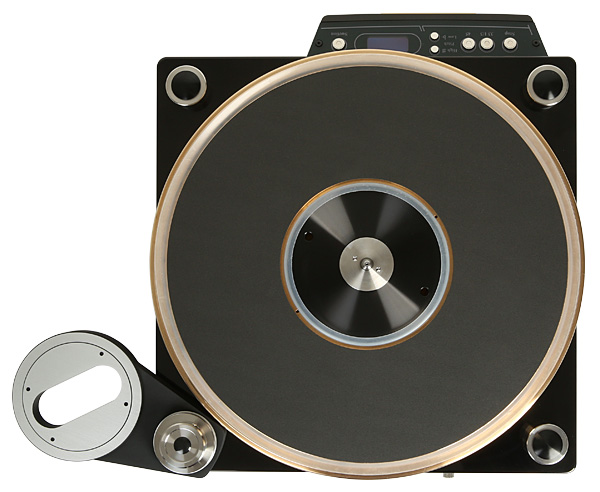 Crew Cuts recordings are all about harmonising, but the performances aren't a capella. Instead, they are backed by an orchestra comprised of the finest musicians of the day, and the brass, vibes and percussion simply resonate throughout the room with such natural, convincing presence that one can only marvel at the skills of the engineers working 60 years ago. What the III Premium extracted from my admittedly-mint copy was more bloom, more ambience and more realism than anything short of high-speed, half-track tapes. Punch, attack, speed – it left me breathless.
Perfectly Formed
Members of the Living Stereo cult will know that the LPs under that imprint make almost any system sound silky, sexy and superior, so I turned to an album some analogue purists find a mite brittle, due to its digital origins. Telarc's Romeo & Juliet/Nutcracker Suite [DG-10068], performed by Loren Maazel and the Cleveland Orchestra, was so free of fatigue-inducing artefacts that I had to question my own prejudices.
Like the Crew Cuts LP, the Telarc recording possessed space and scale so perfectly formed that the audiophilic goal of 'disappearing speakers' was repeated and maintained. Stage depth and width were cavernous, individual sounds located precisely as they should be, with an uncanny freedom from any constraints that might be attributed to speaker location. The Wilson Yvettes simply vanished.
Even monophonic LPs had body in complete denial of their single-channel, dead-central nature. Peter & Gordon's I Don't Want To See You Again [Capitol T2220] completely avoided the thinness I often associated with the recordings, a discernible richness characterising the sound. As with the Crew Cuts, this duo enjoyed the privilege of the best available studio musicians, and both the title track and 'Nobody I Know' proved as revelatory as those opening moments.
How so? This pair of Lennon-McCartney compositions – both Top 20 hits in the USA when I was a lad of 12 – are as familiar as any tunes I can name. But here I was, 55 years later, hearing details previously obscured or unrecovered. The experience was a gift of incalculable value, like tasting a favourite food as if it was the first time. Thrilling? That's the best way to describe the sensations provided by this most capable, commanding and coherent of LP spinners. The One and Two may deliver a tad more weight, but, in my system, my room, well… I have never heard better.
Hi-Fi News Verdict
Instead of incremental gains, the TechDAS Air Force III Premium produced a level of improvement in LP playback in my system that I found to be nothing short of breathtaking. Detail, clarity, transparency, voices so natural-sounding that I was reminded more of tape than vinyl: this deck is a total triumph, a maestro of scale and presence. Just don't stroke and fondle it too much: gloss black loves fingerprints!