T+A M 40 HV power amplifier Page 2
The power mode (on/off/auto) is selected by the larger of the two front-panel controls, while the smaller one switches the speakers on and off with a short press. Longer presses cycle through the four modes of the LED-bar meter above it. You can also have the meter bouncing away in fast mode, showing a slower average value with or without peak hold, or turn it off. The lower half of this LED array acts as a status indicator, with tell-tales for bi-amping, high current mode, a fault, speaker output and power, with an additional marker for the auto power-switching mode. The speaker indicator flashes during the amp's power-on procedure and also should the protection circuitry ever be triggered.

Crashing Dynamics
Connected between a dCS Vivaldi One [HFN Feb '18], as DAC/preamp, and B&W 800 D3 speakers [HFN Oct '16] in editor PM's listening room, the M 40 HV amps certainly sounded powerful and capable of controlling the speakers exceptionally well when running in what might be considered their 'standard' High Power mode. After all, if you're spending so much money on a pair of 550W amps, why wouldn't you want to have all of those watts at your disposal?
Well, there's an answer for that one, as in this mode the M 40 HVs do so many things right, including going as loud as anyone sane could want without a hint of effort, and crashing out dynamics in truly thrilling fashion – and yet, they do all this while managing to sound, well, just a tad anonymous and uninvolving. 'Technical' said one of the notes I made while listening, and that didn't make for an entirely satisfying musical experience as timbres were a bit parched, and soundstage images layered more in the manner of a relief map than as an organic whole.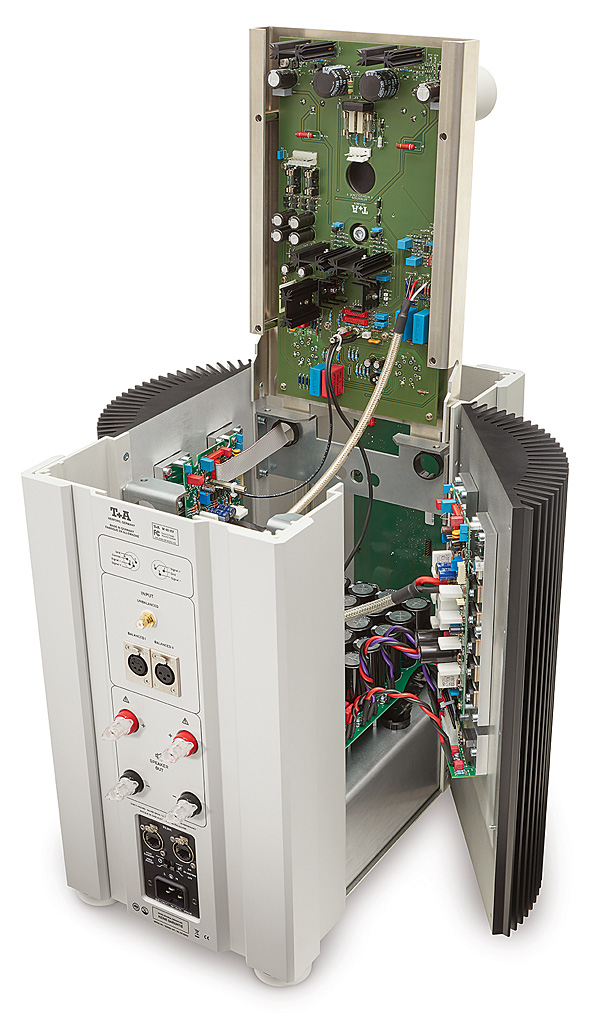 Flipping the rear-panel switch to High Current changes all that. T+A describes what it does as halving the operating voltage of the output stages when in High Power, while more than doubling their idle current, meaning 'the current amplifiers… generate up to about 60W in Class A mode'. Yes, this does reduce the maximum output power of the amplifiers, as PM explains in his Sidebar and Lab Report, but it does have an effect on the sound of the amps one can only really describe as 'transformative'. It's almost like turning on the 'music' switch, as the sound occupies the room, becoming richer and more detailed, instruments and voices filling out and the sonic pictures turning into something seamless, well-delineated and entirely natural.
Light Touch
With the title track from Kate & Anna McGarrigle's Dancer With Bruised Knees [Warner Bros K56356; 96kHz/24-bit], the light touch of the power amplifiers is much in evidence. The character of the two voices shines through, while the rhythms of the band are tight and well-defined against a warm, enveloping acoustic.
It's an enchanting sound, combining involvement and total ease of listening, and this ability carries through to whatever you choose to play. Switch pace to the slam of Muse's 'Psycho', from the Drones album [Warner Bros; 96kHz/24-bit], and what was hard-hitting but a little brittle in High Power mode suddenly becomes huge and swaggersome, just as it should be.
The same was true of 'April In Paris', from the Count Basie Orchestra's Basie Is Back – Live In Japan [Eighty-Eights/Concord Records 0888072493520]. Here, what sounded nice and tight became a plausibly live experience, with a real sense of the presence of the audience and a lovely lushness to the brass that was hard to resist.
Heart Thumping
Not that this means the M 40 HV amps can't play hardball. Following a brief diversion via Claire Martin's take on 'The Man Who Sold The World', with its lovely rosiny snap to the accompanying cellos [from Time And Place, Linn Records AKD 423; 192kHz/24-bit], I moved on to the serious thunder of Portland Taiko's Big Bang album [Portland Taiko 2]. I was immediately revelling in the way the thwack of wood on skin, and the resonance decaying inside the shell of the drums, was conveyed – not to mention the way the initial impact shook the room. It's glorious, and more than a little heart-thumping!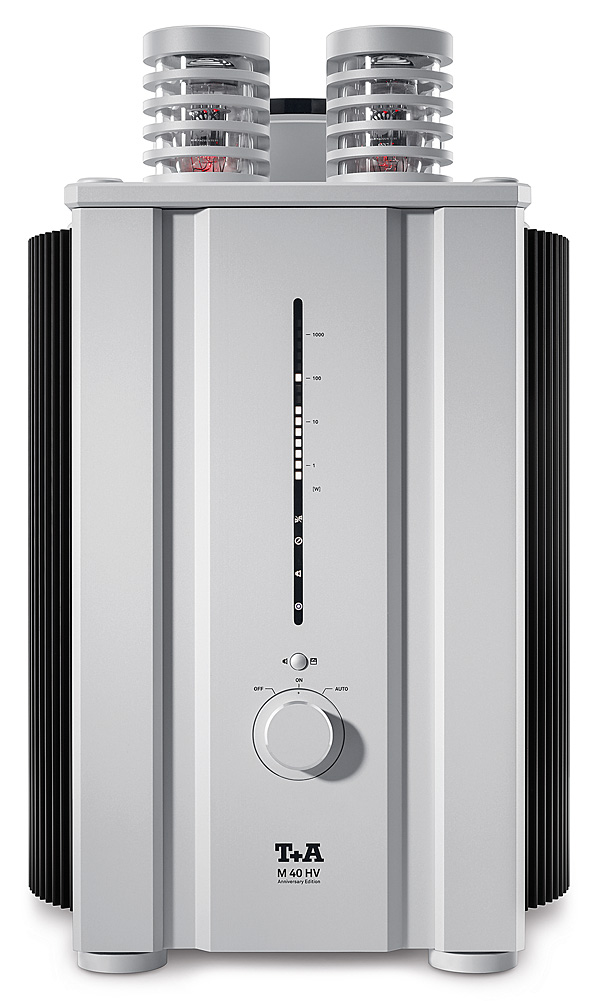 I finally unleashed the M 40 HV amps on Gustavo Dudamel's disc of Wagner highlights [Qobuz; 48kHz/24-bit], his Simon Bolivar Symphony Orchestra of Venezuela on sparkling form in a massive reading of Siegfried's 'Funeral Music' from Act III of Götterdämmerung. The sheer attack and drama was beyond reproach, but what impressed most was the shiver-inducing instrumental detail.
This was a perfect demonstration of performance enhancing musical enjoyment, and revealed what makes these anniversary amps so special. And after all, you can always go back to High Power mode if you want to party!
Hi-Fi News Verdict
Very much an amp of two halves, the M 40 HV 'Anniversary' is impressive, if a little mechanical, when used in High Power mode, but takes on both humanity and magic when running in High Current, with a gorgeously rich and natural sound across a wide range of musical genres. Stick to 'HC' and these amps are going to delight when driving high quality speakers – and yes, there's still more than enough power.