T+A DAC 200/A 200 DAC/Preamp & Power Amp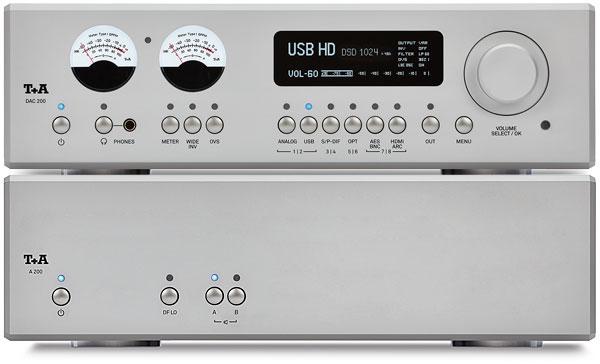 Now a full quartet, T+A's compact but beautifully formed Series 200 has expanded to include a media player, DAC/preamp and Purifi Eigentakt Class D stereo power amp
Siegfried Amft, founder and MD of T+A, declares the intent of the brand's Series 200 is to 'combine the appearance of a Midi system with a high-end performance'. Midi, of course, is a word that evokes memories of 1980s/'90s hi-fi, so I'm surprised to see the term attached to a range that's rather more aspirational in its technology. You might think something has been lost in translation, T+A being a German manufacturer, until you lay eyes on the DAC 200 and its button-heavy compact chassis. From the appearance side, at least, the 'Midi' mission has been accomplished.
This £4990 DAC/preamp is one of three new models in T+A's Series 200, alongside the £3490 A 200 power amp and, to be reviewed anon, the £3990 MP 200 'multi-source player' (CD, network, radio, Bluetooth, etc). Nearly two years ago the range launched with the £6600 HA 200 headphone amp [HFN Aug '20], and that model's smart styling and exemplary build quality is maintained. All four Series 200 components are the same size and shape, 32cm wide and 10cm high, and offered in black or silver anodised aluminium.
Sibling Rivalry
Beginning with the new DAC, there's plenty of overlap between it and the headphone amplifier (not least the presence of a headphone output on the DAC 200 itself), and both have the same mix of superb flexibility tempered with one omission. Specifically, those Ethernet sockets that tease network playback only handle system control, and USB playback is solely from a computer/music library via USB-B (the USB-A socket is for charging an external device). Network/HDD playback features are the preserve of the MP 200, and likely the company is hoping that some customers will opt for a triple-model system of an A 200, DAC 200 and MP 200, for approximately £12,500.
A further similarity between the HA 200 and DAC 200 is the split LPCM/DSD processing, T+A opting for a separate 'two DACs in one box' approach. LPCM inputs up to 768kHz/32-bit are served by a quartet of Texas Instruments DACs while DSD sources are routed to T+A's custom 'True 1-bit DSD converter' for native delivery up to DSD1024/49MHz (via a Windows PC running an installed driver; for Mac users, the USB-B input maxes out at DSD256). The DAC also brings a six-strong lineup of digital filters and a proprietary 'De-Jitter Masterclock'. The latter is a microprocessor-driven, multi-stage approach that combines precision 44.1kHz- and 48kHz-centric oscillators with a secondary PLL circuit to minimise timing errors before PCM conversion.
Purifi Power
Meanwhile, digital and analogue sections, including the power supplies, are galvanically separated by 'ultra-fast' isolators from Silicon Labs, while the Class A preamp section is fully discrete. Back panel inputs are – lack of networking accepted – comprehensive and include AES/EBU, optical and coaxial (BNC and RCA), and the aforementioned USB. There's also an analogue RCA input, in addition to balanced XLR and unbalanced RCA outputs. For £480, you can add a two-in, one-out HDMI board.
The second part of our system, the A 200 amplifier, is a balanced Class D design, utilising the Purifi Eigentakt technology debuted in NAD's M33 and C 298 models [HFN Aug '20 & Oct '21]. Power output is conservatively rated at 2x125W/8ohm. The amp modules work in conjunction with T+A's Intelligent Safe Control monitoring/protection, plus voltage stage circuitry trickled down from its flagship HV Series amps [HFN May '17].