Systemdek 3d Reference (£22,350)
A classic British name returns with a real heavyweight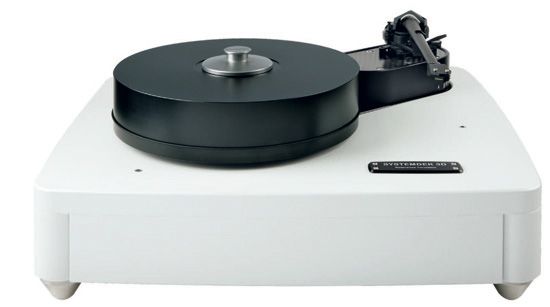 Systemdek is back, with two brand new decks for vinyl aficionados, both high-end designs. There's a tastylooking 3D Precision model and this go-for-broke 3D Reference.
Given its eye-watering price, it was bound to be a serious high-end statement. And it's a heavyweight piece of engineering indeed. The plinth is immaculately machined from a solid block of aluminium. And like Systemdeks of yore it's a suspended subchassis design employing a three-point sprung suspension with mass loading, each suspension point comprisingtwo springs working in tandem. Adjusting these to achieve precise levelling of the subchassis and platter relative to the plinth is simply achieved from above.
Levelling the plinth on its supporting shelf is surprisingly easy too, despite the massive weight of the structure, thanks to the deck's four stainless steel tip-toe-style feet rotating on fine-pitch threads. The armboard (made to order, for either 9in, 10in or 12in tonearms) and subchassis are made from a laminate of aluminium and carbon fibre, while the 70mmthick platter is machined from a black polymer material. The 3D Reference's substantial main bearing is a beautifully engineered magnetically opposed type with a highly polished 20mm shaft. Around it is a small Delrin sub-platter upon which the main platter rests.
A two-speed precision DC motor housed in polished stainless steel sits in a cutout at the rear of the plinth, and drives the platter via a round section belt. The finely adjustable speed controller is in a separate box milled from an aluminium billet, with a rotary selector at the front offering off/ 33.3/45rpm. The power supply itself is in a perfunctory housing designed to be tucked out of site.
POTENT PERFORMER
Systemdek supplied our review model fitted with a 12in SME Series V arm and Transfiguration's top-of-the-range Orpheus L movingcoil. We also fitted an Ortofon Cadenza Blue. This 3D Reference is a heavyweight not just in stature but in the character of its music delivery, projecting sound from the grooves with bold confidence and having a notably strong and dynamic midband presence.
Bass is incredibly punchy and weighty, if not the last word in speed and agility. The commanding low-frequency blows emanating from Jan Garbarek's 'Molde Canticle, Part 3' [ECM 1419] were highly potent. From soft to loud, the dynamic ebb and flow of the piece was mightily dramatic, the seismic wallops of Manu Katche's kick-drum sending shock waves down the length of the listening room to dramatic effect. This digital ECM recording can become uncomfortable, the strident saxophone taking on a hard edge via some replay systems, but not so here. Instead, the sound was quietly relaxed, 'easy' and comfortable – almost lazy in the manner in which crescendos were liberated with both authority and tranquility.
There wasn't much to choose between the two MCs as far as instrumental dynamics and transient definition were concerned, however the Transfiguration showed a marked increase in air and space, more vivid tonal colours, and a 'freshness' that it maintained right up to the highest frequencies. This only goes to show that the finest turntables and tonearms warrant equally fabulous pickups.
VERDICT
While its ebullient, wholesome bass doesn't always resolve the finest of texture and detail, this big Systemdek nevertheless seems to take everything it its stride, unfazed by genre, a sonic silk purse if ever there was one.

Originally published in the Yearbook 2011