State of the AR-T Also in HFN this month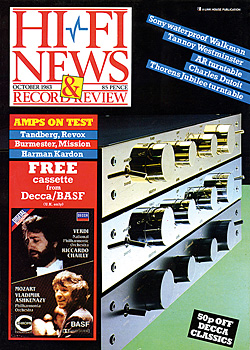 Also in HFN this month in 1983
ORTOFON DEVELOPMENTS
Ivor Humphreys reports from Denmark on its new range.
CLASSICAL GLASS
Ken Kessler on M-O valves and the classic Radford designs.
HOLOPHONICS
Barry Fox looks critically at Hugo Zuccarelli's ideas on the perception of sound.
SONY WALKMAN WM-F5
Martin Colloms takes Sony's pride and joy out for a road – and swimming pool – test.
UP-MARKET AMPLIFIERS
Martin Colloms looks at designs costing £250 plus – Mission's 778, Tandberg TIA 3012, Revox B251, the Burmester 785 pre and Sugden's P28 power amp.
THE JUBILEE LINE
Ken Kessler hears Thorens' centenary TD147 Jubilee deck.
PRIME MINSTER?
Paul Messenger reviews a pair of massive Tannoy horns.
NUGGETS
Alvin Gold on amplifiers from Creek, NAD and Harman Kardon.
THE ANACHROPHILE
Ken Kessler on the Harman Kardon Citation 12 power amp.