Sonus faber Electa Amator III Loudspeaker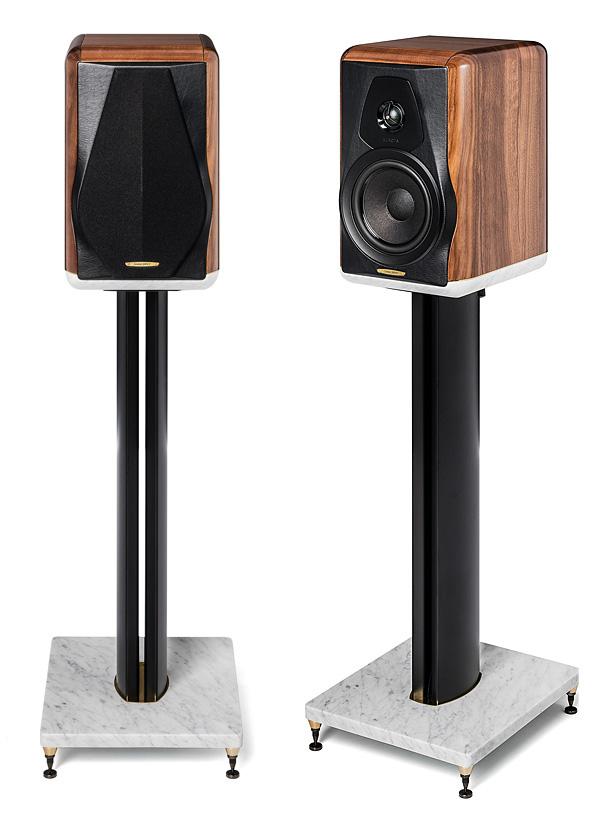 35 years on from Sonus faber's birth, a blessed return to the values on which it was founded: the Electa Amator III
Two blasts from the past in one month, both small two-way monitors, both with a massive presence in my hi-fi history, but so dissimilar that loving both seems like a case of schizophrenia. As with the LS3/5a, I have been a devotee of Sonus faber for over 30 years, though of late the passion has cooled. But something tells me that the company has again found its mojo, and the Electa Amator III is its herald.
It's a name that conjures up two illustrious predecessors, both of which raised the standards of the day and were drop-dead gorgeous. The 'III departs from its direct prequel of 1997, which had a rear-firing woofer à la the Extrema [HFN Jul '14] and sloped surfaces, in that it is a two-forward-facing-drivers affair, in a parallel-sided enclosure with an enormous rear port instead of a second woofer. Its £9000 price tag also includes the dedicated stands, which bolt to the speaker and complete the 'new/old' look, the marble baseplate referencing Sonus faber wood/marble stands of the past.
Wood Works
It's 'old' in a good way, then, a return to the Italian woodworking standards and materials that established the brand so quickly. One can only imagine what founder Franco Serblin might have created had panels been his passion. Anyway, the chief designers at Sonus faber – Livio Cucuzza, and veteran Paolo Tezzon – added a new twist: the underside is a slab of exquisite Carrara marble, matching the base of the pedestal.
Make no mistake, nine grand is a lot of dosh for a small two-way, even with stands included, but you soon realise that – like the models of the Serblin era – this can be regarded not just as a speaker but also as fine furniture or even sculpture, albeit in wood and marble rather than just the latter. With its teardrop grille, held in place by magnets, its sensuous curves, and a finish to make them drool at Heal's, the Electa Amator III justifies its tariff.
Bowled Over
Issued to mark the company's 35th anniversary – actually, last year – the loudspeaker is disconcertingly substantial for such a tidy package. Its dimensions are compact, a mere 375x235x360mm (hwd), the svelte stand a useful 720mm tall on a 300x350mm base, yet each cabinet weighs a chunky 14.6kg, which is even more than the stand's 9.5kg. Fitted to the leather-clad back is the aforementioned port, a rather impressive 100mm across and almost enough to swallow one's hand, above beautifully-adorned terminals.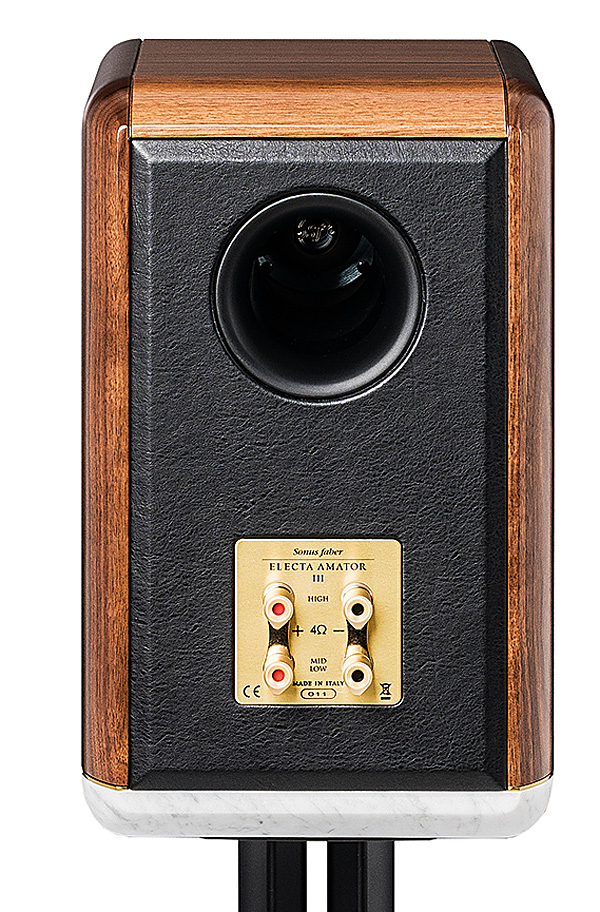 This speaker can be single- or bi-wired, or bi-amped, and it features the proprietary hardware that allows the user to tighten the terminals by hand, thanks to a 'wing' on the screw-cap. I ran these single-wired for the bulk of the listening, though bi-wiring may certainly suit some systems.
Under the grille are the H28 XTR-04 DAD silk dome 28mm 'Arrow Point' D.A.D. (Damped Apex Dome) tweeter and the MW18 XTR-04 180mm mid/bass driver with 'real-time, air-dried, non-pressed blend of traditional cellulose pulp, kapok, kenaf and other natural fibres'. Phew: sounds like a vegan casserole. While this complement might at first suggest a Guarneri Tradition [HFN Aug '18] in a parallel-sided enclosure, that lute-shaped speaker uses the same tweeter but the smaller 150mm W15 XTR-04 woofer. Meanwhile, the 2.5kHz crossover is fitted with high-precision components including ClarityCap PP non-polarised capacitors and low resistance Jantzen inductors.
The drivers are mounted into a leather-covered baffle, fitted to a robust cabinet described as a 'high rigidity spread resonance spectrum system', the construction consisting of a three-layer constrained-sandwich. Even without lifting it, you sense that it is built like a keg for Armagnac. The main chassis comprises solid walnut cut from 25mm sheets, atop the 30mm-thick Carrara marble base. In between the upper wooden section and the marble bottom is a sheet of brass.
As expected, based on experience of the predecessors which clearly inspired it, the 'III proved a relatively tricky speaker to drive. I wired it up to the D'Agostino Momentum Stereo [HFN Aug '12], which drove it with ease, and was immediately bowled over by something I didn't expect.

Scale Model
Imagine you've been living with a Bull Mastiff, and suddenly it's replaced by a Chihuahua. Or, overnight, your 1967 muscle car metamorphosed into a FIAT Topolino. Then, imagine your surprise when said Chihuahua demonstrates the forcefulness of the Mastiff or the FIAT blows the doors off a NASCAR-ready Dodge Charger. The analogy fits because I've been living with Wilson Sasha DAWs [HFN Mar '19], as dazzling and impressive and commanding a pair of speakers as I have ever used, and I had just reviewed a pair of LS3/5as, with the predictable, commensurate drop in impact.