Simaudio MOON Voice 22 Loudspeaker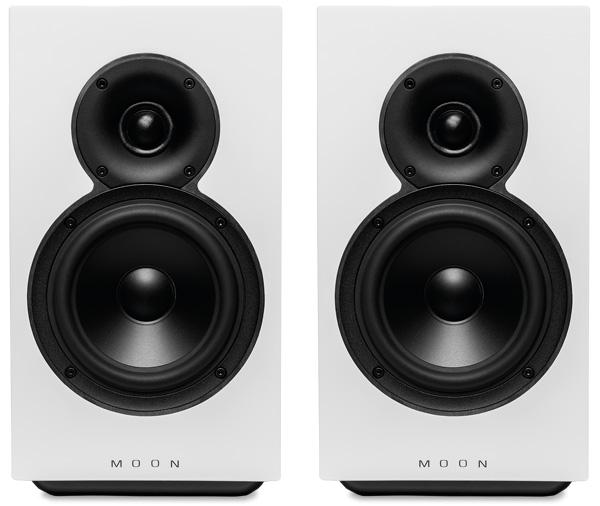 Canadian brand long-known for its high-end digital and analogue separates has now added a compact standmount to its range. So a full system is no longer a 'Blue Moon'...
Back in 2016, Simaudio added the MOON ACE to its range of pre, power and integrated amplifiers. A slimline machine with analogue, digital and network connectivity (the latter including Roon Ready status and streaming service support through its proprietary MiND module), the ACE clearly warranted 'just-add-speakers' status. The only problem? Simaudio didn't have any...
Rather than hand sales away to other companies, Simaudio was motivated to venture into the world of loudspeaker design and manufacture. The result is the MOON Voice 22. Priced at £2650 and available in either high gloss black or white finishes, it's intended to be a partner for the MOON ACE – although, naturally, the manufacturer says it will play just fine with other amps too.
Float On
With a full 'MOON ACE system' now a reality, UK distributor Renaissance Audio is promoting the package at a price of £5700 for speakers and amp, a saving of £450. The Voice 22's compact 35x20x29cm measurements (hwd) also make them easy to find room for and ensure a 'size-match' with the ACE amplification.
The purpose-built £495 Stand 22s give the speakers a lift, but the Voice 22 also boasts something called a 'Hover Base' – a detachable rubberised (Poron) layer underneath the cabinet that supports the box when placed in a bookshelf or cabinet. It gives the vague impression that the speakers are 'floating', provides a degree of isolation and prevents furniture surfaces from being scratched. You'll need to lever off the Hover Base insets before you mount the Voice 22s on stands but beware – they are very firmly attached!

As our pictures illustrate, the Voice 22 is a two-way design, partnering a 29mm soft dome tweeter with 155mm mineral-loaded polypropylene bass/mid. The former benefits from a 'saturation-controlled' motor system, with rear output managed by a damped, non-reflective chamber, and the dome, with large surround, is then positioned within a custom waveguide for both time-alignment and dispersion control. It's this waveguide that Simaudio says allows the Voice 22's crossover – a second-order (12dB/octave) network on a two-layer PCB – to be set at a relatively low 1.5kHz.
The bass reflex cabinet outputs via a circular rear-facing port, which can be resistively-loaded with supplied foam dampeners if the speaker cannot be accommodated in its optimal position. Simaudio recommends the Voice 22s are angled in toward the listener with clearance from walls 'to at least twice the dimensions of the cabinet' – which I suppose is a roundabout way of saying 60cm from the rear boundary.
While the Voice 22's styling is either dully unadventurous or wonderfully understated depending on your fashion sense, there's apparently quite a lot going on inside regards resonance control.
The manufacturer states the 'mechanical characteristics of the enclosure are carefully engineered to be free of vibrations' by virtue of its bracing and novel CGD (Curved Groove Damping) technology. The latter involves sculpted grooves that are cut into the inner walls of the MDF enclosure, snaking their way across these internal surfaces in semi-random fashion and filled with a damping polymer.
Snap Judgment
It's only once the fine detail of Simaudio's engineering is appreciated that the price of its debutante loudspeaker starts to make a lot of sense. The square-edged cabinet is not only solid-feeling and weighty (its 11kg being considerably heavier than some loudspeakers that are considerably larger), but the speaker binding posts to the rear are robust, while the full-size magnetic grilles snap satisfyingly into place.

Fine Focus
With this loudspeaker debut, Simaudio has delivered a standmount model with considerable flair, most notably when it comes to bass, but also delicate treble details, which it presents in a subtle-but-always-there fashion. And while it has weight, it doesn't throw its weight around – there's mostly a neutral and balanced feel to the sound. This perhaps means some might find it a little unexciting, but also means you get an untempered view of the music at hand.