Simaudio MOON 250i Integrated Amplifier


Traditional, all-analogue amplifiers have an advantage over their digitally-packed contemporaries as there's simply less to go 'out of date'! That's the theory...
These days, the letter 'i' included in a product name will have some people assuming there are networking features onboard – blame BBC iPlayer or Apple iTunes, I suppose. It's therefore worth stressing that Simaudio's £1900 MOON 250i is an all-analogue integrated amplifier (that's what the 'i' stands for here, of course), lacking digital connectivity and DAC, or any networking talents whatsoever. If this counts as an old-school approach, then there's at least one good reason for it – the 250i has now been in the Canadian company's stable for a decade.
This is not necessarily a bad thing. When a piece of consumer electronics enjoys longevity, it's usually because it's been doing a fine job, and there's no demand for it to be replaced or comprehensively upgraded. Aside from its remote control, in practice the MOON 250i is not dissimilar to the minimalist models that might have launched 40 years ago – input selection, volume and a set of speaker outputs!
If The Cap Fits
Naturally, Simaudio does offer feature-rich amps, including the related £2800 MOON 240i which carries a suite of digital inputs, including 384kHz/DSD256-capable USB-B. Again, however, this is a non-networked model – for a streamed music solution from the brand, using its MiND (MOON Intelligent Network Device) platform, you'll need to add either one of its network players or streaming DACs [HFN Sep '21], or consider the company's MOON ACE 'just add speakers' solution [HFN Jul '22].
There have been some modifications to the 250i during its lifetime. Originally known as the Neo 250i [HFN Jun '14], and available in black, silver or silver/black hybrid finishes, it now comes in black only (in order, we're told, to streamline production and keep the cost down to below the key £2000 mark). Furthermore, since 2021, Simaudio has used Nichicon capacitors in the 250i, and the bipolar output transistors are now the same as those found in its costlier 600i integrated and 888 monoblock models. The Alps volume pot has also been upgraded.
Measuring a svelte 89mm high, it looks a lot like every other MOON amp, preamp and DAC out there, bar the aforementioned monstrous 888. The company has been running with the same 'design language' for some time, with curved cheeks at each end of the front panel, central logo (on some models above an OLED or LCD display), and circular silver control buttons. The presentation is instantly recognisable as 'Simaudio', but arguably, on this feature-stripped amplifier, a little busy – for example, the bank of buttons on the lefthand side are for input selection, something that's easily governed by the supplied remote handset.
Tale Of The Unexpected
Also on the front of the MOON 250i are a motorised volume control, 6.35mm headphone socket and a 3.5mm analogue input. The latter is an unusual find on hi-fi hardware at this price, and a sign of the amp's venerable nature. I suppose this might be welcomed by some as a quick route to audio piped over from a smartphone – although as many new handsets no longer offer a 3.5mm output, its time is surely almost up…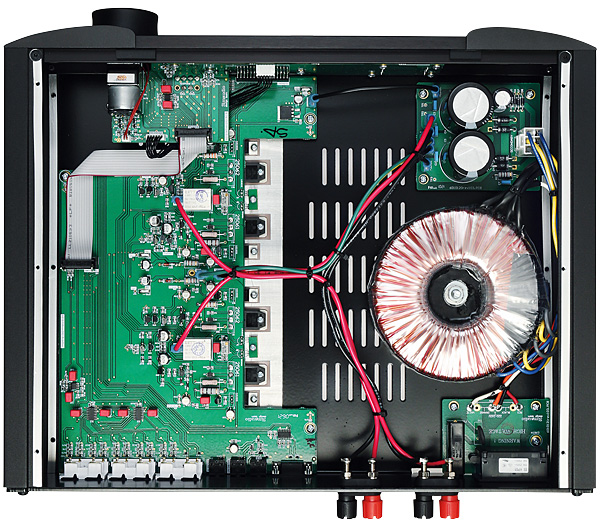 The 250i's back panel is so elegantly laid out you could probably lace this into your system with your eyes closed. A widely spaced set of binding posts sits toward the righthand side, next to an IEC mains socket and power switch. On the left can be found five line-level inputs on RCAs (no MM or MC phono stage here), plus a pre-out connection for use with an external amp. Tucked in between are RS232 and IR inputs, and in/out ports for Simaudio's SimLink (cable supplied), which supports interoperability between MOON hardware.
As our inside shot shows, the 250i's production engineering is equally elegant, with most space taken by a large toroidal transformer that adds mightily to the amp's 10kg heft. The bipolar output stage is conservatively rated at 2x50W/8ohm, and is sufficiently biased, says Simaudio, to run in Class A mode over its first 5W.
Something intriguing about the MOON 250i is its power consumption. PM's lab tests reveals an idle power usage of 20W, dropping to only 18W when the unit is put into 'standby'. Such a figure is likely way above what most buyers will expect from a standby mode. Indeed, it seems that placing the amp in standby has little effect other than switching off the red and blue status LEDs on its front panel, so the energy conscious might want to turn the 250i fully off when it's not going to be used – despite Simaudio's assertion that the unit is 'designed to be powered up at all times for optimal performance'.
Being compact in size, the amp will slot easily into any hi-fi rack or on a tabletop, although the usual space requirements should be considered to ensure it doesn't run too warm. The top of the metal chassis is ventilated, and Simaudio is worried enough about users blocking this that it warns against it twice in the same paragraph in its comprehensive manual!

Music Maestro
From an amplifier with a focus on doing one thing only, and at a price that's certainly not 'budget', it shouldn't come as a shock that the MOON 250i does that one thing – make music from analogue line sources – very well. And 'music', or rather 'musical', is the word here. Simaudio's integrated sounds accomplished in the way it paints an involving, rich-toned soundstage, and has excellent midrange handling. It could never be described as analytical, and I didn't find it favouring one genre of music over another. A voluminous, bassy foundation is added to material that demands it, and the amp has the energy to make listening to up-tempo pieces fun. Overall, it's a real crowd-pleaser.