Rotel Rb 1552 (£700)
A very potent performer considering the accessible price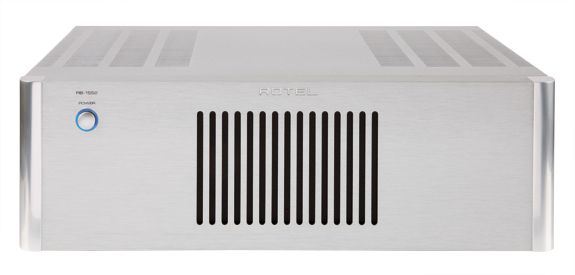 In its most recent 15-Series line-up Rotel entered the brave new world of efficient Class D amplification with some of its models. It promotes them more for home cinema and custom installation duties rather than 'pure audio' systems, however. For high fidelity music reproduction Rotel still prefers to focus on tried-and-tested Class A/B solid-state designs, in which it has a fine pedigree.
Cosmetically, the RB-1552 is identical to the more powerful '1582, only the chassis' reduced depth and lighter weight suggesting a smaller power rating here. Finish is exemplary given the price, with the brushed aluminium faceplate smartly trimmed with polished end caps. Under the bonnet its symmetrical layout adheres to Rotel's 'Balanced Design Concept' philosophy, the power supply employing a substantial toroidal transformer with secondary windings for each channel and slit foil reservoir capacitors of the type pioneered by DNM Design. A red LED concealed within the fascia's vertical slots illuminates should the amp's thermal or over-current protection circuits kick in. Only one set of single-ended inputs is provided.
OPEN WIDE
Most noticeable when listening to the opulent R&B track by Maxwell, a vague softening of bass precision gave away the Rotel's modest price compared with the bigger amps in this month's test group. The sound was open and clear with a really delightful sense of air and space, the Sheffield Lab audiophile recording of 'Ride Of The Valkyries' portrayed with a wide and deep soundstage that created a most creditable three-dimensional picture of the orchestra performing in the concert hall. The nearest thing to a serious criticism is that the strings and percussion had a hard-edged stridency during louder passages where the Bryston, Anthem and Parasound models remained highly composed throughout.
Nor did the Rotel demonstrate the smooth, liquid midband quality of the ATC and Belles amplifiers. Robert Plant's plaintive vocal in 'Silver Rider' appeared a little nasal and less full-bodied. Nevertheless, the detail retrieval of the harmony vocal was fabulous. So too was the decay of reverberation around the electric guitar thanks to the RB-1552's open and airy character.

Originally published in the November 2011 issue