Rotel Michi P5/S5 Pre/Power Amplifier Page 2
The S5 power amplifier is, of course, a much simpler animal, if a rather substantial one, standing as it does almost 24cm tall and tipping the scales at a whisker under 60kg. Inputs are provided on both balanced XLRs and RCA sockets, selected by a switch, and there are two sets of solid, rhodium-plated speaker terminals per channel. If you so desire, the S5's front panel can also show a VU meter, or a choice of three frequency spectrum analyser displays. Thank heavens for the 'display off' option!
The power amp again uses in-house transformers – two 2.2kVA units, feeding a bank of British-made capacitors totalling 188,000µF. The dual-mono Class AB design is of a symmetrical layout, with the two channels in separate fan-cooled housings, and packing a total of 32 high-current output devices. The fan speed is controlled according to the temperature inside the amp – despite this cooling the S5 can still run warm when working hard, and needs plenty of breathing space.

The Modest Mammoth
Although relatively modest – at least by the standards of some of the behemoth amplification we've had through PM's listening room in recent months – the Michi combination swiftly sets out its stall once in action. Driving the flagship B&W 800 D3 floorstanders [HFN Oct '16] which, while excellent, are a pretty demanding load and don't suffer foolish partnering equipment gladly, the P5/S5 quickly established itself as being able to exert plenty of control while delivering an open, captivating sound.
With sources including our usual dCS Vivaldi One [HFN Feb '18] and a direct connection from the Melco N1ZS20/2's [HFN Jun '17] USB out into the P5's USB-B input, the Michi sound revealed itself to be not the last word in detail, but at the same time mercifully free from the kind of sting and forwardness some find untenable in ultra-high-end systems. If you're the kind of listener who finds you're reaching too often for the 'brash' and 'abrasive' pages of the hi-fi description lexicon, you're going to be in a much more comfortable place here.
Scope And Scale
That's not to say the Michi P5/S5 sounds soft or overlush – instead, they deliver a full-blooded, holistic sound in which it seems the hi-fi bag of tricks is put aside, and the music moved up to centre stage for enjoyment. Which, of course, is just as it should be. Take the audio assault course that is ELP's 'Karn Evil No. 9' [from Brain Salad Surgery; Razor & Tie, 96kHz/24-bit] as an example, for here the amplifiers immediately reveal a sound that's big and bold, with both striking bass extension and speed across the frequency range. This remastered version sounds a lot better than the original, which can be all top and bottom, and via these P5/S5 amplifiers there's a very good balance of attack and substance.
Perhaps there's not quite the analytical revelation of every thread you'd get with a more overt amplifier, but given the scale of sound being created (by just three musicians, remember) the system does an excellent job of drawing the listener in to the music, and powering it along to exciting effect. Carl Palmer's characteristic 'eleven-tenths' percussion is especially well-handled, feeling taut and full of impact.
With less processed recordings, this natural, generous balance is even more toothsome. The burst of brass opening 'Blowin' The Blues', from Kyle Eastwood's Time Pieces set [Jazz Village JV 570034; 44.1kHz/24-bit] is a real wake-up in its immediacy, and as the track develops it's easy to relish every element, from Eastwood's propulsive bass-line to the stabs of piano and powerful drumming. The sound is bright, breezy and bracing, yet underpinned with weight and substance and, as my listening progressed, so grew my appreciation of the way this pre/power amplifier combination presents music.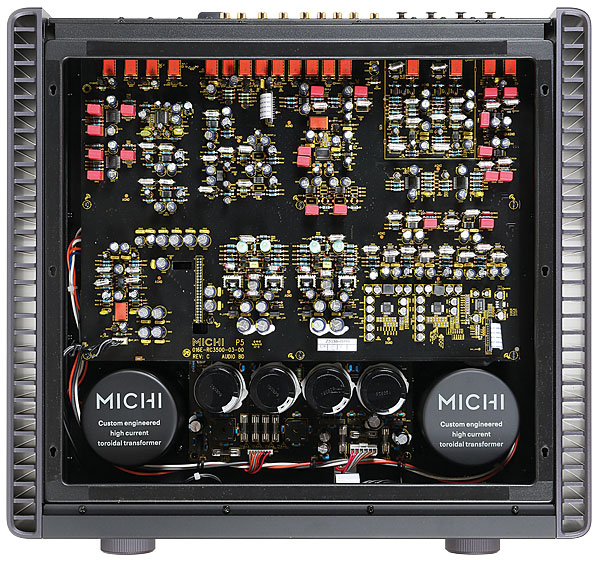 Light And Shade
Playing the sparky, darting recording of Mozart's overture for La Nozze di Figaro [Linn CKD 460; 192kHz/24-bit], and the Michi P5/S5 delivers a rich, ripe sound, yet one with the agility and detail to convey the exuberance of both score and performance. There's no shortage of dynamic extension here, making clear both the light and shade of the orchestra and the playful writing.
Yes, some intimate recordings can sound a little more distant than they might through more forward amps – for example the vocals on Lake Street Dive's 'Better Than' [Bad Self Portraits; Signature Sounds SIG 2061] – but this Michi pairing is all about conveying the music, and sweeping the listener along with it. That's readily apparent with the classic Tallis Scholars recording of Allegri's Miserere, recently remastered [Gimmell GIM 639; 192kHz/24-bit], which comes with all its luminous ambience intact – and especially effective with the distant 'second choir' deep in the Merton College Chapel.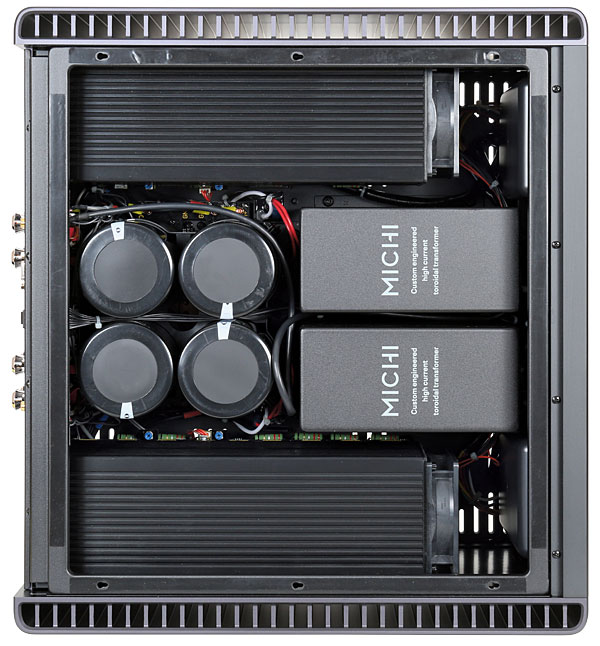 But this quality is just as revelatory with the slow build of Mike Oldfield's Return To Ommadawn [Mercury; 96kHz/24-bit]. The recording opens with clean, precise acoustic guitar, and then the amps simply allow the music and the soundstage to swell and open up as the piece develops, always in control, and yet filling the room with sound.
Hi-Fi News Verdict
Oh, Michi, you're so fine: this new amplifier combination brings a welcome breath of weight, scale and entirely natural music-making to an overpopulated high-end arena, displaying a wide-ranging ability across a broad spectrum of genres. Some may wish for more attack and overt slam, and for every detail unearthed, but Michi is all about the emotion and spirit of the music, delivered on an entirely human scale.