Rogers LS3/5a Classic Loudspeaker Page 2
It's nuts to use any speaker with an amp costing more than ten times its price, but I wanted to extract the maximum – I did the same for the Falcon LS3/5as, but with Audio Research REF 75SE amplification. I tried my best to treat these not just as the second rebirth of my all-time fave mini-monitor, but also as a modern speaker competing in the £2500-£3000 sector. I swiftly realised that it doesn't work because there are so many killer speakers under £3k that will massacre the LS3/5a for both bass and maximum level. Here we must resign ourselves to the one reason for considering the Classics and that's because you simply crave a brand-spanking-new pair of LS3/5as. Frankly, nothing else will do.
It's the same case for other unique products. So if you fancy a specific Barolo, you don't substitute an Amarone. Following the mighty Wilson Sasha/DAW [HFN Mar '19], I expected to forgo deep bass and any predilection for head-banging, in exchange for the familiarity of the LS3/5a's real-as-it-gets midband and lifelike-vocals. Nor was I disappointed, post-Wilson, any more than I would if going from the finest steak to the finest burger.
What my high-end system did was enable me to hear the Rogers unsullied. Whitesnake proved too much, as the recording is coarse, so I turned to Classic Records' definitive 45rpm edition of Dusty Springfield's 'The Look Of Love' [Casino Royale; CR-5005-12], as well as Colgems' reel-to-reel version [CG031001]. This just may be the finest voice recording ever, notable for exposing every breath that Dusty inhales and exhales.
Easy Virtues
If any track can assert unequivocally the primary raison d'être of this speaker, it's this one. It's no secret that the LS3/5a has severe limitations, but in that respect, so have the Quad ESL-57, the Stax ELS-F81, the aforesaid Deccas and other astounding products that transcend any inherent weaknesses through brilliance in other areas. For the LS3/5a, there are two undeniable virtues that the Classic retains to compensate for the poor bass extension and power handling: voice reproduction and soundstage recreation.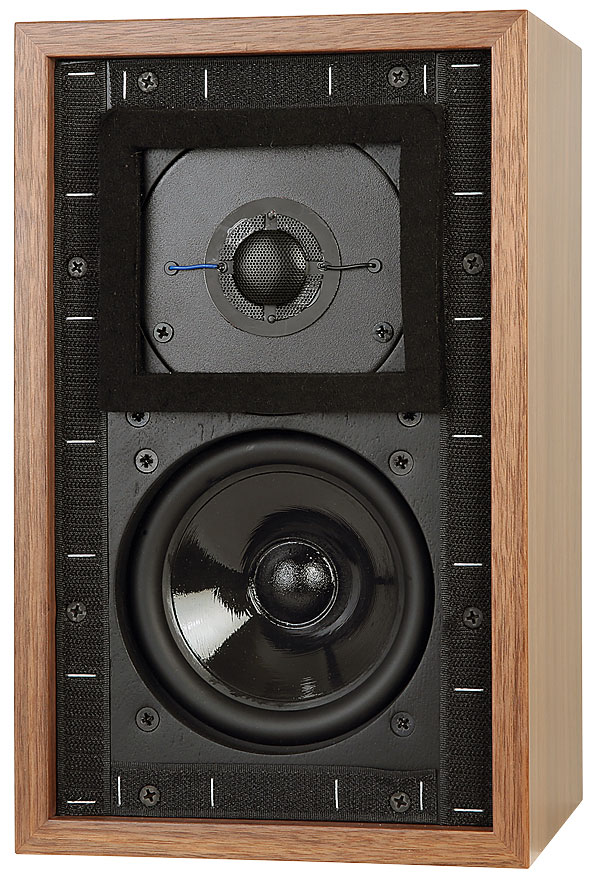 Immediately apparent was that the new LS3/5a delivers vocals with all of the mastery that makes it the speaker's greatest strength. Ms Springfield enjoyed an untrammelled presence in the middle of a three-dimensional listening space, every nuance so easily detected and appreciated that words like 'detail' and 'transparency' and 'neutrality' seem inadequate for conveying the realism.
Rock Of Ages
This applied equally to intense male vocals, the opposite of Dusty's smoky, husky delivery. The vastly underrated early '70s British outfit Silverhead was fronted by a Steve Marriott-like belter named Michael Des Barres (nearly a half-century later, he's playing a villain in the rebooted TV series McGyver), and the backing is glam-era hard rock. This presented further contrasts with the sexy, silky 'Look Of Love', with the sort of orchestral gloss found in 1950s Capitol LPs, and which exploited the LS3/5a's way with subtlety and textures.
Instead, Silverhead's 16 And Savaged [Cherry Red PURPLE 002] was all about attack, speed and – despite the constraint – bass presence. By that I don't mean sheer quantity, either in extension or bulk, so much as its quality. Silverhead was blessed with Nigel Harrison, who would go on to be the bassist in Blondie, and his virtuoso work comes through loud-and-clear, lacking only the scale imparted by larger systems.
This showed the true worth of the Rogers LS3/5a Classic. One could go to a mini-monitor from a full-on colossus such as the Wilson Sasha/DAW, with bass galore, without feeling cheated. The best analogy I can think of is owning a supercar and then finding a small roadster in one's garage. Ferrari 599-to-Caterham 7 might seem a leap too far, but a true petrol-head would love and appreciate both.
We mustn't forget that LS3/5as are professional tools, used for analysis as well as monitoring. So revealing are they that the Classics were perfect for assessing vinyl vs. tape with the Dusty Springfield tracks, as well as CD vs. LP with the Silverhead album [Purple Records TPSA7511]. The differences were exposed with truly forensic authority. Then I remembered something else: these speakers also rock.
Hi-Fi News Verdict
Let's not mince words: the best LS3/5as I have ever heard are the 50 pairs of sold-out Falcon limited editions. Next, though, are the two current choices, the sonic differences defined above. Hand on heart, I'd find it tough choosing between them, but dock Rogers a point because price must be factored into the rating. Suffice it to say, whether you prefer to fly with the Falcons or being Roger'd, the LS3/5a is back.