Revox B225 CD player Also in HFN this month in 1985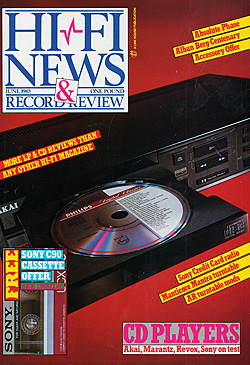 Also in HFN this month in 1985
PHASED AND CONFUSED
Ken Kessler takes a look at the topic of Absolute Phase.
POT POURRI
Short reports on the Empire/van den Hul MC1000 MC cartridge, plus Mordaunt-Short MS100 and Sony APM22es speakers.
HAUTE REMOTE
Ken Kessler auditions the Akai CD-A7 CD player.
ONE BOX OR TWO?
Martin Colloms reviews a £1500 CD player/PCM processor from Japan in the form of the Sony CDP-552es/DAS-702es.
THE GREAT BLACK HOPE
Ken Kessler lives with the Marantz 'Black' system – CD-74 CD player and PM-54 amp.
THAT WILL DO NICELY
Sony's new 'Sheet' headphone radio comes under Martin Colloms' microscope.
A FABULOUS BEAST
Alvin Gold reviews a relatively new British turntable, the Manticore Mantra.
POT POURRI 2
Christopher Breunig tries some solid-core mains cables while John Crabbe sets to work auditioning mains plug fuses.