Revel Performa F228Be Loudspeaker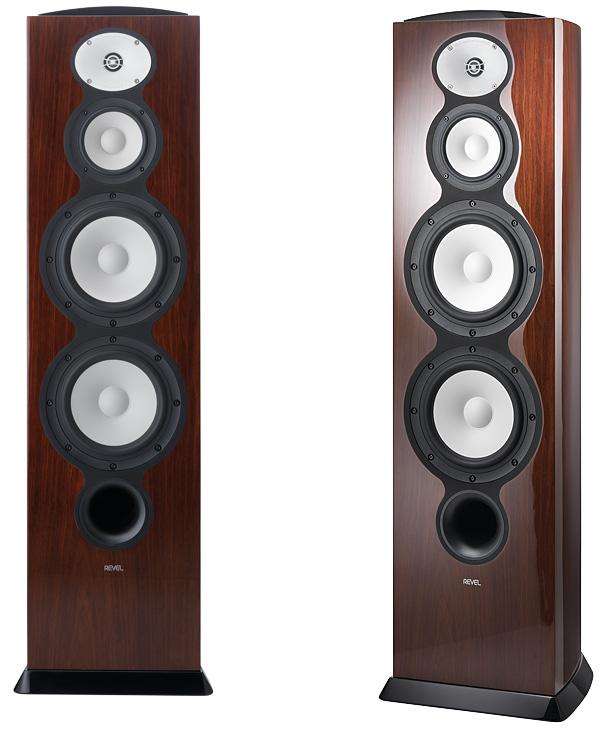 A beryllium tweeter is the highlight of these new speakers – do they really 'redefine performance expectations'?
They clearly don't believe in sitting on their hands at Revel as the Performa3 M106 and F208 speakers have recently been subject to wholesale revitalisation, creating the PerformaBe range, said to 'redefine performance expectations'. Comprising the £4000 M126Be standmount/bookshelf speaker and the £10,000 F228Be we have here, the new models are available in a choice of high-gloss piano black, white, American walnut or metallic silver and, while the use of ceramic-coated drivers is familiar Harman/Revel fare, the new talking point is a beryllium dome tweeter.
Revel is far from the first manufacturer to make use of this material – that was Yamaha with its NS-1000 in 1974 [HFN Oct '18], and it's long been a feature of Focal speakers, for example, and other companies now use it, with off-the-shelf designs also available from drive unit suppliers. Yet it's still a comparative rarity...
Worth The Weight
In the two new speakers, a 25mm beryllium dome is used, Revel pointing out that 'Compared to other metal tweeter diaphragms like aluminum and titanium, [it] offers 4.5x the stiffness and 3x more damping, and does so at only half the weight'. And if you hadn't already got the message, it goes on to draw comparisons with the material of choice for British rival B&W. It says: 'Diamond vapour deposit diaphragms offer similar characteristics for stiffness and damping, but they do so with a weight penalty that limits performance in comparison to beryllium'.
Driving the dome is a motor system using hefty 85mm dual ceramic magnets, while the tweeter is mounted in an acoustic waveguide, made from aluminium and ceramic-coated to match the other drivers in the speaker. This, Revel says, ensures the tweeter displays similar directivity to the midrange, while also boosting the treble unit's efficiency, dynamics and power handling while lowering distortion.

Loud And Clear
This may be the most obvious change here, but much has been reworked elsewhere. For example, the midrange driver is a new version of the 'Deep Ceramic Composite' coated aluminium cone, redesigned with a larger 130mm diaphragm and a slimmer surround for greater air-shifting, along with a larger voice coil and ceramic magnet technology claimed to reduce compression and boost dynamic ability.
Like the twin 200mm bass units, which also use the DCC cone, the midrange is built into a rigid, cast aluminium basket, the intention throughout the design being a speaker that plays louder and cleaner. Meanwhile the crossover, operating at 260Hz and 2.1kHz, uses Revel's usual high-order slopes, and is built using film capacitors and air core inductors in the midrange and tweeter circuits. Bi-wiring/bi-amping is possible once jumper plates between the twin sets of terminals are removed.
Bass is tuned via a front-venting reflex port, using identical flares on both the internal and external openings to reduce compression effects and port noise, with foam bungs provided should you need to tame the low-end. We left the bungs out to make the most of the bass weight here.
It didn't take much work to have the F228Be performing well in editor PM's listening room – we just kept them a sensible distance from the rear and side walls, with a little toe-in to firm up the stereo image, and levelled up on the substantial spikes provided. These spikes are reversible, with a pointed end for carpet-piercing, and a rounded one for use on hard surfaces.
The enclosure itself makes use of curved panels formed from 25mm layered wood to limit internal reflections and resonances, aided by extensive internal bracing at strategic points. The grilles attach magnetically if required, and the finish of the cabinets is exceptional, Revel saying it was 'developed and overseen by Italian luxury cabinet makers' and that it 'exceeds automotive finish quality'.
Certainly the speakers have in-room appeal, being surprisingly compact while at the same time combining a purposeful look with relatively soft lines. It's a good mix of the 'technical' and the domestically acceptable.

The Right Stuff
Start playing some favourite tracks through the F228Be speakers and they're fast, tight and beautifully extended, instantly delighting with the solidity of the soundstage and stereo images they create. On the end of the HFN Melco/dCS Vivaldi One/Constellation Audio system [HFN Feb '18/Dec '17], they projected an impression of 'rightness' with the first couple of tunes, and then went on to create an ever-growing sense of listening to something really rather special.