Quad Vena II Integrated Amp Page 2
Clad in the basic Lancaster Grey finish – why does that always make me start humming an Eric Coates march? – the 30cm-wide review sample looked positively tiny on the equipment rack. To these eyes the optional finishes, while adding minimal bulk to the amp tend to make it appear a little fussy, with the mahogany veneer in particular seemingly trying a bit too hard to be 'retro'. Frankly, I much prefer the purposeful ambience of the 'standard' amplifier pictured here – not to mention that £100 saving over the wood sleeve options.

It Rocks!
Physical size should have little bearing on the performance of an amplifier, even though larger casework does allow more space for generous power supplies and heatsinks, and afford better separation of components to minimise interference. Nevertheless, and despite its compact dimensions, the Vena II delivers a big, mature sound of the kind one might expect from a conventionally proportioned amp, and in this new iteration proves even more capable of both driving and controlling a broad range of speakers.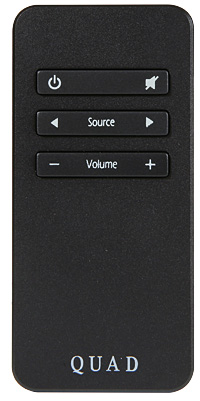 That's not just true with big, hard-hitting works, for the warmth and detail of this Quad amplifier is just as much in evidence with the immediacy of the single mike, single take recordings on Carmen Gomes Inc.'s Don't You Cry set [Sound Liaison SL1030A; DSD256]. Playing the music in from my stripped-out 'music' Mac mini via the Vena II's USB input, the sense of the musicians sitting in a group around the microphone is palpable, as is the emotion in Gomes's voice as she cracks on the final phrases of Gershwin's 'Summertime'.
It's a wonderfully intimate and affecting experience, and shows just what this little amplifier can do when fed with a high-quality recording. It pulls off the same trick with the big, magnificent rendering of Mahler's Symphony No 7 by the Budapest Festival Orchestra under Iván Fischer. This is another striking Channel Classics project [CCS SA38019; DSD128], with huge dynamic range, and the Vena II has more than enough power and control to reveal all the skill and passion with which Fischer and his orchestra deliver it. Yes, the sound is warm and rich – bigger, more powerful amplification brings out even more of the impact of the performance, but considering its flexibility and price, this latest Quad amp is very impressive.
And it rocks, too: the Bluetooth performance is – well, as Bluetooth always is – a bit vague and soft, but fed via its digital or analogue inputs the Vena II drives music along in slick and punchy fashion. Playing Be Bop Deluxe's Live! In The Air Age set from LP [Harvest SHVL 816] on my trusty Rega Planar 2 reveals the phono stage here to be more than up to the task of handling the kind of decks with which an amp at this level is likely to be used. I'm glad to report the analogue line-ins are to the same standard, and well suited to CD players in the 'good but not too exotic' class.
In other words, the Vena II has all the bases more than adequately covered when it comes to playing everything from LPs to ultra-high-resolution files. Even when I probed its limits with DSD128/256 files through the asynchronous USB-B input, or with a recently-arrived Naim ND555/555PS [HFN Apr '19] used as a source via the analogue line-ins, the amplifier frequently delighted, and never disappointed.
Grand Dam
Rather as is suggested by the purposeful front panel, with its simple line of inputs and prominent volume control, this is an amp that simply gets on with the job, needing no tweakery to be heard at its best, and delivering a sound with excellent warmth and body without restricting the flow of information. Used with compact bookshelf speakers, the new Quad's warmth and sweet treble pay dividends, but equally satisfying was the way the Vena II stepped up to the plate when confronted with larger speakers, including B&W and GoldenEar floorstanders. Mind you, the amp also did a very good job during a brief sojourn in my desktop system, there driving older Neat Iota boxes. If that was where it was to stay I might even consider the white gloss finish to match my speakers!
As a desktop hub, the Vena II proved highly attractive as an all-day listening companion, playing everything from radio streams to random music thrown up by Roon radio in a mixture of file formats. It was also able to prove its abilities when used into headphones, driving the likes of the Focal Spirit Pro [HFN Dec '15] and Bowers & Wilkins P9 Signature [HFN Mar '17] to impressive effect, the new amp circuitry giving a sound both well-weighty and informative, and with excellent grip on the 'phones in use.
It was only when I reached the final track of 2002's The Symphonic Eric Coates [Chandos CHAN 9869] that I was tempted to move the amp back to the listening room and onto the big speakers again to give the music full rein. Yes, I'd given in to temptation, and magnificent the Vena II sounded too, powering out the BBC Philharmonic under Rumon Gamba playing 'The Dam Busters March' – it had to be done, really.
Hi-Fi News Verdict
Some would argue that Quad's original Vena was sufficiently accomplished not to need improvement, but the Mk II builds on that success with an even more assured sound and wider-ranging format compatibility (including a phono stage), while retaining the same style and ease of use. Add in real world speaker-driving ability seemingly beyond its compact dimensions, and you have a very attractive little amp.