PS Audio Stellar Strata Integrated Amp Page 2
The app also allows for playback from Qobuz, Amazon Music and other services, plus network shares or locally stored files. It's a solid control option for smart device owners, but not without niggles, chief among them being its incompatibility with Tidal's hi-res content. It also allows a very coarse volume control from your 'phone, which should be treated with care.

Punching Up
I was intrigued to hear how the Stellar Strata would fare in comparison to the company's M1200 monoblocks [HFN Jan '21]. Would the reduction in power output and step-down in ICEPower technology be apparent? The answer was yes, but in many ways the Strata sounded like a fairly close relation of its power-only partner, showcasing a penchant for well-rounded, nuanced bass and rhythmic agility with my reference B&W 705 S2 standmounts.

With some material it was less purposefully dynamic, but still impressed in punch-for-pound terms. Both the preamp and DAC stages proved musically minded, too – listening sessions never ran the risk of fatigue, thanks to a smooth approach even while the Strata's depth and breadth of soundstaging, and precise unpicking of instruments, suggested a forensic nature.
The Beatles' 'I Want You (She's So Heavy)' from Abbey Road [Tidal Master], is a track that feels like a deliberately dark and dour riposte by John Lennon to the jolly, Ringo Starr-penned 'Octopus's Garden' that precedes it. PS Audio's one-box certainly made easy work of Sir George Martin's multi-dubbed production, ensuring bass, guitar, drums, vocals and Moog synthesiser effects were well separated and easy to focus on.
Yet it sounded live and organic too, avoiding adding a slick sheen to Lennon's strained vocals or the chaotic, sensory overload of its extended outro. I pushed the volume higher (the remote, happily, is very responsive) and the Strata's sound retained its clarity and smoothness despite the added pressure to perform.
Segueing straight into Abbey Road's 'Here Comes The Sun', the amp felt right in its element, particularly with the delicate acoustic guitar that kicks the song off, which rang out clean and distinct. There was an appreciable spread to the sound, the image pushed toward me with George Harrison at its centre, and it did this without losing its sense of cohesion.
Using the streaming 'Bridge' input enables experimentation with PS Audio's digital filter trio – 'Slow Roll-off Linear Phase', 'Fast Roll-off Minimum Phase' and 'Fast Roll-off Linear Phase'. The manual states that 'Slow' is the default because the company found it the 'most musical sounding'. As my own A/B comparisons with the fast roll-off alternatives yielded little obvious difference, I was happy to take its word for it. Other sources, speakers – and ears – might beg to differ.
Funky Feeling
After a sojourn into headphone listening proved the driving ability of the Strata's onboard amp, it was back to my B&Ws. Nik Kershaw's 'Wouldn't It Be Good' [Human Racing; 44.1kHz/16-bit, via the PS Connect app] caught out the Strata with its triumphant brass chords and swinging dynamics – this track never quite seemed to open up fully, a characteristic also evident across other material. Yet the strengths of PS Audio's Class D power plant remained in evidence here, not least in the propulsion of the melodious bassline and the weight of the kick-drum.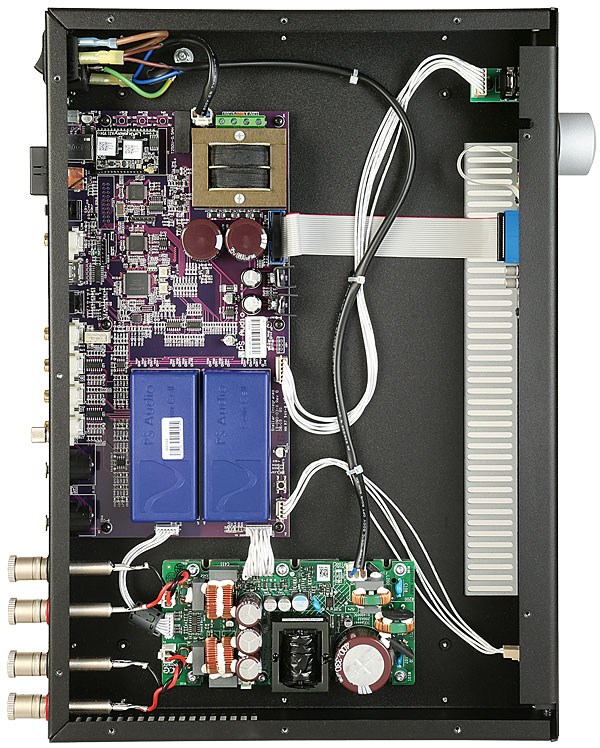 Mark Ronson's 'Uptown Funk' [Uptown Special; Columbia 88875053102] saw the amp digging gleefully into the staccato rhythms, bringing a touch of warmth to the instrumentation, and not burying the faint wah-wah guitar licks. The Strata's ability to keep pace with the overdriven energy of Exodus's 'Salt The Wound' [Blood In Blood Out; Nuclear Blast 27361 33002] also revealed its value as a good all-rounder. True, neither of these tracks are likely to be deemed 'demo-worthy', but they sounded elevated here to another level.
The amp saved its best 'til last, however, with the SACD of Lyn Stanley's wonderfully-recorded Live At Studio A [ATM 3019]. A jazzy redux of Bruce Springsteen's 1985 boogie 'Pink Cadillac' was conveyed with the intimacy intended, right from the opening '1, 2, 3, 4…'. The feel of studio space was well articulated, while brushed cymbals, double-bass and tinkled piano keys provided a feather-soft bed for Stanley's idiosyncratic vocal delivery.
In the hands of a lesser amp, this recording can easily lose its charm, which isn't so much the notes being played as the way they're delivered. Here it sounded effortless.
Hi-Fi News Verdict
There are degrees of 'all-in-one', and PS Audio's Stellar Strata isn't as well featured, easy to use or as glamorous as some rivals. Yet get down to the nitty gritty of actually listening to music and this compact Class D amp delivers the goods. Buoyant bass, a rich midrange and well-managed treble are joined by three-dimensional soundstaging, plus that extra layer of nuance that makes it routinely captivating.