PS Audio Stellar Gain Cell DAC & Stellar M700 DAC/Preamp/Monoblocks Ice-ing On The Cake?
Ice-ing On The Cake?
Very few audiophiles had heard of Bang & Olufsen's ICEpower technology before Rotel's RMB-1077 was launched [HFN Dec '05], and this first credible stab at 'audiophile Class D' held sway for a good five years with everyone from Audio Research and Bel Canto to Pioneer incorporating it into mono, stereo and multichannel AV products. The next decade saw numerous alternative OEM Class D solutions from Texas Instruments, International Rectifier (now Infineon Technologies) and Hypex, the latter arguably the more elegant with their compact footprint, single-ended architecture and ability to deliver a reliably flat response regardless of loudspeaker load variations.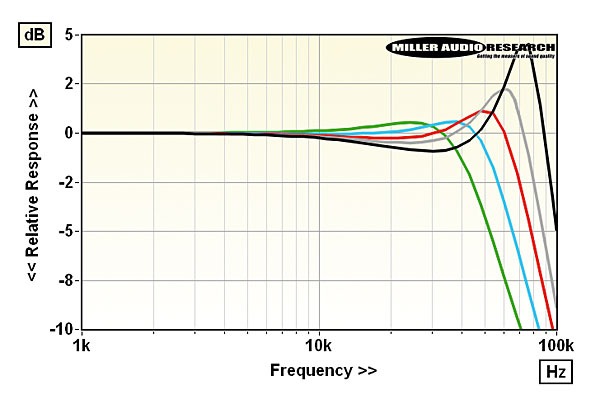 PS Audio's choice of B&O's '700W/4ohm' ICEpower module brings with it some of the familiar foibles of 'traditional' Class D amplifiers. In particular, the ICEpower 700AS1 module's output filter increases the output impedance at ultrasonic frequencies (8.7ohm/87kHz), which has an effect on both distortion and, to a limited extent, response. The latter varies with loudspeaker load impedance [inset Graph: unloaded/8/4/2/1ohm = black/grey/red/blue/green traces]. Into 8ohm it dips to –0.5dB/20kHz before peaking at +2dB/55kHz, but is 'flatter' into 4ohm and low 2ohm loads. PM