PS Audio BHK M600 Power Amplifier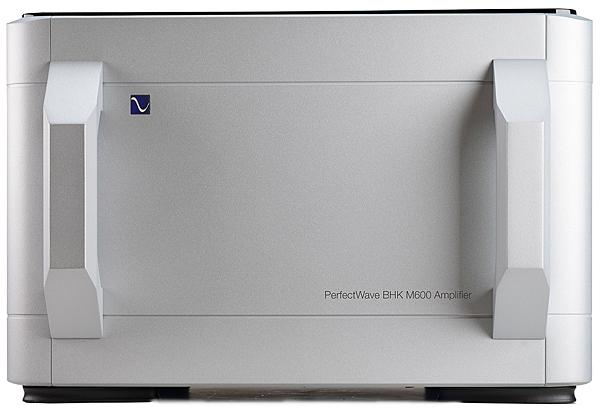 PS Audio grows its hybrid tube/MOSFET amplifier range with a new flagship that's the crowning achievement of the late and hugely respected designer Bascom H King
Until this year, the flagship power amplifier in PS Audio's stable was the BHK Signature 300 [HFN Jul '16]. Still on sale, it bears the initials of Bascom H King, the veteran designer (Infinity, Constellation Audio and more) who was given license by the Colorado-based company to engineer a high-output monoblock amp around his favoured tube/solid-state hybrid topology. Six years on from launch, the '300 model has been relegated to second-tier status, replaced by the PerfectWave BHK M600.
Again designed by King, and completed weeks before the engineer's passing in May 2022, this amplifier is described by PS Audio as 'a lifetime of design encapsulated in a single product', and a 'no-holds barred upgrade' of its sibling. The price tag, of £30,000 a pair, is roughy double that of the BHK 300, as is the rated 600W/8ohm output. Yet, thankfully, the amplifier hasn't become twice as big or twice as heavy – the BHK M600's chassis is the same width and depth as the '300, albeit somewhat taller at 285mm, and the weight has increased from 38kg to 'only' 49kg apiece.
To The Bridge
Briefly, a word on the name. PS Audio's website lists both '300 and '600 amplifiers as 'BHK Mono' models. As the former still bears the legend 'Signature 300' on its front, this suggests a new naming strategy has been latterly introduced to better separate PS Audio's monoblock designs from the two-channel Signature 250 (£8499), another Bascom H King amp. Just to confuse matters, the back of the BHK M600 names it the 'Signature 600', but the front says 'PerfectWave'. Moving on…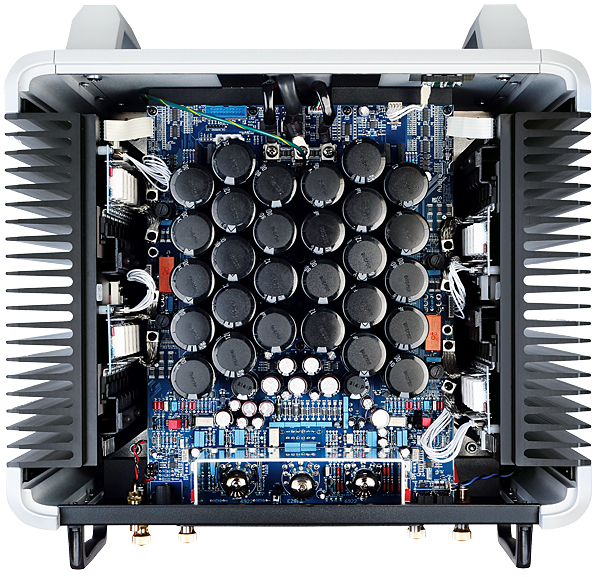 Styling is low-key but certainly classy, a continuation of the rest of PS Audio's BHK series and not far removed from that of the American marque's more affordable Stellar models [HFN Jan & Mar '21]. Flagship status the 'M600 may have, but there's been nothing ostentatious added to emphasise it. The only outward change are two sets of carry handles to help manoeuvre it.
There's only one colourway available, with a silver/grey front panel for the aluminium chassis offset by a glossy black top plate and side-mounted heatsinks. When viewed front on, the latter are hidden from sight by curved end caps. A small standby button/logo, which pulses blue during boot-up and remains illuminated when the amp is ready (and will apparently flash when internal protection circuitry is active), is all there is to catch the eye.
As with the BHK 300, PS Audio's fresh flagship amplifier features a dual mono design, its bridged N-channel MOSFET output stages juiced by a massive 1.6kVA toroidal transformer which is internally hidden beneath a forest of 'low-ESR, high-grade' capacitors [see inside pic, above].
Lion Kings
Upgrading the power potential has also necessitated refinements to the signal path, which we're told employs 'heavy-gauge low-impedance braided cabling more befitting a Tesla than a power amplifier', in addition to gold-plated solid copper bus bars.
For the vacuum tube input stage of this hybrid model (a design Bascom H King first delivered with the Infinity Class A in 1979), PS Audio uses a pair of Genalex Gold Lion E88CC/6922 triodes. PSU rectification is also handled by a tube, rather than silicon – the BHK M600's 6CA4/EZ81 rectifier is a 'new old stock' device manufactured in East Germany in the 1970s/'80s. Chosen by King and PS Audio for its 'superior performance', the rectifier tube is rated to last for 'thousands of hours', and the suggestion is not to bother exchanging it for another type in pursuit of sonic improvement. The Gold Lion devices, on the other hand, can be swapped if desired for 6DJ8, 7DJ8 or 7308 valves, something PS Audio encourages via instructions in the BHK M600's comprehensive manual.
This trio of valves is visible through a removable vented section of the amplifier's rear panel, which is adjacent to selectable, single-ended RCA and balanced XLR inputs. There are then two sets of bridged copper-plated binding posts, plus a toggle switch for the +26dB/+30.5dB gain options, trigger in/out, and a USB input for future firmware updates. Finally, there's a PS Link input that the company says is 'reserved for a future product'.