Pro-Ject Audio Systems X2 Turntable Page 2
I enjoyed its balanced take on 'Visions Of Angels' by Genesis [Trespass; Charisma CAS 1020]. This '70s prog rock track can sound overly bright on some similarly-priced decks, with Peter Gabriel's vocals having an unwanted edge and the electric organ an inappropriate zing. Not so here, the X2 sounding perfectly at home and able to deliver the hi-hats with a perfect lustre. The piano was satisfyingly accurate too, having nicely sonorous harmonics and fine pitch stability, while the bass guitar enjoyed a fair degree of thump – even if this wasn't the most muscular I've heard.
And it's the low-end that gives the first clues that when it comes to dynamics, the deck can be a bit of a mixed bag. Put on a modern pressing such as Fourth Kind's 'Time Flies By' [Fourth Kind; Omniverse OMNILP05] and while it's never less than an engaging experience, there are times you're left wanting a slightly punchier presentation. This track has a superbly recorded drum kit, over which multiple layers of keyboards and synthesisers play. The X2 separates each instrument with ease, yet it doesn't quite capture the full power of the drums or the reverb tails of the ride cymbals.
Fun Factor
The Pro-Ject X2 also showed its limitations when it came to spatiality. Although now 45 years old, Celeste's 'Principe di Giorno' [Celeste Principe di un Giorno; AMS LP15] is a wonderfully expansive-sounding album, and while instruments were well located within a wide soundstage – the Mellotron and violin having an almost physical presence, with expressive flute playing towards the front of the mix – depth perspective couldn't rival that achieved by a higher-end turntable. Nevertheless, given the price of the X2 it would be wrong to be too harsh on the fact that the soundstage was slightly curtailed front to back. Rather, the X2's appeal is based around its general enthusiasm and the obvious fun it has when making music.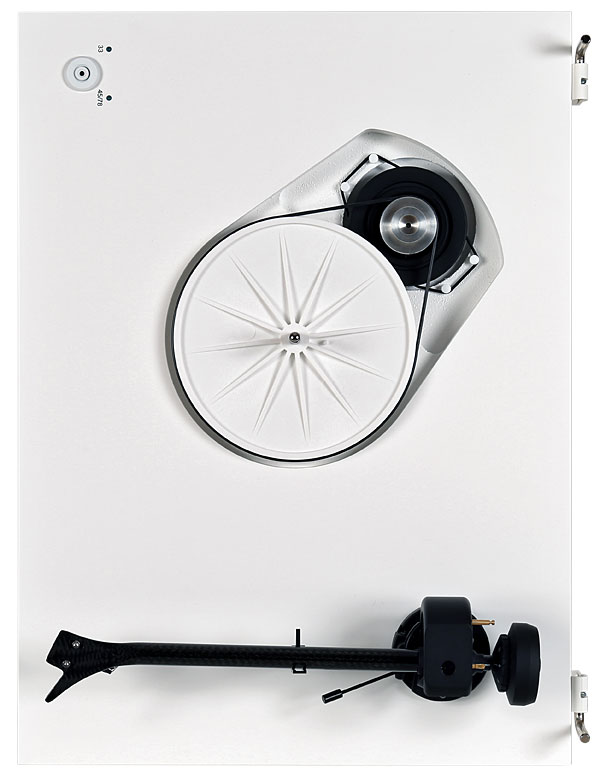 The Genesis track showcased this, as well as the deck's sense of get-up and go. In my experience the company's turntables all share this trait to one degree or another, but here it was in abundance. There's a lot going on in 'Visions Of Angels', and on some decks it can merely plod along. On the X2 the track sounded lively and animated, the frenetic drum rolls with their crazy pans from left to right in the mix being carried with real presence.
Ready To Rouse
A switch to Chic's 'I Want Your Love' [C'est Chic; Atlantic SD 19209], only confirmed this. A rousing disco number released just a few years after Trespass, the song is based around Nile Rogers' pummelling basslines with super tight rhythm guitar-work overlaid. The X2 pieced all this together very well, along with the sparse percussion, piano and string embellishments. The music had a real sense of motion while the deck captured all the tension and release being generated by the string arrangements.
It's an able information retriever too. Great song though it may be, Crosby, Stills and Nash's 'Wooden Ships' [Crosby, Stills And Nash; Atlantic SD 8229] is not up there in the pantheon of superlative audiophile recordings. Despite this, the X2 was able to fish deep into the mix to communicate a surprisingly large amount of what was going on. It focused on the lead vocals and that sublime solo electric guitar playing, showing off the beautiful harmonies of the former and gravelly texture of the latter. Yet there was plenty more to hear, including the surprisingly crisp rhythm guitar work set towards the back of the mix, and the electric organ alongside it. And although the listener could hear right into the proceedings to enjoy quite remarkable levels of insight, the deck never sounded overly analytical, as some rivals can.
The deck's fine speed stability and overall control make for a stimulating listen. Yes, there can be the feeling on some recordings that things could do with a little more punch, but the X2 is entering the territory of turntables all able to turn in quite a captivating performance and all are strong in some areas rather than others. In short, the Pro-Ject X2 has much to offer considering its keen pricing. Indeed it's proof that you can get a lot of sound per pound from turntables these days, even from almost 'plug and play' designs such as this.
Hi-Fi News Verdict
Many prospective purchasers will find the Pro-Ject X2 to be the perfect turntable for their needs as it delivers strong sound from a well built, easy-to-use package that's even better value for money when purchased with the fitted Ortofon cartridge option. Yes, there are a number of quality rival decks at this price point, but the X2 scores highly across the board and so holds its own in the affordable vinyl spinning stakes.