Pro-Ject 175 Vienna Philharmonic Recordplayer turntable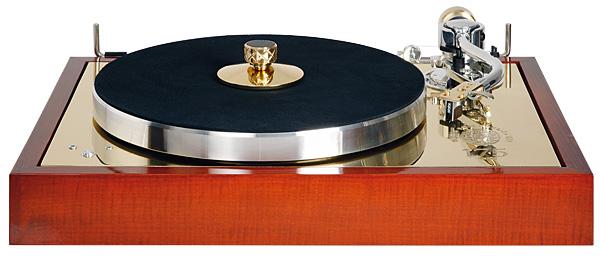 Limited to just 175 pieces, this luxuriously-appointed version of Pro-Ject's 'The Classic' turntable is offered in celebration of the VPO. Is this gilding the lily or musical gold?
Forget concept albums, for this is a 'concept turntable' – a striking looking record player that, at first sight, might seem rather 'Trump Tower', and perhaps aesthetically overpowering for conservative European eyes. Put your sunglasses on however, and all becomes clear as the VPO logo engraved into the lower right hand corner of the top plate is revealed. For this is a special commemorative product, a plush limited edition version of Pro-Ject's The Classic turntable [HFN Aug '16], made to celebrate one-and-three-quarter centuries of the Vienna Philharmonic Orchestra [See Sidebar].
Double Decoupled
Its wooden plinth and lacquer is said to correspond to that of a violin, while the gilded metal top plate signifies the brass instruments of the orchestra. The tonearm's finger lift comes from a clarinet flap, and the speed changer from a flute button. The 175 Vienna Philharmonic Recordplayer (for that is its official appellation, even though Pro-Ject's Heinz Lichtenegger has offered shorter alternatives) costs £6500 including tonearm and cartridge. Be quick though, classical music fans, because only 175 pieces are being made!
It is fitting that Pro-Ject chose The Classic for the base of this limited edition. This is – as the name suggests – an homage to the old Thorens-style belt-drive decks that powered hi-fi systems of yore, some 40 or so years ago. It's not a fancy 'high tech' exoskeleton design, and instead relies on a modern makeover of an old idea. The Classic's plinth is (as noted) wood, to which damped adjustable feet are affixed to the underside. The top plate sits inside this plinth, resting on six Thermo Plastic Elastomer (TPE) balls that take the place of springs used in older decks. The top plate, which also holds the bearing and arm mount, is effectively 'double-decoupled' from whatever the turntable is sitting on.
Pro-Ject has garnished The Classic with all sorts of delights for the 175 Vienna including two plinth colour options, Dark Cello or Bright Violin. At the back of the turntable is a plaque with the serial number and the name of the owner. Every deck is produced by hand over a two-month period and ships in premium wood boxes; the accessories are also delivered in an exclusive wood casket.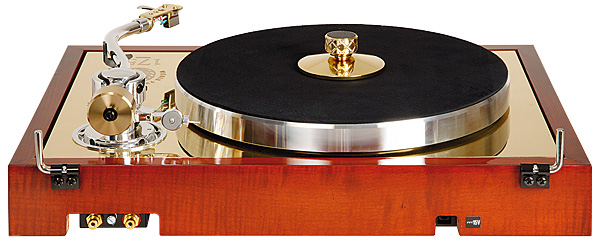 The top plate is a sandwich of MDF and 3mm polished brass protected by a high gloss transparent paint. The platter is the same as the Classic's, but the subplatter is made out of aluminium instead of plastic, cut on CNC machines with diamond heads. The bearing has been beefed up to accommodate the heavier platter, as you would expect.
Bespoke Pick-Up
The tonearm is an arresting-looking device – both large and shiny, it has a very high effective mass that precludes its use with high compliance MMs [see PM's Lab Report]. Audiophiles hankering to use their old Shure V15s again should look elsewhere... Made from hand-polished aluminium, the arm sports rugged cardan bearings and includes an Amati brass headshell with white brass fingerlift. The supplied cartridge is bespoke, crafted together with Ortofon's chief engineer Leif Johannsen, using various components from the Cadenza line. Heinz says it uses a unique alloy body, with the aim of getting a very smooth performance 'which represents the famously soft sound of the Vienna Philharmonic strings', no less.
The 175 Vienna's arm feels silky smooth to use (when you get used to hand-cueing with part of a clarinet!), and there's a quality feel to the 13kg motor unit. Still, there are some details that let the side down. For example, the surfacing of the top plate on our review sample was less than flawless and the lacquer on the plinth was far from musical instrument-quality. This adds to the sense that this turntable is quaintly hand-made, rather than an immaculate product from a highly automated factory – eg, the latest Technics SL-1200GR [HFN Nov '17].
Unless a deck is deployed floating in a vacuum, the performance of most turntables is ultimately limited by the quality of its isolation from external vibrations. Perhaps the 175 Vienna will not achieve the isolation offered by an independently-sprung subchassis design but it is surely better than most non-sprung types. You'll still need to position it on a good equipment rack or table to help it resist the 'vibes' that colour the sound, but the upside is that with no wobbly subchassis the deck feels stable and is easy to hand-cue, and also easier to set up too. The 175 Vienna is nicely presented, coming complete with a record clamp, leather pad, dust cover, high-end phono cable and precision scale. You can have it out of the crate and running in mere minutes.

Space And Pace
While the 175 Vienna's shiny bits may visually hark back to the 'good old days', in practice it sounds bang up-to-date. I was surprised by the obvious stability, clarity and sense of confidence, for this is not some quaint blast from the past that sounds like a golden oldie. Instead it proved an incisive, balanced and enjoyable music-making companion that keeps the nostalgia trip confined to its appearance. This isn't to say it is faultless, but few turntables are perfect even at this price.
One of my favourite modern jazz tracks is 'Bronstein' by Fractals [Fractals; Surface Records SUR 001], from 1986, and it is beautifully captured by the standards of its day. The 175 Vienna communicated this fact in no uncertain terms, serving up a large recorded acoustic that went wide and deep. Inside this, there was a surprising degree of detail and really rather good focus too.