Pioneer A-40AE integrated amplifier/DAC Page 2
For me, the standout feature is the amplifier's general air of spaciousness. It's not going to win any prizes for 'cathedral-like' soundstaging, yet it's far less closed-in than you might anticipate from a product of this price, especially via its line inputs. Steve Hackett's 'Narnia' [
Please Don't Touch!
; Charisma VJD-28208] came over with surprising scale, and was well able to push out beyond the boundaries of the loudspeakers and impose itself on the listening room. True, there's not a massive amount of stage depth, so don't expect the vocals to hang back furlongs behind the plane of the speakers in an ethereal way, yet the A-40AE did make an effort, giving a decent stab at stereo and showing a convincing centre image to lead instruments on this track.
Indeed, the amplifier comes over as far gutsier than its specifications would suggest. In normal use there's no apparent shortage of power, meaning that it will drive mid-sensitive speakers into reasonably-sized rooms with ease. It runs out of puff a bit at higher volumes however, with the bass getting conspicuously leaner and lighter, and the midband sounding a little more edgy. That said, typical A-40AE users are unlikely to really feel the need to go there, but if you are a party animal with a large room then do aim to partner it with speakers a little more sensitive than the average.
A Hint Of Honey
With this in mind, bass on the Steve Hacket song remained nicely proportioned at higher listening levels, and the amp was able to track the song's dynamic swings well. Switching to The Human League's 'Things That Dreams Are Made Of' [Dare; Virgin CDVR2192] proved more of a chore – this Martin Rushent production has vast slabs of thick bass synthesiser, and things felt just a little laboured until I backed off the volume setting.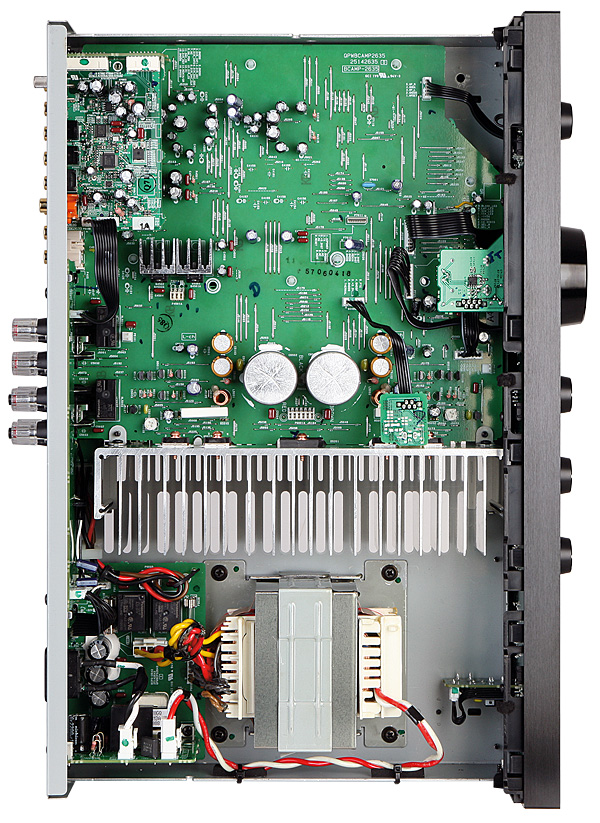 Otherwise, the A-40AE made a fine fist of a wide range of music. For example, Randy Crawford's 'You Might Need Somebody' [Secret Combination; Warner Bros WPCR-28100] is a great soul/funk standard from the late '70s. The new Pioneer amp captured the atmosphere of the recording well, offering a detailed performance with lots of feel to the singer's soaring vocals. The slick Tommy Li Puma production sounded smooth, with just the subtlest taste of honey to its overall tonality, which could help to thaw out hard sounding loudspeakers.
Listen through revealing speakers and you can tell that the upper midband is slightly 'chrome-plated' although the relative warmth of the amplifier elsewhere ameliorates this to a good degree. The Randy Crawford track's baseline was rounder and richer than it could have been, for example, giving a more sumptuous feel than expected.
Music ebbed and flowed in a most pleasing way on 'Mad Man Moon' by Genesis [A Trick Of The Tail; Virgin CDS CDX 4001]. This fine slice of classic rock can meander when played through the wrong system, but the A-40AE kept my interest up with its combination of detail, tonal smoothness and grip.
The built in digital-to-analogue converter lets the side down somewhat, I am afraid. So while the A-40AE impressed via its line inputs and has a passable phono stage, the digital input seems to be present only to make up the numbers. It proved easy enough to listen to, making a fair fist of Elvis Costello's 'Oliver's Army' [Armed Forces; Imp Records IMP FIEND CD21], yet still sounded bland and two-dimensional once I attempted to listen beneath the surface sheen.
Subtle Sweet Haze
Back to the analogue inputs, and things were way more transparent and engaging, even if the amplifier isn't beyond reproach. In absolute terms there's some fogginess, especially with backing instruments, and low-level detail such as a gently plucked guitar can sometimes lack some background bite.
There's a subtly sweet haze to music that the A-40AE plays, and when you add this to its lack of outright punching power, the result is an amplifier that makes music sound softer and more diffuse than perhaps it really should.
Perhaps I've been spending too much time with the very high-end bruisers that typically frequent the pages of Hi-Fi News. So I probably shouldn't have expected the A-40AE to grab hold of bass transients in the manner of, say, a high-end Naim, Constellation or Nagra power amp.
Nevertheless while the A-40AE is a little loose at the bottom end it still manages to turn in a decently tuneful and propulsive sound. Music is always delivered in a believable and enjoyable way, even if it isn't always absolutely riveting edge-of-the-seat stuff. So the A-40AE won't have you pinned to your sofa, yet the music bounds along at a decent rate of knots and you find yourself simply relaxing into the proceedings and enjoying it.
For example, the way it conveyed the fluency of Phil Collins' drumming in the Genesis track was fun. In the song's middle eight you could really hear how he changed pace and things became more animated. At the same time, the amplifier's fine detail retrieval meant that the backing keyboard work was carried better than expected.
Hi-Fi News Verdict
Pioneer's new A-40AE is a great addition to the budget integrated amplifier market – it's a thoroughly engineered product, offering versatility in a neat package. Sonically impressive, without setting the world alight, it's an excellent first step up the hi-fi ladder. All the more so because it has been voiced to work with budget hi-fi separates, flattering them rather than drawing attention to their flaws.