Perlisten S4b Loudspeaker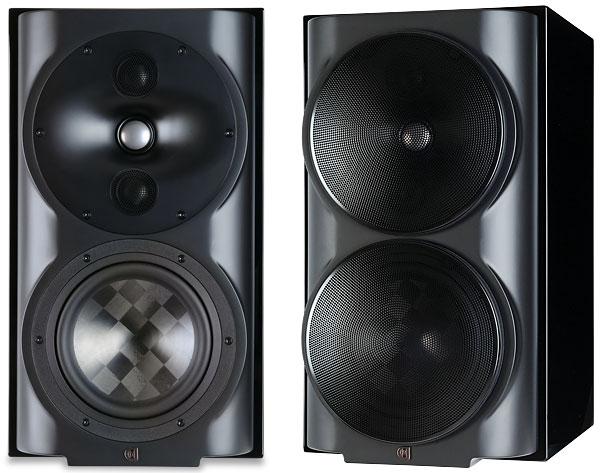 Having wowed us with its flagship S7t floorstanders, Perlisten is looking to do more of the same with its DPC driver tech pressed into a more modest, room-friendly cabinet
Perlisten Audio, a newly arrived loudspeaker manufacturer from Wisconsin, US, has already made an impressive entrance with its flagship model, the seven-driver S7t floorstander [HFN Apr '22]. Yet as that speaker boasts a £16,000 price tag – and a 59kg cabinet – many newcomers to the brand will look elsewhere in the range to see how far their budget can stretch. The £7200 S4b auditioned here isn't exactly 'affordable' but does come with a more manageable bookshelf build, plus the promise of a high-end performance similar to that of its towering stablemate, by virtue of shared technologies.
Okay, 'bookshelf' is perhaps something of a stretch. With dimensions of 420x240x300mm (hwd), and a weight of 11kg, the S4b is a compact speaker on steroids. A standmount installation will make sense in most environments, although the S4b has a quartet of screwhole fixings on its rear to support wall-mounting via an optional bracket. Don't skimp on the rawl plugs, is my advice.
Two Stories
Wherever you put it, you'll be rewarded with a good-looking (albeit not 'classically styled') model with excellent build quality – these loudspeakers feel worthy of their asking price. The HDF cabinets are solid, as are the bi-amp binding posts mounted to the metal rear-plate, and the finish of our High Gloss Black sample was luxurious. The other option at the base price is High Gloss White, but for an extra £1520 you can enjoy four premium variants – High Gloss Ebony, Cherry Natural, Ebony Natural and Black Cherry Natural. Pantone special editions are also an option.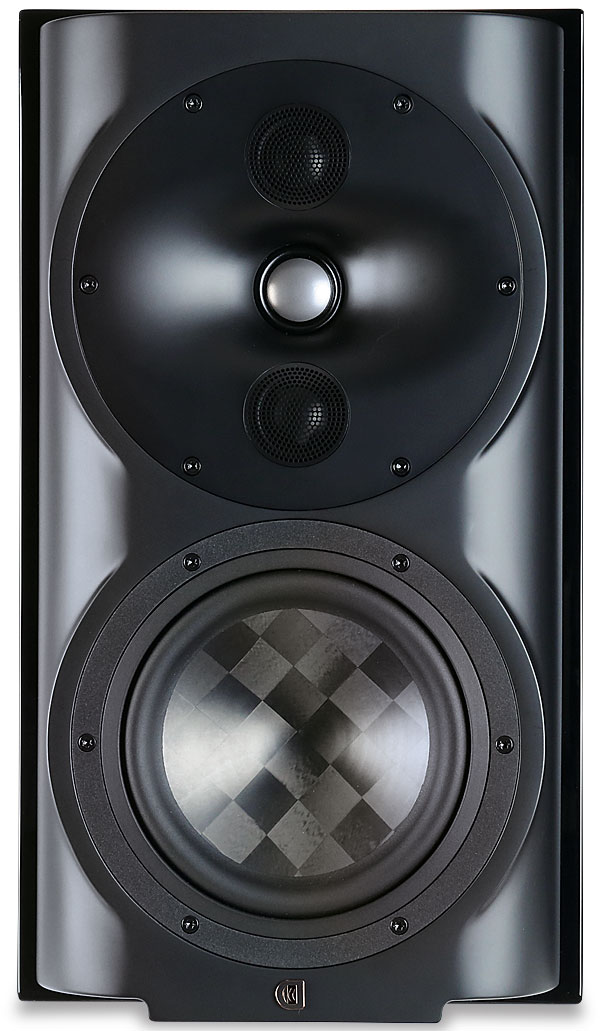 The S4b is a three-way loudspeaker, albeit with two distinct installations. Occupying the bottom half of the baffle, which is CNC machined both front and back to better accommodate the drivers and improve airflow into the enclosure behind, is a 180mm 'Textreme' thin-ply carbon diaphragm (TPCD) woofer. This uses a layered construction and is said to be 30% lighter than typical carbon fibre, while its chequered weave 'distributes break-up modes without sharp response peaks'.
Left In Suspense
Sat above the woofer, and isolated internally by cross-bracing, is Perlisten's proprietary DPC (Directivity Pattern Control) array. As with the S7t floorstander, this features a single 28mm beryllium dome tweeter sandwiched by a pair of 28mm Textreme TPCD midrange units, the trio positioned within an acoustical lens waveguide. The form of this moulded glass fibre dish, plus the size and position of the drivers themselves, has been computer-modelled to optimise the horizontal and vertical dispersion of the DPC array.
The S4b, as well as other models in the Signature S Series (the S7t tower, plus the S5m monitor, S7c centre and S4s surround) brandishes THX Dominus certification. This is of more appeal to those assembling the AV set-up to which the centre and surround speakers are destined, but for stereophiles brings the expectation of a loudspeaker capable of delivering a high output with low distortion. Of potential confusion is that the THX Dominus specification demands a measured 92dB sensitivity, while this bookshelf offers – says Perlisten – an 85.4dB figure. Yet this is not a misprint. As Perlisten CEO Dan Roemer explains, THX's 92dB figure is only for the front left/right channels in a surround sound installation.
While the S7t model features internal Helmholtz resonators that can be shorted or left open, therefore allowing the speaker to be used in either reflex or sealed mode, this model is a closed 'acoustic suspension' design. This accounts in part for that low sensitivity, which, combined with a quoted 4ohm nominal impedance, suggests it's not a loudspeaker that will leap into action at the first sign of a tube amp.
Honest Truth
The S4b's frequency response specifications benefit from inspection too, as Perlisten's bass extension figure of 36Hz is quoted for –10dB (not –6dB). According to the company's white paper, and PM's own measurements, there's no cliff-edge here, with a gentle low-order roll-off toward that 36Hz rating. As an aside, the company's specs for response, sensitivity and impedance are all refreshingly accurate and honest.