Perlisten Audio R7t Loudspeaker Page 2
As we audiophiles love to experiment, I ignored Perlisten's own advice and began listening with the Helmholtz resonators shorted. This revealed an impressively sophisticated bass. Both AC/DC's 'Gone Shootin'' from their album Powerage [Epic 510762 2] and Michael Jackson's 'Baby Be Mine' [Thriller, Epic; 88.2kHz/24-bit] offered a wealth of information in the bottom octaves. Cliff Williams' basslines in the former welcomed close inspection, sounding more tuneful and supple than I remembered, while the Jacko track featured slabs of funk synth.
Yet if you're like me and always order the sticky toffee pudding from the dessert menu, you'll want to leave the speakers' ports open. Do this and they sound a little less polite and controlled, but more willing too. The scale of the soundstage, while already huge, just felt even bigger.
The Doors' 'This Is The End' [The Doors, Rhino Records; 96kHz/24-bit] sashayed out of the R7ts with a wide, deep, vast image that emphasised the track's enigmatic production. On the right was Robby Krieger's sweet arpeggio guitar, from the left came John Densmore's percussion and then, centre but to the back, appeared Jim Morrison, wreathed in reverb and singing in riddles. It was a remarkably evocative, immersive performance, and one that only got better when the speakers unleashed the snap and heft needed to bring Densmore's chaotic tom-tom rolls to life.
True Grit
This feeling of largescale, towering audio plays well with all flavours of music. The R7ts sent the high frequency effects in 'Pressure' [44.1kHz/16-bit download], from drum 'n' bass producer John B, over my head, while grippy, gritty sub-bass flattened my carpet. Clarence 'Gatemouth' Brown's 'Sometimes I Slip' [Alright Again! Rounder Records; 44.1kHz/16-bit download] put me in a front-row seat at a blues club, gorging on Hammond organ, piano and sax. Even something more delicate and intimate, such as Linda Ronstadt's 'Blue Bayou' [Simple Dreams; Rhino Records Tidal Master], benefited from this full-range delivery.
'Blue Bayou' brought something else to my attention – this speaker's laudable ability to not intrude on what Claude Debussy termed 'the space between the notes'. Ronstadt's quivering vocals had a succinct, clipped presence, and bass guitar notes stopped and started without trace of a soft edge.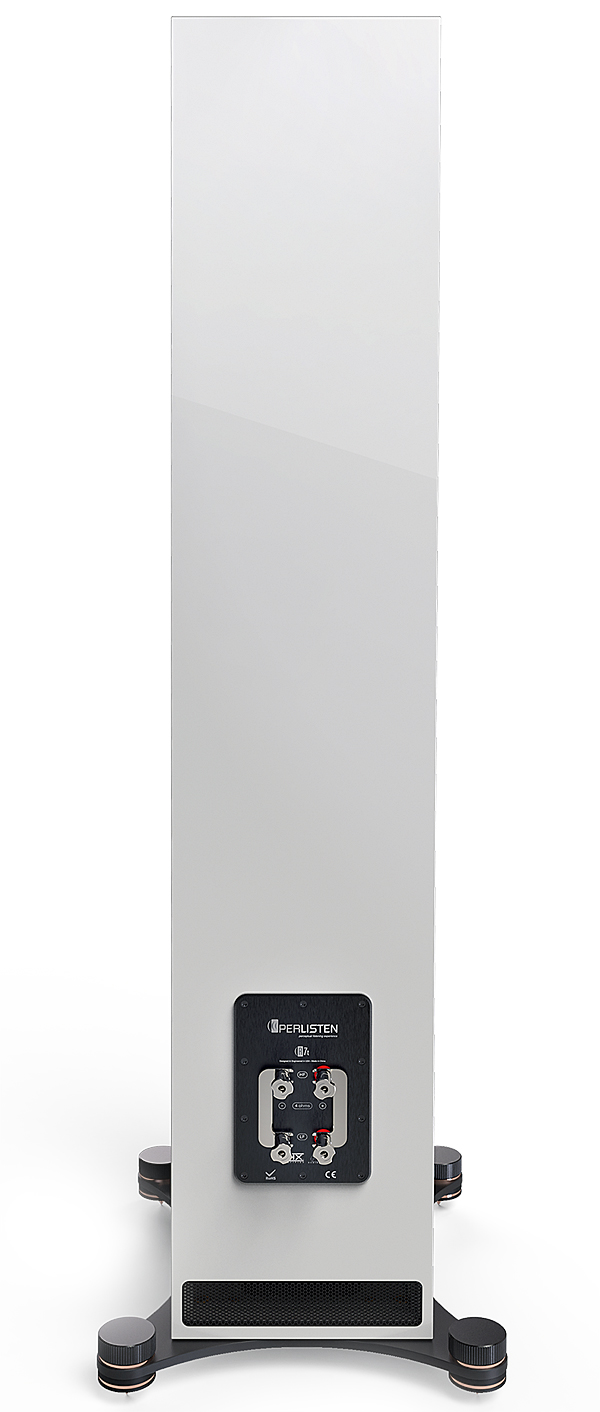 Speaking of bass, this speaker came close to matching the higher-spec S7t in my room – neither model is particularly brutish, a tight rein ensuring clarity is maintained from the bottom up. I might venture that the R7t is just a touch warmer and looser in its delivery, but regardless, it sinks wonderfully deep, shifts plenty of air, and puts a lifelike spin on drums, bass and orchestral pits.
Sweet Emotion
There's plenty of midrange panache here too, with the R7ts sounding authentically musical with Bernard Herrmann's brass-laden Cape Fear score […Motion Picture Soundtrack; MCA MCD10463], and smartly separating the layered vocals of Alice in Chains' 'No Excuses' [Jar Of Flies; Columbia 474855 2]. What's missing, in comparison to the S7t, is that last level of insight into pinprick details – in the case of the Alice in Chains track, hi-hat triplets and other percussive licks and clicks didn't sound completely unfettered.
Perhaps, then, this isn't quite the speaker for ultimate audiophile analysis. But it is one for eliciting an emotional response. Dire Straits' 'Tunnel Of Love' [Making Movies; Vertigo 800 050-2] sounded sublime, with punchy drums, smooth keyboards, textured vocals and a fine rendition of one of the greatest guitar solos ever played. For those who like to close their eyes during listening, the R7ts are heaven sent. Put another way: as Knopfler's Schecter Strat gave way to the piano toward the track's end, I started to well up. It really was that good.
Hi-Fi News Verdict
A floorstander with the voluminous output you'd expect given the size, the R7t backs up this sense of scale with savvy soundstaging, a flair for transients and deep, tuneful bass. Yes, it's overshadowed – also in price and size – by Perlisten's own S7t model, but the value-for-money here is off the charts. If your listening room can accommodate it, this 'second-best system' would make a great first choice.