Pegaso Audio P50A Integrated Amplifier

Described as the 'sister brand' of solid-state stalwarts Audio Analogue, Pegaso has just one product and it's an all-tube integrated amplifier that claims Class A, all the way...
As a new arrival from Tuscany, Italy, and with just the P50A integrated amplifier in its inventory, it's possible you've not yet heard of Pegaso. On the other hand, many readers will be familiar with fellow Italian brand Audio Analogue [HFN Nov '20 & Feb '20], which has been in operation since the mid '90s. Both are stablemates sheltering under the umbrella of AF Group SRL (also the home of AirTech), and they share more than just a postcode. The story is that new-kid-on-the-block Pegaso is leveraging the engineering experience of the elder brand while taking a wholly valve-based approach to hardware design. Audio Analogue, meanwhile, has in recent years focused on solid-state amplification, moving away from experimenting with 'hybrid' models.
The promise from Pegaso is that whatever follows the P50A 'will always be built around valves'. This disciplined approach is reflected in the minimalist P50A which has no digital inputs or MM/MC phono connection – just a pair of balanced XLRs and four unbalanced RCA line inputs. And if you're looking for an amp to drive your loudspeakers and your headphones, you'll also have to look elsewhere.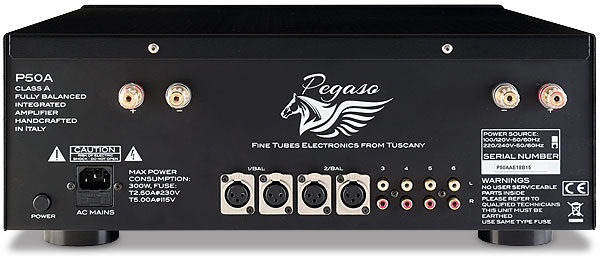 Keeping A Lid On It
Rated somewhat ambiguously at 2x50W, this fully balanced amplifier claims to run entirely in Class A and uses an eight-strong combination of 6922 triodes and KT90 pentodes. The tubes are all tucked away inside the chassis, so those keen to bathe in their orange glow and let visitors know they're not part of the solid-state club could be disappointed. Yet an enclosed chassis does make this sizeable amp – 455x175x472mm (whd) – easier to install, and fitting or replacing the tubes is a simple lid-off process.
Finish options are black or silver, and in either guise the P50A could be fairly described as industrial-looking. The front panel features silver input select buttons, a large volume control with corresponding LED ladder, winged horse logo and a slash of perforations for the rudimentary cooling of those hot-running tubes inside.
The amplifier's internal layout is described by Pegaso as being 'purposefully simple', with the microprocessor-controlled preamplifier section handling only input selection and volume control. Many of the components, we're told, are custom-made by local suppliers, and all are selected for their sonic performance and durability under temperature. Last but not least, the amplifier comes with a compact, machined aluminium handset.

Remote Reincarnated
You can use this remote control to cycle through the P50A's six inputs, adjust the volume, and access the limited configuration settings. In practice it is functionally identical to the remote supplied with Analogue Audio's AAdac [HFN Nov '20], although the use of volume keys for 'navigation', denoted by small flashing LEDs on the amp, is less fiddly here because there's less to manipulate. You can set the brightness of the input and volume LEDs (Dark Mode, Mid and Max); shift the left/right balance; put the amplifier into direct mode; and adjust the volume scale.
Direct mode can only be used with the amplifier's Input 3 (the first set of unbalanced RCAs), this running straight through the amp at full gain. Pegaso suggests this allows the amplifier to be used to power the front speaker pair in a home theatre installation, but in my experience AV set-ups with tube-powered fronts are few and far between.
The volume scale setting is perhaps more beneficial and there are four options on offer. The default is designed for a 'general loudspeaker' and has a curve that begins steeply before tapering off. A second, much shallower, curve option is tailored for use with higher sensitivity loudspeakers, a third is aimed at what is described as 'mid-volume' playback while the fourth offers a straight dB scaling.

Horse Power
Pegaso's declared goal with the P50A is to deliver 'a sound of great character' that's not only 'precise and dynamic' but also 'rich in nuances, light and pleasant'. Perhaps something has got lost in translation, because 'pleasant' doesn't strike me as a particularly ambitious target, and 'light' suggests something lacking in punch. Thankfully, this Class A-rich amp sounds more than just pleasant, and doesn't come up short in terms of drive and dynamics. Its performance is effortlessly natural, but it's not all smoothness and silk for there's an edge to its sonic signature that ensures you won't nod off. Call it an Italian stallion.