Paradigm Founder 100F Loudspeaker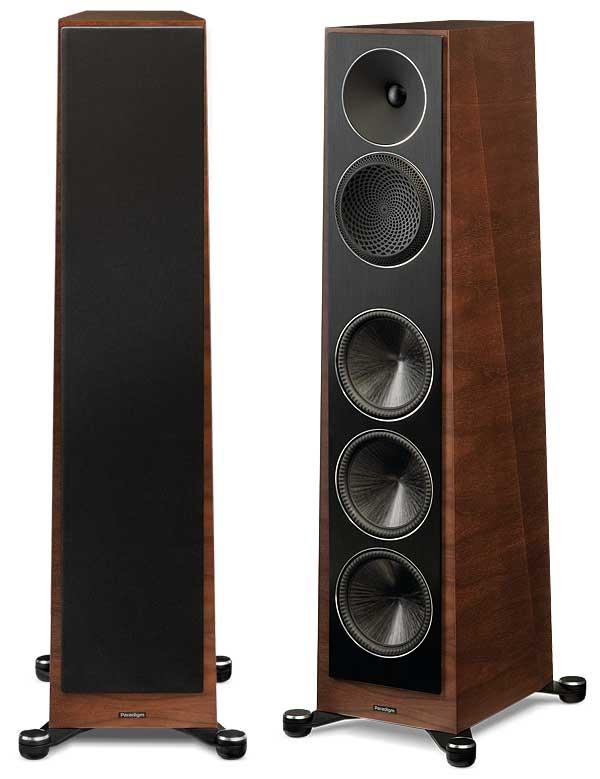 Top passive floorstander in Paradigm's new Founder series is keenly, but not ambitiously priced. A high-end bargain?
My first, AV-focused, experiences of Paradigm were misleading. In times gone by the UK distribution of this 40-year-old Canadian company favoured a curious mix of its entry-level, compact loudspeakers and its far-from-entry-level subwoofers (including the 106kg Signature SUB 2, whose hexagonal cabinet featured six 10in woofers and a claimed 4.5kW of amplification). More recently, however, first with the Persona B standmount [HFN Oct '20] and now with its £5400 Founder 100F floorstander, I've discovered its grown-up side. And I like it a lot.
Paradigm's new loudspeaker does remind me of the heavyweight subwoofer that (almost literally) blew me away over a decade ago, because it too uses an unconventional enclosure where right-angles are in short supply. It's also fairly big – not in height (just 106cm) but in depth (40.9cm) and front-baffle width (32.8cm). Viewed side-on, it appears to lean toward you, the result of an angled rear.
Glittering Prize
Compared to the shapely, curved cabinets of the Persona Series, it's less classically attractive, but excellent overall build quality and a quartet of pleasing finish options – Walnut and Black Walnut wood veneers, and Midnight Cherry or Piano Black high gloss – work in its favour. And then there's a performance that's hard to relate to its asking price. If you were attracted to Paradigm's flagship Persona models, but baulked at the cost that comes with their beryllium drivers, then the Founder range is a brilliant consolation prize. But I'm getting ahead of myself…
Named after the return to the Paradigm fold of company founder Scott Bagby, the Founder Series, which launched this Spring, comprises six loudspeakers. Two of them (the coaxial-driver 90C centre channel and 70LCR) are destined for home theatre installations, leaving four choices for stereophiles – the Founder 40B standmount (£2400), the entry-level 80F floorstander (£3800), the 100F and the 120H (£8600).
The 120H is a hybrid design mixing passive midrange and treble units with three active bass drivers, plus a side-order of room-tuning via the ARC EQ system from Paradigm's stablemate brand Anthem. It therefore apes the approach of the range-topping £34k Persona 9H [HFN Dec '19].

Lens Flair
This loudspeaker borrows elements from Paradigm's other models, most obviously the Perforated Phase Alignment (PPA) 'lens' that aims to better control dispersion of the speaker's midrange and tweeter. Yet Paradigm stresses that the Founder Series is a ground-up design – not just a more affordable reimagining of the Personas – and cites the new FEA-optimised cabinets and drive units as evidence.
Starting with the latter, the 100F debuts the AL-MAC (aluminium/magnesium/ceramic) tweeter, a 25mm dome sitting within a large, shallow waveguide. Below this on the gently tapered front baffle, and isolated via a 2nd-order 2.1kHz crossover, is a 152mm AL-MAG (aluminium/magnesium) midrange driver. There are then three 'CARBON-X Unibody' 177mm bass drivers. As the name suggests, these are one-piece designs, sans dust-cap, made from 'mineral-infused' carbon fibre and bonded to Paradigm's 'Active Ridge Technology' surround.
Paradigm says the faceted design of the 100F's 20mm-thick MDF cabinet, plus reinforced internal bracing and 25mm top and bottom plates, helps reduce internal standing waves and structural resonance.
Shock Therapy
More attention to unwanted vibrations comes via a new iteration of the company's Shock-Mount technology, which applies to both the elastomer suspension of the bass and midrange drivers, and the speakers' outrigger feet – these arrive turned inwards and need to be reconfigured during set-up. Individual adjustment to compensate for uneven surfaces can be achieved from above, which saves playing Jenga with this 32.7kg tower.
Low-frequencies are reinforced via a downward-firing reflex port, so fluffy deep-pile carpets may not suit the 100F, outriggers and spikes notwithstanding. The rear panel is clean apart from the two sets of 4mm binding posts.