Ortofon MC Anna Diamond Cartridge Page 2
In essence, this cartridge excels at everything. There's nothing that any sane analogue addict could criticise it for – except perhaps a slight lack of romance, of artificial coloration and maybe even an air of mystery. For me personally, that's not so much a criticism as an observation, but there are some vinylistas who think analogue is about being 'sweet', 'warm' and 'romantic'. The MC Anna is none of these, because it does not attempt to add or subtract when it comes to what's in the record groove, preferring instead to communicate without fear or favour.
It has mesmerising imaging abilities, sublime clarity and insight, not to mention a superb sense of a recording's dynamics. Factor in fine detail retrieval that I've pretty much never heard anywhere else and you've a pick-up able to eke out vast amounts of information from pressings you might well have considered to be mundane.
To my ears, the most profound gift of this cartridge is its almost supernatural stereo soundstaging. This is at the root of the MC Anna Diamond's appeal as it frames every recording beautifully. One of vinyl's oft-stated weak points is that it can sound a little diffuse and vague in its reproduction of the recorded acoustic. This cartridge shows once and for all that things really can snap into focus when a serious pick-up is deployed. It's like peering through the viewfinder of a top-drawer DSLR camera after you have just applied first pressure to the shutter button.
Take The Cocteau Twins' 'Lazy Calm' [Victorialand; 4AD CAD 602]. This is an early '80s analogue recording that sounds opaque and fluffy via all but the best cartridges. Not so here, as the MC Anna Diamond picked through each element of the mix, seeming to bolt it down, then weld it to a solid piece of granite. The different multi-tracked guitars were so precisely positioned between my speakers that they could easily have had their own GPS coordinates. At the same time, the keyboard work behind them was vast in scale and pushed far left and right, giving a cavernous effect. The result was quite hypnotic, and all the more profound because this track can so often sound like the musical equivalent of an impressionist painting – all misty and ill-defined.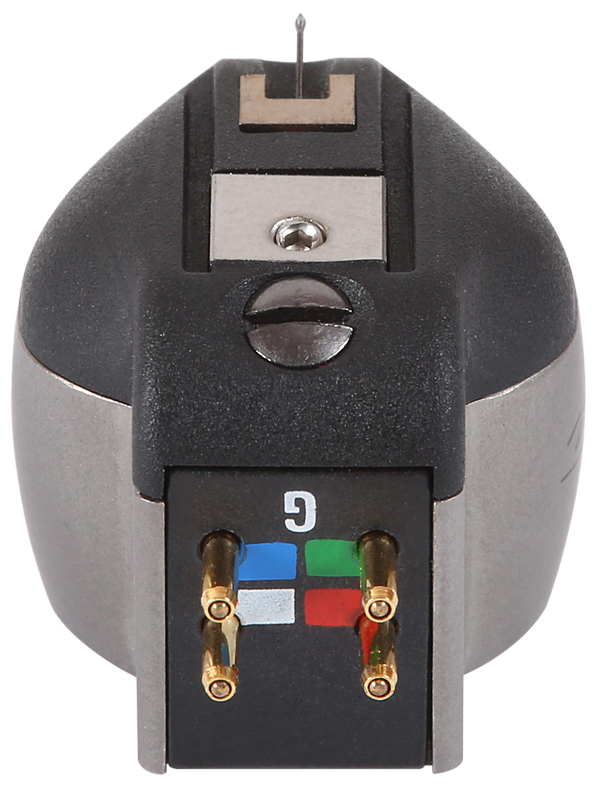 Master Class
This is just one aspect of the MC Anna's brilliance. Slip on some new wave in the shape of The Buzzcocks 'Harmony In My Head' [United Artists UP 36541], and it's as if you're listening to the studio master tape, losing an entire 'generation' of transfer from metal plate to pressing. This is down to the cartridge's immense resolution. Indeed, that diamond cantilever feels like it has the stylus locked into the record groove, painstakingly tracing its every last modulation.
Then there was Cerrone's 'Supernature' [Cerrone 3; Atlantic K 50431] – a disco track from the late '70s that's a little soft around the edges. Via the MC Anna Diamond it sounded truly special as every nuance was captured in dizzying high resolution. The midband possessed a translucence that meant you could focus right to the back of the mix, basking in the myriad production effects at the same time. The arpeggiated lead keyboard work had an uncanny clarity to it while the bottom end was hugely grippy, serving up a rich bass synthesiser sound that was wonderfully liquid.
As for the high frequency performance, this was remarkable, with a delicate and feathery quality to the hi-hat cymbals that was a striking contrast to the splashy 'tizz' that lesser moving-coils can deliver. Tonally this cartridge is subtly brighter than some, but never feels hard or brittle – quite the reverse.
Feel The Force
Explosive dynamics were another huge attraction. This pick-up's ability to trace the difference between, say, a gently brushed snare drum and one struck with the full force of a stick is superb. And the MC Anna Diamond can ferret out all the 'gaps' in the music with great skill. The loud bits go seriously loud, while the quiet bits fall eerily silent. This quality ensures that even light, relatively easy-listening material sounds highly animated and emotionally engaging. For example, The Bee Gees' 'Spirits Having Flown' [from the album of the same name; RSO MWF 1058] was carried beautifully. This song has a quiet, shuffling verse that builds to a loud, heavily modulated crescendo in the chorus, yet this cartridge made the verses sound no less fun. Able to pick apart all the different strands of the mix, it gave a glass-clear rendition of both the solo vocal line through the verse and the band's big falsetto harmonies, for which they were famous, in the chorus.
So Ortofon's new flagship MC presents music in a way that is unapologetically modern, but does so in the best possible way. It takes to the groove like a 'SWAT' team, determined to flush out whatever it finds. It's hugely effective at this, and those seeking this sort of sound will absolutely love it.
Hi-Fi News Verdict
Beautifully engineered and built and possessing a sound that can take your breath away, this seriously special design can lay claim to being one of the best cartridges ever made, even if such a premium performance comes at a price. What's more, it underlines powerfully something I've always firmly believed – that with the right equipment, vinyl can sound simply sublime. It's time to start saving...