Octave Audio V70 Class A Integrated Amplifier Page 2
In practice, the power selector is deployed in exactly the same way as the equivalent setting on PrimaLuna's EVO 300 [
HFN
Mar '21], depending on which output valve you use. For the V70, Octave specifies the 'Low' position for KT88s and 6550s and 'High' for KT120s and KT150s. I certainly wouldn't risk trying anything else as the manual cautions against it.

Feel The Force
Once you understand the start-up operation and let it settle for a minute or so, the V70 Class A is a dream to operate. But never be smug or complacent: I've spent hundreds of hours with KT120-equipped amps, and must admit that this doesn't deliver the sheer grunt or slam I anticipated, eg, with the powerful percussion throughout The Honeycombs' debut in the CD box Have I The Right? [RPM QRPMBX548] or the rich bass on Dread Zeppelin's 'Stairway To Heaven' CD single [I.R.S. DREADCD2].

This was more noticeable with Falcon Acoustics' LS3/5A [HFN Dec '18] with its limited ~82dB sensitivity, and Magnepan's LRS which has a tougher rated 4ohm impedance. But this was not simply a matter of power as the amp had no trouble driving either, rather it was more a case of perceived forcefulness. Instead, for me this marked the V70 as veering toward the refined and polite, rather than the choice for head-banging, as might be indulged with the White Zombie's 'I Am Hell' from The Beavis & Butt-Head Experience [Geffen 424 613-2].
Amusingly, the V70 showed its true colours with that CD's penultimate track, Cher singing 'I Got You Babe'. Her familiar, three-octave contralto voice, sounding spectacular in this 1993 recording, oozed authenticity and there was no mistaking that wonderful liquidity her singing possesses. As for our animated heroes' chatter, it had me rolling on the floor, forcing me to dust off my DVD box-sets.
Sticking with familiar voices, of late I have been bingeing on one of the worst singers ever to achieve superstardom, someone who makes Bob Dylan sound like Dean Martin. But there's a certain charm to Lou Reed's smug, irritating tunelessness, and the production on Coney Island Baby from Original Album Classics [RCA 8697 30473] is exceptional. When something makes me leap from my seat, I like to credit the system as well as the recording, and 'Kicks' did just that.
Take Notice
Even if that track is familiar to you, the sudden appearance of disparate voices in various locations, like a bizarre Greek chorus, makes you sit up and take notice. What reminded me of the inherent tube virtues, which differentiate the amp from many solid-state devices, was the V70 delivering these cameo speeches in actual layers distinct from the main performance.
This is as tough a task as recreating authentic stage width or depth, and what it provides is added veracity. Far too many amplifiers are able to establish a realistically deep-sounding platform, but with everything on the same plane, like the old Viewmaster 3D slides. The V70 Class A avoids this flattening effect. With the soundstage suddenly becoming more intriguing, having satisfied my obsession with vocal realism, I turned to the Broadway recording of Fiddler On The Roof on open-reel tape [RCA FTO-5032].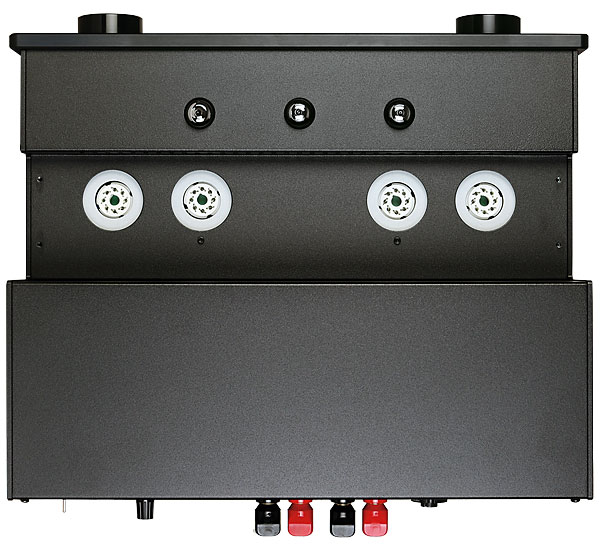 As hoped, the sound-space was cavernous and airy, with the performers convincingly spread across it. Because much of this recording is spoken, more the norm with stage recordings than film scores, it was particularly revealing of the quality of the transients, avoiding sibilance and retaining the resonance of Zero Mostel's voice.
His sighs, too, in 'If I Were A Rich Man' crossed 57 years to sound as if they were happening in real-time, circa 2021. Where assorted performers were heard, as in the song 'Tradition' and other numbers with a chorus, each voice enjoyed its own spotlight – without veering toward the too-clinical. Was I warming to this, auditioned immediately after the nearly-as-clever PrimaLuna EVO 300? Almost.
It has a touch more authority if less sheer force (tube type notwithstanding), slightly greater refinement and a touch more air. But the price, without extras, bears careful consideration because one is paying for features rather than sonic performance, not least being the tube management, the extra inputs and other nice touches. If these matter to you, then add this amplifier to your shortlist.
Hi-Fi News Verdict
If describing Octave's V70 Class A as 'cerebral' seems odd, and 'Teutonic' too obvious, then think of it as a calculated, intelligent choice for the valve lover who demands modernity. This is as far removed from vintage tubeware as any current amp I can name, with no concessions to nostalgia. The sound is pristine, yet with just enough warmth to remind you it isn't solid-state. All this and superlative build to boot.