Naim Audio ND 555/555PS DR Network-Attached DAC Page 2
Naim's attention to power supply design is no less legendary. Here, no fewer than 13 stages of Naim's DR (discrete regulation) PSU stages are employed between the ND 555 and 555PS DR, each located close to the section of the player being supplied, including separate regulation for the DACs, clocks and output stages. Furthermore, while the usual recommendation to connect the ND 555 to the network via Ethernet still holds, Naim has also improved the Wi-Fi performance of its new ND series to include 802.11b/g/n/ac capability and support for 2.4GHz and 5GHz speeds in order to give greater stability.
Also, a greatly expanded Wi-Fi buffer is now used to prevent drop-outs, the company saying it can now store an entire track's worth of data. Two rubber antennae are provided for Wi-Fi, and one for Bluetooth, mounting to screw terminals on the rear panel, but experience suggests they should be left in the box in a 'hard-wired' system.

The Big Reveal
That's the kind of tweak you get used to when beginning your journey with the ND 555. This network player is so extremely revealing that just about everything you try seems to make some difference to the sound – although whether for the better or worse may well be a matter of personal taste. Apart from the usual extended Naim run-in period there are small matters such as the need to 'relax' the cables, the attention required for cable-dressing behind the rack, and choice of router used to connect the ND 555 to the network.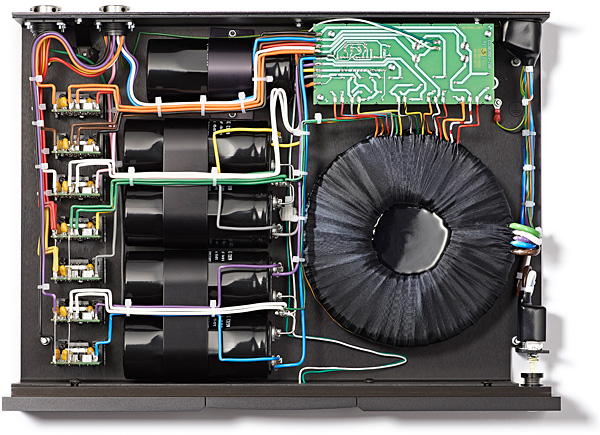 And there are also foibles. For example, instinct suggests one should use the menu in the Naim app to disable unused inputs, if for no other reason than that it simplifies the display on your mobile device. Not so, for word is that the ND 555 sounds best with all inputs enabled, although I've yet to hear any explanation – let alone a convincing one – why this should be.
If by now you are thinking this is all mythology, so be it, for almost all of these things are no-cost or minimal-cost options – at least when dealing with a player on which you've already spent the thick end of 20 grand – and well worth trying.

Our review sample of the ND 555 already had plenty of time on it, and had only recently been removed from a system when we unboxed it and set it up for lab testing and listening, so required little more than a day or so's running to get warmed through. That was hardly an onerous task, given just how good it sounded as soon as I connected it into my Naim/PMC system, which has at its heart a very well used NAC52/52PS/NAP250 of the 'olive' era, thoroughly serviced in the past year or so. What the ND 555 does is take the rhythmic acuity and sheer musicality of the NDS, and layer on top a good deal of extra insight and detail. It creates even more persuasive soundstage images, and brings you even closer to the recording.
Especially Thrilling
That was immediately apparent with Anna Fedorova's lovely Four Fantasies set [Channel Classics CCS41318; DSD128]. The weight and sonority of the piano was striking, as was the impression of the instrument set in a concert hall acoustic, while the precision and expression of Fedorova's performances were laid bare, revealing both her technique and the luscious fluidity of her playing.
The final movement of the Beethoven 'Moonlight' sonata was especially thrilling, the notes tumbling from the instrument at breakneck speed, but with each one clear thanks to the ND 555's superb microdynamic ability. Notable, too was the way the player handled the exemplary dynamic range of this recording.
These attributes also served well more complex recordings, whether hi-res or in standard CD quality. Joe Jackson's latest album, the punchy Fool [Ear Music 0213592EMU], benefited from the ND 555's crisp, gutsy sound, not to mention the fine weight and definition in the bass. Jackson's voice has both character and clarity, and the presence of the accompanying band was startlingly vivid, from the big swelling slam of the opening 'Big Black Cloud' to the subtlety of 'Strange Land'. The album's big lush soundscape may be some way from Jackson's roots of four decades ago, but via the ND 555 it was no less compelling.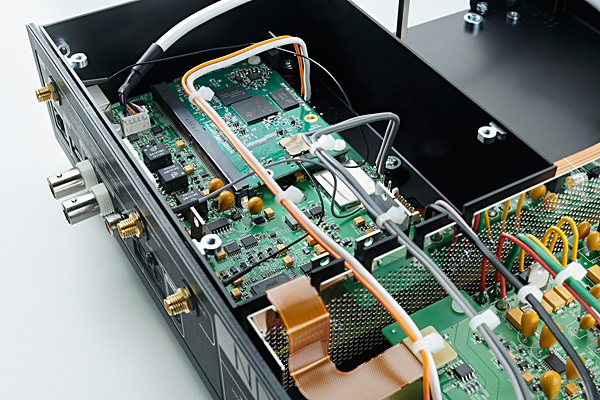 Treat the ND 555 to the 96kHz/24-bit version of Mare Nostrum III [ACT 9877-2], the latest collaboration of trumpeter Paolo Fresu, accordionist Richard Galliano and pianist Jan Lundgren, and the sound just shimmers with the detail and subtleties of the recording. The three performers were beautifully placed in an intimate sonic picture, their instruments rendered in jaw-dropping fashion without ever sounding hyper-real or forced.
Used as an outboard DAC via USB-A or S/PDIF connections, the ND 555 delivered a sparkling performance within the limitations of its digital inputs, but it really came into its own when fed with files via a network connection, whether using its own UPnP capability or via Roon.
Yes, there's maybe a smidge more of that enthralling presence and sheer involvement when used in its native form rather than via Roon, but the difference is so small I suspect those converted to the library/playback software package will use it more, for its convenience.
Sublime Sounds
I certainly spent as much time with Roon Remote running on my iPad as I did with the Naim app, good though it is, not least because this also opens up Qobuz Sublime+ streaming to the ND 555. And very enjoyable that is, too, as I found when streaming Santana's slinky 'Lovers From Another Time' [from the In Search Of Mona Lisa EP, Concord Records; 44.1kHz/24-bit]. The sound was rich and warm, yet simply packed with musical information, which is the Naim ND 555's sonic signature.
Hi-Fi News Verdict
The ND 555 is remarkable in not just matching the best 'physical media' players but bettering most – and by some margin. Take the required care in installation, be prepared to wait a while for it to come on song, then tweak your set-up to get maximum performance, and you're unlikely to be disappointed. The now-discontinued NDS was excellent, but the ND 555 betters it in sheer involvement and detail.