NAD C 700 Streaming Amplifier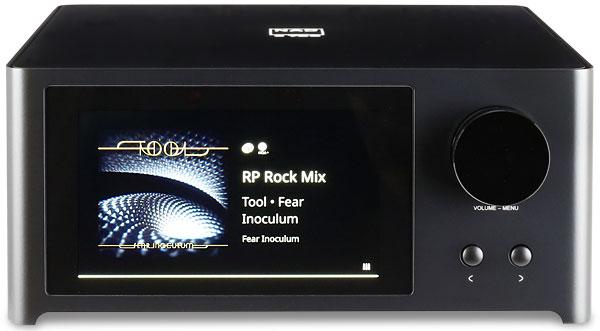 NAD remains a key partner in the BluOS wireless ecosphere and the C 700 is its most streamlined – read affordable and flexible – all-in-one network player/amplifier yet
With its latest 'just add speakers' hi-fi solution, Canadian manufacturer NAD's intentions are crystal-clear. Take the form factor and functionality of its award-winning Masters M10 BluOS-integrated amplifier [HFN Jun '19] but rethink the specification in order to nearly cut the asking price in half. This isn't a surprising move – at £1299, the C 700 is the 'mainstream' all-in-one system that has been begging to be built.
Like that earlier machine, now in v2 guise, the C 700 is impressively compact. The aluminium chassis, available in any colour so long as it's black, measures just 22cm wide and less than 10cm tall. Add in a weight of 4.8kg and it's an amplifier that's ridiculously easy to find space for.
It's not only the casework that's reminiscent of the M10. NAD's new amplifier has a full-colour display, the first model in its C series to do so. However, this 5in panel is not a touchscreen, à la the M10, so navigation of its many features is governed by two adjacent left/right keys, plus the C 700's physical volume dial (something the M10 doesn't have), which doubles up for menu 'scroll and select'.
Familiar Real Estate
A peak around the rear reveals a similar view to that of the M10, albeit with more cost-effective red and blue plastic speaker terminals. Again, the C 700's connections lean towards the digital user – there are two stereo RCA ins and a pre-out, but no phono stage, and headphone support is via two-way aptX Bluetooth with no wired option. Beyond these shortfalls, however, it's very well appointed, with digital inputs on coaxial, optical and HDMI eARC, a USB port for use with an external hard drive, and Wi-Fi and Ethernet to enable the BluOS streaming/control platform.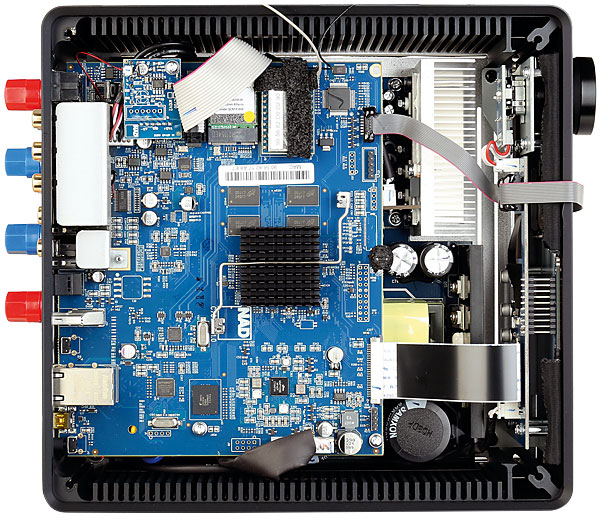 The latter is where this amp will, for many users, really earn its crust. First featured on products from fellow Lenbrook brand Bluesound, BluOS integrates a dizzying range of streaming services (including big hitters Tidal, Qobuz, Deezer and Amazon Music HD), playback from connected devices, and multizone audio – the C 700 can become part of a BluOS system running to 64 zones, perhaps including active speakers from Bluesound and DALI. All this functionality is wrapped up in the BluOS app.
Anyone weighing up the C 700 as an alternative to the M10 will note that some features have been culled, but perhaps won't be missed. One of these is Dirac Live, the third-party automated room correction system. My experience of Dirac is that its impact can be transformative, but it's arguably more of a boon in multichannel set-ups where there's less flexibility over speaker positioning and many more reflections to deal with.
Competition Time
The C 700 also does away with the M10's secondary independent subwoofer output and decoding of Dolby Digital (another AV-centric feature). Meanwhile, something that's missing on both the M10 and the C 700 is a front-panel on/off switch. Instead, around the back, is a tiny standby button that requires a very lengthy press to put the machine to sleep, signified by the amp's illuminated NAD logo changing from white to orange. Why is this button not on the front where it's easy to access? Answers on a postcard.
And, yes, there are changes beneath the bonnet, the headline being a switch from the Hypex nCore power modules of the M10 to a more affordable UcD solution, and a drop in rated power from 100W to 80W/8ohm. Further pennies, meanwhile, have been saved on the DAC choice, with the C 700 fitted with an ES9010 chip rather than the ES9028 of the upmarket M10.
Ease of use and setup are worthy of praise, especially for a device with so much functionality. Those already running BluOS will find the C 700 added to the app mere seconds after the hardware is connected to their home network, and neither will novices find the installation process unduly complicated. Managing the amp's various tools and settings (including bass and treble tone control, source naming, sleep timer, subwoofer crossover, changing the display panel to show a digital VU meter…) is straightforward too, despite the lack of a touchscreen – not least because nearly all settings are replicated in the BluOS app.

Music With An Uppercut
NAD most recently impressed us with its £1799 C 298 power amplifier [HFN Oct '21] which, like the M33 [HFN Aug '20], employs Purifi's flagship Eigentakt Class D modules. So, it probably goes without saying this more affordable, just-add-speakers contender has a different sonic signature. Our review of the C 298 was peppered with words like 'clout' and 'guts', and while the C 700 is in no way bereft of muscle it's more its speed and attack that stands out here. Think fleet-footed middleweight boxer with a knockout jab – rather than a pulverising heavyweight slogger – and a listening experience where the relationship between you and the music is thrillingly direct.