NAD C 3050 LE Integrated Amplifier


It may look like the 3030 from 1976, but beneath the faux-retro exterior of NAD's celebratory, limited edition C 3050 integrated beats the heart of a 21st century amp
Since its founding in 1972 NAD has grown into one of the mainstays of the hi-fi industry, and to celebrate its first half-century of existence, the brand has launched the C 3050 LE streaming amplifier. Taking cues from forerunners such as the C 700 [HFN Feb '22] and the C 389, it's a just-add-speakers package, including HDMI connectivity and an MM-only phono input.
That's 'LE' for 'Limited Edition', by the way, indicating the amplifier is one of only 1972 units that will be produced. In the US the C 3050 LE is sold for $1972, subtly ramming home the point that NAD was established in that year. In the UK we have to dish out a little more at £1799, and the EU price is a whopping €2499.
Standard Sibling
Most of the units are sold by now, so you'll have to get your skates on if you still want to grab a C 3050 LE. Luckily, there will be another chance this summer, when NAD will launch a regular and virtually identical NAD C 3050. You'll miss out on the real walnut finish and some vintage design elements, including the legacy 'New Acoustic Dimension' script that will be replaced by a standard NAD logo. But not to worry, the backlit VU meters and front panel with push-button input selection will remain part of the package.
On top of that the C 3050 LE is loaded with BluOS streaming and Dirac room correction, although again the standard C 3050 will miss these features. However, they can be added by sliding in the appropriate MDC2 module at the rear left of the chassis. The '3050 will sell for £1299 but as the MDC2 BluOS-D card retails at £479, you'll end up at more or less the same price point.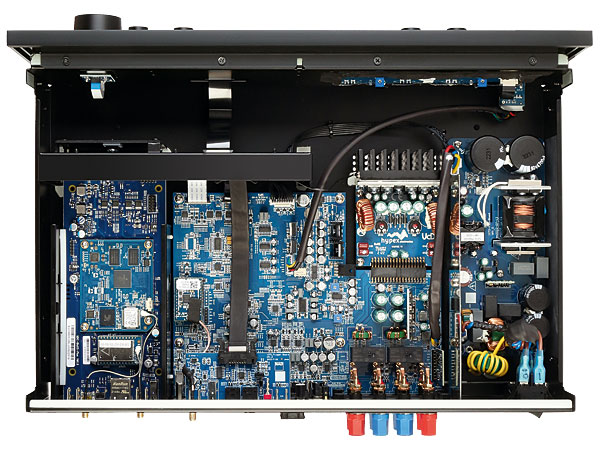 The C 3050 LE's exterior is a fitting homage to the brand's beginnings, but the inner workings and broad connectivity have a very different story to tell. There's nothing vintage under the hood here, so there's always the chance its choice of streaming card, 'digital' preamp and analogue Class D power modules for a revivalist product might raise eyebrows. NAD possesses a cunning marketing department but this is not an attempt to hoodwink hi-fi enthusiasts pining for an authentic throwback to the golden age of hi-fi!
Ahead Of The Game
In truth, the company was in the vanguard of Class D adoption [HFN Jun '10] just as the NAD mothership, Lenbrook, was early to the streaming game with its BluOS platform. Dropping a random Class AB solution into a wooden box and labelling it an anniversary product would not have been an authentic NAD product either. From that viewpoint it's apt that NAD should combine current-state technology with old-timey industrial design.
With the MDC2 expansion slot filled with the new BluOS-D module, the C 3050 LE possesses extensive streaming capabilities. Leading the charge is BluOS, a very mature platform that's outgrown its roots as a Sonos challenger to encompass high-resolution playback, a broad support of services (including some real niche ones, like the Neil Young Archive), and multiroom coupling with a wide range of hi-fi and CI products.
It's perfectly fine just using the BluOS app with a single C 3050 LE, but also reassuring that you can use the software to, say, stream an attached turntable to some wireless speakers in the kitchen. The BluOS app itself is on the cusp of receiving a new look, so there's not much point in critiquing the old interface I still used while testing. AirPlay 2, Spotify Connect, Bluetooth and – still uncertified – Roon are also available to stream.
Dirac room correction is another standout feature at this price. The software isn't cheap to license and implement, which is why it generally appears on more expensive kit. As per usual, the included licence allows for room correction up to 500Hz – Dirac can build filters adjusting the full frequency range, but this requires a separate licence. This might sound like cost-cutting from NAD, but adjustments below 500Hz generally suffice to tackle bass-related issues, such as room modes.