Musical Fidelity Tri-Vista kWP and kW Amplifiers Also In HFN This Month In 2003
Also In HFN This Month In 2003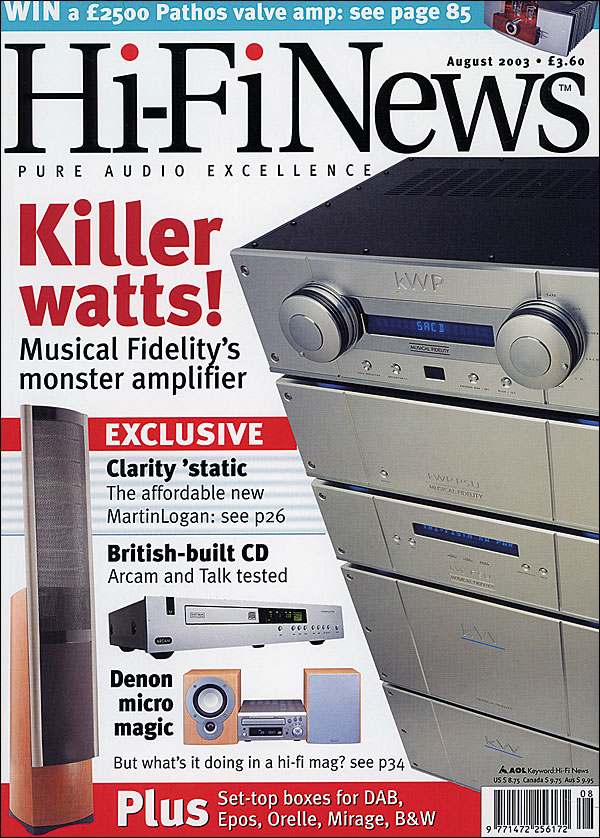 MartinLogan Clarity
Hard to drive, fragile, lacking bass – David Allcock discovers if these 'statics fit the stereotype.

Orelle SA100 evo
It's got the style, but does it have the substance? Alvin Gold checks out this integrated amp.

Epos ELS 3
Ivor Humphreys looks at these enticing budget speakers from the British marque.

Monitor Audio GR60
Martin Colloms checks out the floorstander flagship in MA's 'Gold Reference' series.

Talk Thunder 3.1B CD player
Paul Miller roots around inside this dedicated CD player.

King of his Castle
Paul Hardcastle, musician/producer extraordinaire, chats to Michael Cavenett.

Half-cut
Paul Rigby talks to the bods at Metropolis about a resurrected audiophile vinyl technique – half-speed mastering.

Arcam CD33T CD player
Andrew Harrison puts this latest incarnation of Arcam's sophisticated technology through the mill.