Musical Fidelity Nu-Vista 800.2 Integrated Amplifier Page 2
In practice, the 800.2 is the latest in what will be a full Nu-Vista range from Musical Fidelity. The existing Nu-Vista Vinyl phono preamp [
HFN
Mar '18] will be updated with balanced inputs and there will also be a fully balanced DAC plus a partnering CD transport. Also anticipated is a (slightly) lower-powered 600.2 integrated amplifier, not to mention very high-powered PAM monoblocks.

Big Smoothy
Initially set up with a pair of KEF R3 Meta standmounts [full review next month], the 800.2 proved capable of that welcome trick of making 'small' speakers appear big, such was the depth of its bass delivery. However, it was with MartinLogan's towering Motion XT F200 floorstanders [HFN Jul '23] that I was able to appreciate the full scope of its abilities. The amplifier has a latent power that feels prodigious, yet it's coupled with a smoothness that ensures listening to any flavour of music is a real pleasure. This silky and luxurious character is a constant, and while some listeners might trade a little less velvet for a more incisive edge, for me the 800.2 blows that notion away with the sheer poise and stature of its performance.
'Your Star Will Shine', from The Stone Roses' Second Coming album [Geffen 424 503-2], is a woozy, acoustic jam with plenty of textural contrasts, and Musical Fidelity's integrated makes it sound both delicate and large, with castanet percussion an insistent presence behind swirling, multitracked guitars. On 'Wonderwall' by Oasis, from their 1995 album (What's the Story) Morning Glory? [Creation Records CRE CD189], the amp pushes vocalist Liam Gallagher into the room, forward of his brother's background guitar strumming.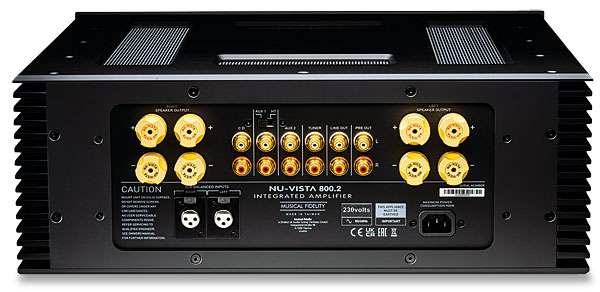 On the surface this is another gentle piece, but when the drums, low strings and bass guitar entered on the second verse, the depth and control was remarkable. The same can be said of the 800.2's evocation of the recording environment. The Rolling Stones' 'Start Me Up' [Tattoo You; Virgin 7243-8-39521-2-0], a track left over from the band's Some Girls sessions, paints a picture of Mick, Keef and co rampaging in the live room, with reverb to the hand claps and guitar flourishes. I almost felt I was there with them.
All Clear
This track boogied along in a foot-tapping blur, aided by the amp's quick reactions to the stop/start production – the 800.2 might be a real heavyweight, but it can groove along with ease, throwing fast punches. There's less of an upbeat feel to The Police's 'Every Breath You Take' […The Singles A&M Records; EVECD 1], but the amplifier effortlessly switched gear to craft a fulsome, bass-rich wave of sound, deep enough to dive into. The piano accompaniment was clear and lifelike, with the weight of each press of the keys easy to appreciate, as was the occasional cheeky stutter in Sting's otherwise uniform bassline. Such fine details aren't hidden away, but neither are they spotlit: Musical Fidelity's new model gets the balance right between its big picture presentation and the incisive retrieval of minutiae.
Thumping Timpani
As for the 800.2's vast vat of power, it held MartinLogan's three 200mm bass drivers in a strong grip and pushed out music at a volume that's easily described as 'room-filling'. Using the somewhat oversized remote handset, it's then easy to find the level to suit, such is the granular nature of the volume control. Enya's 'Even In The Shadows' [Dark Sky Island, Warner Bros Records; 96kHz/24-bit] demanded to be listened to loud, and the amplifier responded with aplomb, ensuring the layered vocals and weighty transients didn't lose an ounce of their rich, smooth quality as the VU meters on the fascia crept to the right.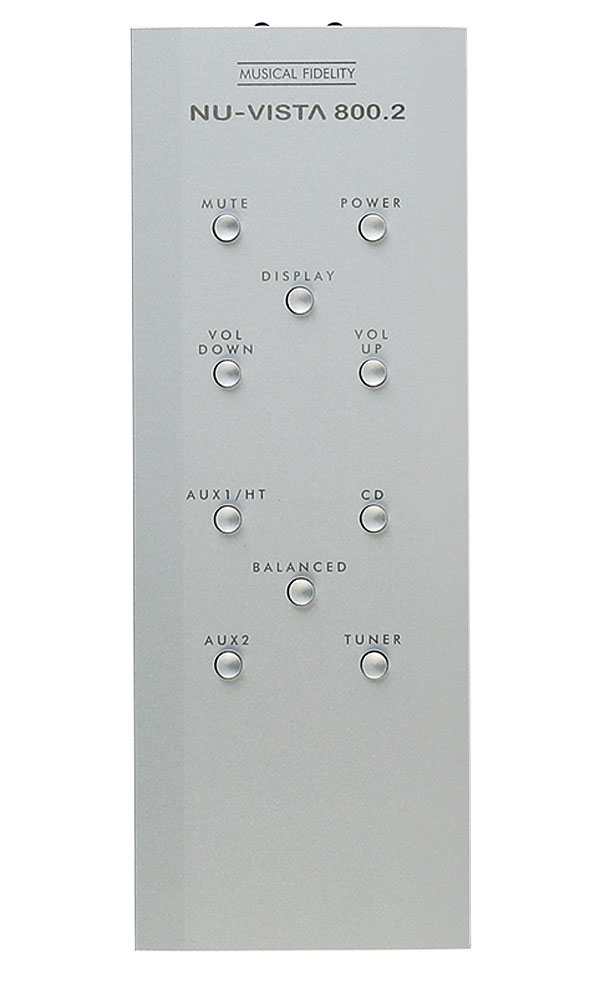 Indeed, largescale productions might well be the 800.2's bread and butter as James Horner's score for the film Titanic [Sony Classical SK 63213] came across as big as the doomed vessel itself. In 'Take Her To Sea, Mr Murdoch', optimistic melodies from across the orchestra pit dovetailed with resonant strings, thumping timpani and crashing cymbals, and again there was the sense the 800.2 wasn't missing out on any elements, high or low, as the sound flooded the listening seat. Moreover, Horner's love of dynamic stabs of brass and strings, such as on 'Hard To Starboard', require an amp with plenty in reserve, and these arrived with a dynamic swagger.
In a nutshell, the appeal of the Nu-Vista 800.2 doesn't simply boil down to its obvious output. This all-analogue integrated has the kind of performance that leaves you lost in the music, and focuses you on what you're listening to, rather than the amp powering it all. I won't say it goes about its business quietly, because it plays loud and weighs over 40kg, but it is utterly unflappable with whatever you throw at it. As my listening segued from the delicate compositions of Philip Glass's Glassworks [Sony Classical; 96kHz/24-bit] to the pounding hip-hop of Dr Dre's 'Still D.R.E' [2001; Interscope Records 490 4862], I loved every second.
Hi-Fi News Verdict
In an ideal world, the Nu-Vista 800.2 wouldn't exist. Still, the forced retirement of its predecessor has birthed a worthy successor, with some aesthetic refinements and a whole lot of power under the hood. This amp has the smoothness you might expect from its nuvistor tubes, allied to a feeling of glorious, controlled aggression. And next to the brand's PRE/PAS system, it looks like an absolute bargain!