Monitor Audio Gold 100 Loudspeakers Page 2
MA's specification suggests the Gold 100s don't present too demanding a load for a modern amplifier. They certainly seemed well suited to the amps I had on hand, including a Naim Supernait 2 [
HFN
Nov '13] and the Mark Levinson No5805. Nevertheless, I thought the speakers sounded a little 'tight' on first acquaintance, with a rather restricted bass putting undue emphasis on the treble, giving them a sound one could almost accuse of being thin and brash. However, this shows the danger of assessing a pair of speakers 'cold', as the Gold 100s soon loosened up and filled out after some hours' use, finally revealing what they could do.
Relatively small they may be, but driven well the Gold 100s deliver a performance that belies their size, especially if you don't ask them to fill very large spaces with sound – after all, there are the floorstanders in the range to fulfil those needs. Rather in the manner of other similarly-priced upmarket standmounts, such as KEF's excellent R3 [HFN Dec '18], the Gold 100s deliver a combination of precision and punch that elevates them way above the budget baby speaker norm.
Striking Results
Yes, there are now some very good compact entry-level speakers on the market, offering sensational value for money, but these more upmarket designs put their extra budget into the sound, with striking results. Matching the top-quality styling and construction of the Gold 100s is a sound of considerable refinement and detail, not to mention a sense of 'rightness' that ensures genuine musical involvement.
Above all, they deliver excellent presence and focus, as is much in evidence with Feenbrothers' Play Dave Brubeck set [Sound Liaison SL-1032A, in DXD 352.8kHz], where the 'one microphone, one take' technique of the recording gives an immediacy revealed exceptionally well by the Gold 100s. That extends to the little fluffs in the live performance, and the way the musicians adapt and move on. The moment when pianist Mark van der Feen's phone falls into the instrument (!) during 'It's A Raggy Waltz', momentarily distorting the sound, is all too apparent, as is the way he reacts by altering the course of his playing.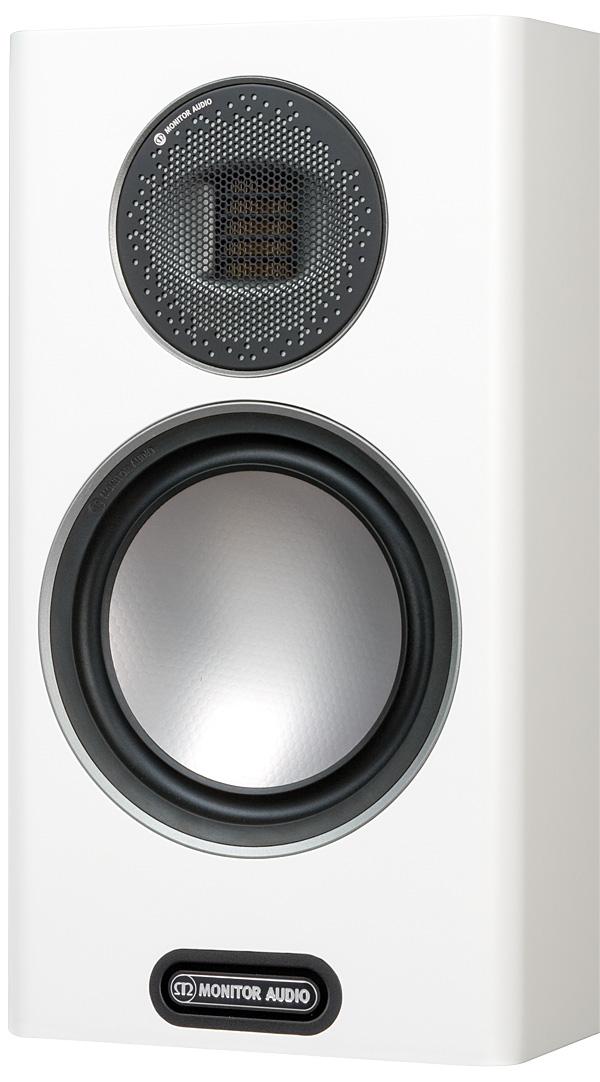 Out Of Their Skins
What little the Gold 100s lack in absolute bass extension is covered by the combination of speed and richness in the lower frequencies, especially in Matthijs van der Feen's drums, while the sense of the four brothers ranged around the Josephson C700S microphone is rather remarkable, as is the sheer dynamic range of the recording.
True, there are times when the speakers sound a little light on their feet, as with an orchestra in full flight such as the Staatskapelle Berlin under Barenboim in the Brahms symphonies [DG 483 5251; 96kHz/24-bit] or the scale of Pink Floyd's Wish You Were Here [in DSD64 from Analogue Productions CAPP 33453 SA], where a bit of extra air-shifting power wouldn't go amiss in the low end. But what these speakers do so well is remain clean and focused even when pushed hard, enhancing that impression of playing out of their skins when the music demands. They're never dull, and always sound very mature and controlled, without impeding the flow of the music.
These speakers are so well integrated that it almost seems to be forcing a point to single out particular areas in which they excel, but it would be remiss not to highlight the quality of that MPD treble driver. Not only does it give an impression of pin-point image focus, across a wider than usual listening area, but it also sounds open and airy without ever straying into forwardness.
That blend of sweet treble and an explicit delineation of space and air is exceptionally attractive, and never more so than in a set featuring a single instrument recorded in a real space. Listening to Johan Versk's Choosing Favourites [AudioDefine AD-JVCF, DSD128], where the pianist's slightly distant Fazioli grand sits in a realistic-sounding acoustic, the effect was as 'in the room' as I have heard in a long while.
Hi-Fi News Verdict
With a classy sound to match the stylish new looks, in the usual beautiful Monitor Audio finishes, the Gold 100 is very definitely an upmarket little speaker. It creates a refined, precisely focused sound with lovely integration, and even covers its lack of absolute bass with a combination of speed and punch. Use with high-quality sources and amplification and, provided your room isn't huge, you won't be disappointed.