Modwright Ls 36.5/kwa 150s (£7995 Pre With Psu/£6795 Power)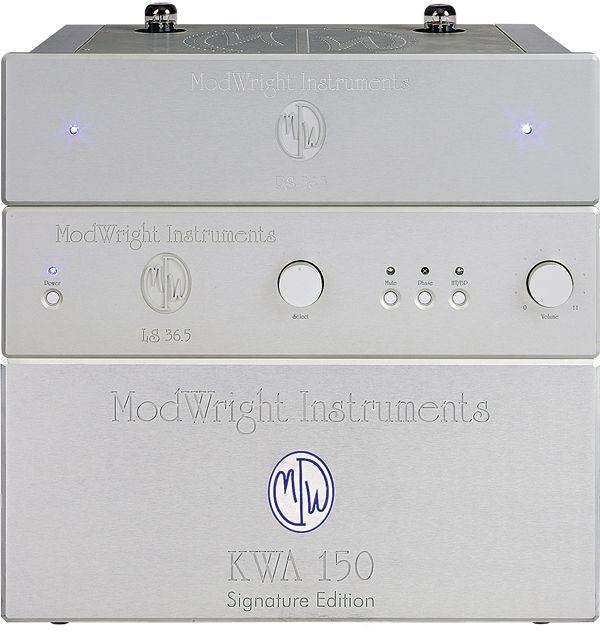 With this hybrid system, the sound bears the hallmark of long and thoughtful development by a dedicated designer
ModWright's owner Dan Wright argues that 'Valves are great voltage amplifiers and solid-state devices are great current amplifiers.' Hence the combination here: the top of the range 'DM' dual-mono version of the LS 36.5 preamp, with its separate PS 36.5 power supply, and the KWA 150 Signature Edition power amplifier.
The PS 36.5 has two rectifier tubes in addition to tube regulators which are installed before shipping, as are the two 6H30 double triodes in the LS 36.5. ModWright warns that changing the 6H30s for other tubes will damage the unit.
The front panel layout closely resembles the old SWL 9.0 [HFN Mar '07]. The central rotary control is a source selector with its leftmost position selecting the balanced input and far right selecting the home theatre bypass or HT/BP loop. Volume control and the source selector are motorised for remote operation. Between the two are three push buttons for Mute, Phase (invert) and HT/BP.
At the back are balanced XLR inputs, plus four pairs of phonos, alongside one pair of XLR balanced outputs and the three pairs of phono outputs.
ModWright's KWA 150 power amp is a direct-coupled fully-differential design using no global feedback. The 'first watts' are said to operate in Class A, and unusually, there is a High/Low bias setting switch, which trades off sound quality against efficiency. Short-circuit or current overload protection is provided by ModWright's proprietary Total Silent Protection circuitry, which lies completely outside the signal path.
Fine detail and body
When we put on Rebecca Pidgeon's The Raven [Chesky] the amplifier really did seem to bring a fresh charm to Pidgeon's heartfelt and optimistic love songs. And with pianist Zoe Rahman's album Live [Manushi] Rahman's energy was simply jaw-dropping on her version of Abdullah Ibrahim's 'The Stride', hitting new heights in her duet with brother Idris on clarinet. Gene Calderazzo's drums had power and speed and Oli Hayhurst's bass solos came over with gripping intensity.
ModWright's aim has never been to emulate the supposedly 'soft and cuddly' sound of valves but you certainly couldn't say this combination lacked warmth. It was entirely captivating on 'Intuité' [Favored Nations], where guitarist Pierre Bensusan often gets his instrument to sound more like an oud, with the help of added ambience in the studio sound.
The presentation here excelled in detail too, as the precisely-captured finger and string noises brought a tangible and inviting reality to the musical performance.
Verdict
With this hybrid system, the sound bears the hallmark of long and thoughtful development by a dedicated designer, with careful component choice and attention to every detail, and it really lets the music into the room.

Originally published in the 2014 Yearbook