The Modern Lovers: The Modern Lovers Page 2
And that might well have been that except for a guy called Matthew Kaufman who'd set up a record label for the band he managed, Earthquake, with some money he'd made in a lawsuit against the studio who made Sam Pekinpah's The Getaway. The Steve McQueen/Ali McGraw movie was a big success. It had also used some of Earthquake's music without permission, hence the windfall.
Going Beserkley
Kaufman had been on the staff at A&M, where Earthquake had been signed, and had been involved in The Modern Lovers' demo sessions. When he hears that Jonathan was out on his lonesome he offers him a deal, and Jonathan, delighted, starts recording new, gentler stuff on Kaufman's Beserkley label. Eventually he has a new band and an album ready to go, which he calls Jonathan Richman And The Modern Lovers. Nevertheless, Kaufman, while supportive, still has a yen for the old outfit and, with Jonathan's begrudging approval, sets about acquiring the rights to both the A&M and Warners sessions.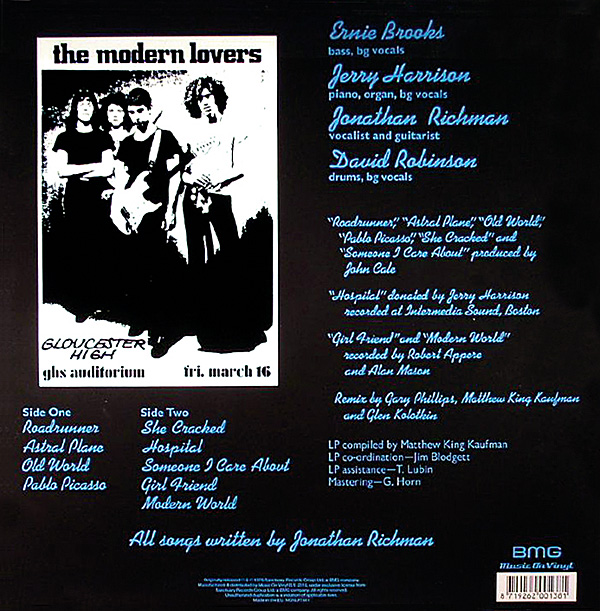 And so it is, in 1976, The Modern Lovers is released, four years after most of the tracks were recorded. Truth be told, it doesn't sell a million overnight yet it is rightly hailed by the critics as an instant classic. High priest of alternative scribblers Lester Bangs reckons 'only one in 20,000 has the nervy genius of Iggy or Jonathan and is willing to sing about his adolescent hangups in a manner so painfully honest as to embarrass half his audience'.
Others say stuff like: 'You could almost believe Jonathan is the Buddy Holly who lived to become middle-aged'. And 'Its musical simplicity, driving rock 'n' roll, and gawky emotional confessions makes The Modern Lovers one of the most startling of proto-punk records… it establishes the tradition of the geeky, awkward social outcast venting his frustrations'.
All of this is true. Amazingly, for a hotch-potch of demos which reached way back to 1971, Modern Lovers really does stand up as a unified, entirely satisfying whole, as brilliant and celebrated a debut as Television's Marquee Moon, The B-52's' eponymous first one, MGMT's Oracular Spectacular, The La's' only effort, The Ramones, The Stone Roses, The Doors and, yup, The Velvet Underground & Nico.
Hit The Road
The nine tracks are all of such character that there are no duds. Briefly, and to do none of them the full credit they deserve, they are: 'Astral Plane' (can't get a girlfriend, dreams about her); 'Old World' (loves his parents and the 1950s); 'She Cracked' (a girl he fancies takes drugs, but he doesn't); the sinister 'Hospital' (which is acknowledged on the sleeve as 'donated' by Jerry Harrison because he had the only copy of the original tape, and a track that sort of follows on from 'She Cracked'); 'Someone I Care About'; 'Girl Friend' (doesn't just want sex, wants a relationship); and 'Modern World' (appreciates today as much as yesterday).
The two most famous are, of course, 'Roadrunner', the ultimate two-chord late-night driving song based on The Velvets' 'Sister Ray' which goes on to be a freak hit in the UK, and 'Pablo Picasso', who 'didn't get called an a**hole when he tried to pick up girls', which David Bowie covered.
It's literally wonderful stuff and, without wishing to diminish Jonathan's later solo work (That Summer Feeling is sublime), as the neon sign read for his gig at Hammersmith Odeon in 1977, 'The Modern Lovers – the most fun you can have with your clothes on'.
Re-Release Verdict
Listed on Rolling Stone magazine's 2003 list of the 500 greatest albums of all time, The Modern Lovers' influential debut album appeared in the UK in 1976 on the Beserkley label [BSERC 1] with a further 16 years elapsing before we saw the CD [Rev-Ola CREV 007CD]. Music On Vinyl has now released a 3500-copies limited edition 180g pressing in silver [MOVLP1681], the sleeve replicating the original artwork, of course. We enjoyed a flat quiet-surfaced disc. HFN