Mitsuko Uchida Also in HFN this month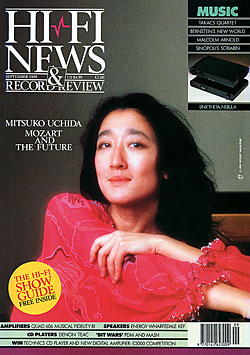 Also in HFN this month in 1989
LIVE ISSUES
Ben Duncan traces the signal path from mic to mixing desk.
ALEC HARTLEY REEVES
Reg Williamson pays tribute to a British digital pioneer.
JOHN KOSS
Trevor Butler talks sound with the man who invented the stereo headphone.
BIT WARS
Martin Colloms looks at different CD technologies and hopes for 'low-bit' options.
AUDIO-TECHNICA AT-450
Ken Kessler tests the new moving-magnet cartridge.
THE QUAD 606
Martin Colloms reviews the company's new power amp.
CHOICE COMPACTS
Martin Colloms assesses three loudspeakers: Wharfedale's Ritz Diamond, the KEF C15 and the Energy ESM-4.
DENON DCD-3520
A 20-bit CD player reviewed by Martin Colloms.
POT POURRI
Reviews of the Troy Ambisonics decoder and Musical Fidelity's new B1 amplifier.