Mission 770 Loudspeaker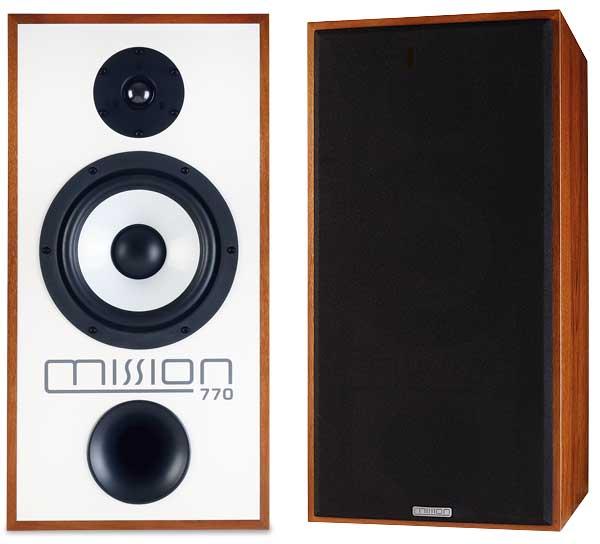 Launched 44 years ago, the original 770 loudspeaker with its polypropylene woofer and white baffle was nothing if not controversial. Will the reimagined 770 also make waves?
Hi-fi's 'subjective' revolution was just picking up steam when Mission's 770 shovelled a heap of coal on the fire in 1978. The move away from heavy plastics (Bextrene) was reflected in its polypropylene bass/mid driver while the light but rigid ply cabinet doffed its cap to earlier BBC-inspired designs. Its sound, meanwhile, provoked more column inches over the years than possibly any speaker since! The 770 received a very favourable review in Hi-Fi News [HFN Mar '79, 'Milestones' HFN Aug '12 and 'From the Vault' HFN Dec '15] but, writing elsewhere, a fledgling author by the name of Ken Kessler was, shall we say, less enthusiastic...
Into this rich history steps another, reimagined 770, from new owners (China's IAG) but with stalwart UK designer Peter Comeau at the helm. Peter was also cutting his teeth in the hi-fi industry at the time, setting up Heybrook in 1979, so he is intimately familiar with all such speakers from this hi-fi heyday.
Announced as a 'resurrection of a classic speaker', Mission's 770 continues a trend followed by several hi-fi brands, including others from within the IAG stable. Those with a penchant for 'vintage' aesthetics can add it to a shopping list that might also include, for example, Wharfedale's reintroduced Denton and Linton speakers, the Stereo 130 integrated amplifier from the reborn Leak brand, or heritage models from the likes of JBL and Klipsch. After all, if you're fully onboard the vinyl revival train, you might as well ride it to the end.
Meet The New Boss
From the outset, it's obvious Mission is taking this 'resurrection' seriously. The 770 comes with the same white baffle, branding, colourways (walnut or black real wood veneer) and even very similar dimensions as its forebear. Sure, the supplied grilles now affix magnetically, but this new model looks very much like the old one. Appearances are deceptive, though, as the 770 features new technologies almost everywhere you turn.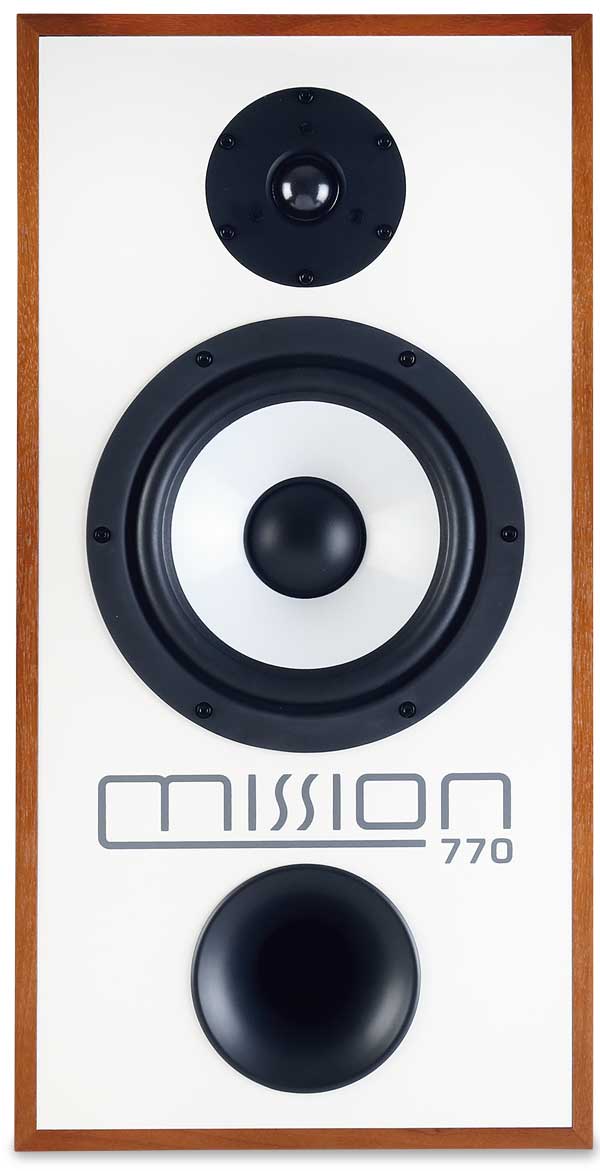 Mineral Spirit
Polypropylene is still employed for the 200mm bass/mid driver, but the cone geometry has been reassessed and the polymer material stiffened by mineral loading. Given a 'low-damping' nitrile rubber surround to limit edge reflections, this cone is then mounted to a new die-cast metal chassis and magnet, Mission believing the 770's motor design is now better suited to 'modern power handling and dynamic requirements'.
The HF unit is also a new concoction (and less visually busy than its forebear), partnering a 28mm microfibre polyester dome with felt and foam damping either side of a copper/glass fibre voice coil and primary magnet. Comeau and his team have, says Mission, paid more attention to the speaker's treble talents than did the 770's original creator Farad Azima, reflecting the improved capabilities of today's source hardware.
Speaking of improved capabilities, a modern approach to engineering the speaker's 2.9kHz crossover, using computer measurement and mapping, is perhaps where this iteration most differs from the 1978 original. Separate PCBs for the bass and treble arms, featuring polypropylene capacitors and air core inductors, were finalised, we're told, after a lengthy process that ran through 170 circuit versions. Not that Mission has completely forgotten the old-school method, also evaluating its crossover's performance with a series of subjective listening sessions.
Triple Jump
The new treble unit claims a 20kHz reach before roll off while the bass/mid driver combines with the cabinet's bass-reflex design to deliver a low-end extension down to a suggested 30Hz. The 770's front-facing port appears considerably larger than before and is flared at beginning and end to counter turbulent airflow. Additional resonance control is afforded via the revised cabinet construction. Out goes the 'thin-wall' plywood architecture of the original, which was damped via bitumen pads, and in comes a triple-layer system using 'high-density' MDF (but not HDF) sheets sandwiching a damping adhesive. Furthermore, internal bracing strengthens the baffle and driver installation, while acoustic foam and fibre has been 'strategically placed' to combat reflections.