McIntosh MA9500 Integrated Amplifier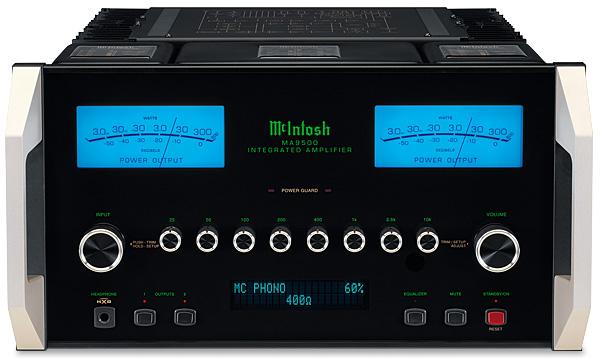 Like its predecessor, the MA9000, McIntosh's mighty MA9500 still combines transistors with transformers but the host of under-bonnet updates bring more than a little polish
What should an audiophile demand from an integrated amplifier with a price tag approaching £15k? There's an expectation it should be beautifully built and finished and, more than likely, hail from a respected marque with a long pedigree. There must be a sense of owning something special and exclusive. The performance, meanwhile, will need to be at or near the top of what's possible at the price, and with no shortage of power. As for the new £14,995 McIntosh MA9500, and without wishing to give everything away in my opening paragraph, it looks to tick all these boxes!
This is the 2022 edition of the widely respected, four-year-old MA9000 [HFN Sep '18]. It's largely the same in terms of feature count, styling and ergonomics, but benefits from some important engineering interventions. For instance, the PSU now has twice the smoothing capacity for a claimed substantial increase in dynamic headroom, while upgraded components are said to deliver lower noise. And, last but certainly not least, is the 'Roon Tested' DA2 Digital Audio Module.
DSD Upgrade
Replacing the DA1 DAC module of the MA9000, McIntosh's new DA2 features the quad-balanced ES9028PRO DAC and offers DSD512 support, up from the DA1's DSD256, via its single USB-B input. There are also two coaxial and two optical inputs, a proprietary MCT (for SACD data) connection, plus an HDMI ARC input. All this enhances the MA9500's digital functionality, though there's no network connection, while analogue sources are well catered for by six unbalanced RCA inputs, two balanced XLR ins, and an MM/MC phono with adjustable loading. Balanced and unbalanced preamplifier outputs are also included.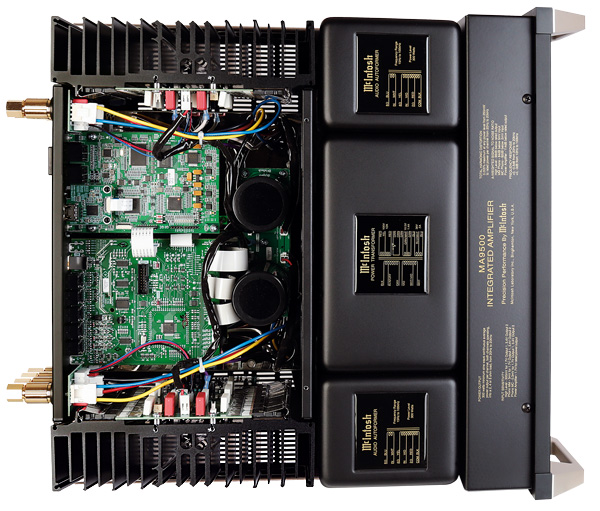 Like its predecessor, this new leviathan boasts a 300W/8ohm power delivery, achieved via the company's long-running Autoformer design with its 8ohm, 4ohm and 2ohm output connections. This claims to ensure partnering loudspeakers always receive a consistently high power output regardless of load impedance. And remember, this amplifier is solid-state through-and-through, rather than one of the transformer-coupled tube amplifiers for which the American marque is arguably better known.
Underneath the fascia's large backlit power meters – which accurately show output into 8ohm – the MA9500 sports a discrete, eight-band tone control that allows for manual adjustment of ±12dB in 2dB increments. This is an uncommon feature, and one that might make purists shudder, but the ability to make subtle, closely targeted tonal adjustments should not be discounted. Plus this equaliser is equipped with a 'tone defeat' if you want to bypass the lot.
Feeling Blue
Look at the MA9500 for just a few seconds and you'll immediately know it comes from McIntosh, with its black front panel peppered with the brand's signature green and blue illumination. You'll either love it… or not. The backlit control legends set behind its Perspex fascia are a nice touch, while the central fluorescent blue alphanumeric display, below the row of chrome-trimmed tone controls, adds to the retro-cool aesthetic.
Personally, I warmed to the MA9500's macho styling and found it a quality product to use, right down to McIntosh's exceptionally robust 'SolidCinch' binding posts. The burning question, however, is how does this blue behemoth sound..?

Lean Machine
I mentioned at the top of this review that paying top dollar must surely reward you with a commensurate performance. The MA9500 does precisely this, having a crisp, cleanly-etched sound and seemingly effortless reserves of power, although tonally this modern transistorised amp is a long way from the famous McIntosh 'valve sound' of yesteryear. It's spry and lean, lacking much romantic bloom, and doesn't attempt to embellish the natural tone of the instruments and performers on its stage. It's not prosaically matter-of-fact, but there is a hint of 'there it is, like it or loathe it' about its presentation in the round.