McIntosh MA252 Integrated Amplifier Page 2
This isn't the end of the matter though, appealing as this alone might sound, because the amp's real standout quality is a natural rhythmic ease that feels so right. It's hard to describe in words – you end up resorting to clichés like 'liquidity' or 'fluidity' – but suffice to say that the music just lilts along before your very ears, in a satisfyingly lifelike way. Last, but not least, is the very believable midband performance, that not only manages the trick of being smooth yet detailed but is three-dimensional too.

For many, the most important gauge of a serious hi-fi amplifier is its ability to string musical bars and phrases together in a believable way, while faithfully tracking the subtle dynamic inflections of the recording. In this respect the MA252 is hugely successful – Steely Dan's 'Home At Last' [from Aja; MCA Records VDP-27] showed this hybrid integrated to be a most organic and authentic-sounding performer.
Although it's not a brilliant recording by modern standards, being released in 1977, the beautiful playing of Messrs Fagen, Becker and their backing band was readily apparent when heard through the MA252. The superbly syncopated arrangement snapped and shuffled along, the contemplative and rather lonely mood of the song captured perfectly.
Bass played an important part here, being surprisingly supple and taut. If there was a niggle it was that a little more grunt down below wouldn't have gone amiss, but the low-end was well integrated with the rest of the frequency range and at no point did it start and stop after the fact.
The Big Reveal
The overall result was a sound that seemed effortless and all-of-a-piece, while being articulate and expressive too. Some amplifiers achieve the latter by being tonally forward and/or sharply etched, yet the MA252 managed to sound both smooth and sassy at the same time.
The MA252's midband is especially revealing of timbre and timing, and its beautifully intricate portrayal of Fagen's plaintive vocals underlined this. Things didn't change when I presented the MA252 with a more modern and denser slice of techno. The sensual strains of Sueno Latino's 'Sueno Latino' [From BCM's Ambient House; BCM Records 504220] showed how this amplifier can scythe through the mix without sounding in the least bit forensic or analytical. Again, this isn't a great recording, yet the MA252 threw the multi-layered sound into sharp relief.
This track also offered the opportunity to test – subjectively at least – the MA252's heft. Impressions were of a powerful amp, yet this remained true only up to a point. With the amp set up in a large room and hooked up to tricky-to-drive speakers there was a sense of it running out of puff sooner perhaps than some similarly-rated 100-watters might have done.
'Is There Anybody Out There', [Parlophone CDR 6303] from British house duo Bassheads drove this point home. The track is a stomping piece of '90s techno, and while the four-on-the-floor rhythm snaked its infectious way across the room it was again apparent that the MA252 is not an infinite oasis of power. True, nothing particularly untoward happens when you ramp the volume right up, but it's just that this little amplifier begins to sound like it's working hard for a living, with a slight diminution of dynamics and loosening of the bass.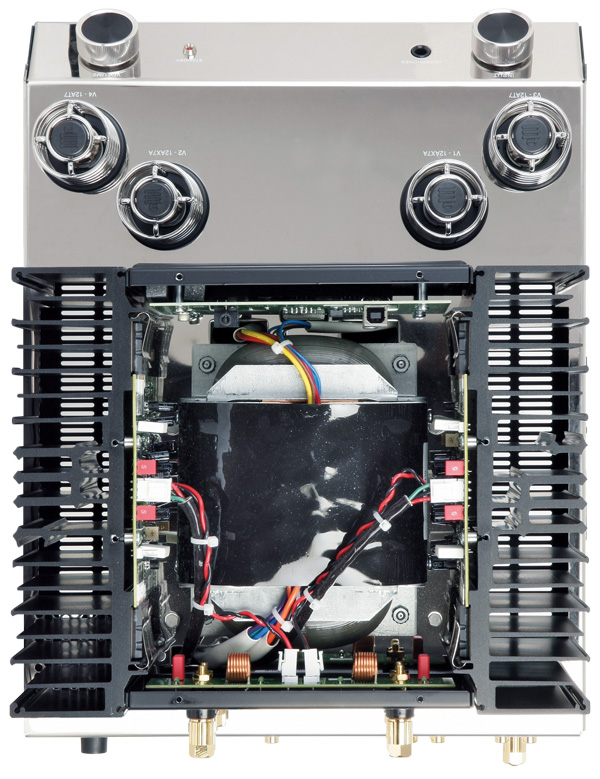 Walk Right In
Nevertheless, at neighbour-friendly volume levels the MA252 has bags of charm. Listening to it can feel like peering into a shop window full of delights, and its soundstaging ability plays a key part here. So while it's not the ultimate I've heard in terms of throwing images far out left or right, it offers impressive depth. It delivered The Rolling Stones' 'Beast Of Burden' [Rewind; Rolling Stones Records 32DP 614] in a wonderfully engrossing way for example, bristling with grace, space and pace.
This is an amp that places elements of a mix accurately, letting you 'walk around' them inside the recording. The result is an immersive sound, one that makes anything you play seem all the more realistic.
Hi-Fi News Verdict
McIntosh's new MA252 hybrid has character aplenty and bags of charm too. Stylistically it's an odd combination of the old and new, but sonically it hits the spot bang on. Its tonal warmth is pleasant to live with, yet the real attraction is its liquid midband allied to fine detail and space. More than a marriage of convenience, this compact integrated shows that tubes and transistors can live very happily ever after.