Magico A1 Loudspeaker Page 2
Frankly, you know the moment you walk into a room where the Magico A1s are playing that these little boxes are something special. Not in-your-face special but offering such an easy-going, open and relaxed sound, infused with details large and small, that you are immediately put in the mood for a long and immersive listen.
In this instance, the A1s were aided and abetted by the pair of Constellation Inspiration Monos still in residence – the high value point of the Constellation family [HFN Oct '19]. At audio shows around the world, including our own Hi-Fi Show Live at Ascot, there's a good reason for Magico loudspeakers typically being accompanied by a Constellation amp. They are one of high-end audio's symbiotic pairings.
Men In Tights
That's not to say the A1s are amplifier-fussy, beyond their limited sensitivity, because they are not. Team them up with any solid amp – I had models from Simaudio (p42), Audio Analogue and Audio Research to hand – and they sing just as sweetly, all the while telling you much about the colour and dynamic potential of the system as a whole.
As a rule, the A1s will vividly open up the music at hand, including what are ostensibly tough, dense mixes like Mike Oldfield's 'Taurus II' [from the deluxe edition of Five Miles Out, Universal Music/Mercury]. The sound of the Uilleann pipes and Maggie Reilly's atmospheric vocals almost always sound stunning on a half-decent system but, as Oldfield spasms between splices of jazz-rock, fusion and ye olde Robin Hood music through this side-long saga, there are sequences of Fairlight-processed strings and keyboards that can sound crushed, thickening and coarsening the clarity of the multi-tracked mix.
Here, however, the A1's cut through what might have descended into murk to expose a level of detail, of structured edginess and complexity that typically escapes many larger but no less costly loudspeakers. For once I could listen through all 25 minutes and relish the transitions between the acoustic and the synthesised, between the elegant simplicity of a solo bell and the dynamically-challenged Vocoder.
In Good Voice
Also like all good pint-sized boxes, the A1 is a supreme vocal performer, though not, in this case, because the midband is emphasised while bass and treble are in recession. While the A1 might not quite manage the 'in-your-head' acoustic trick of the aforementioned Avantgarde horns with demo quality vocals – Richard Burton's preface to Jeff Wayne's War Of The Worlds [Columbia, DPCD 96000; DSD64] or 'Hey Laura' by Gregory Porter [Liquid Spirit, Deluxe Edition; Blue Note 374173-4] spring to mind – its seamless, all-of-a-piece integration will undoubtedly serve more listeners in more varied listening spaces.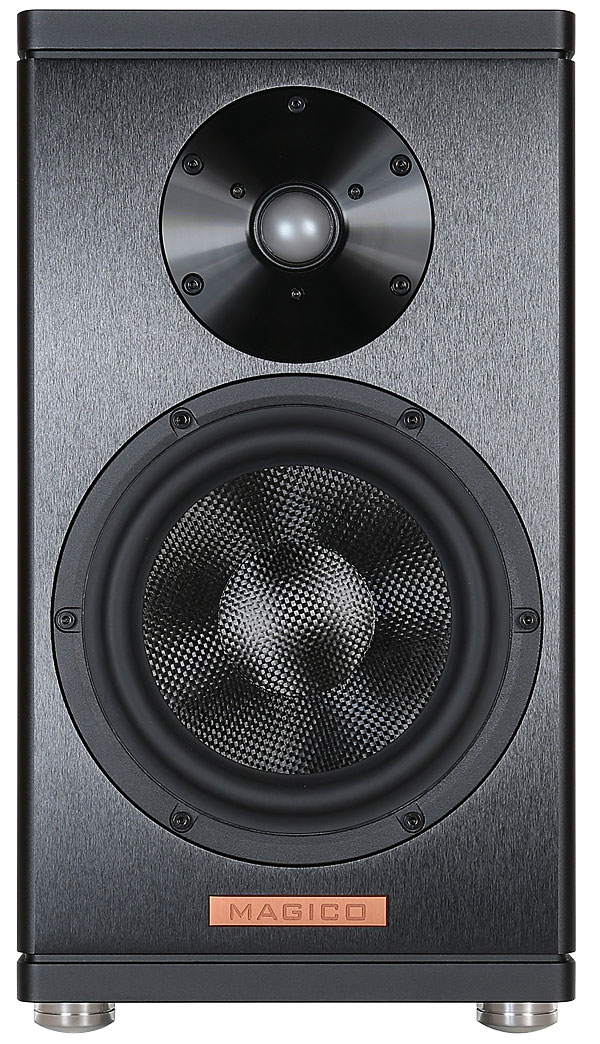 But how do the A1s fare with demanding dynamics and bass that goes way down deep? The short answer 'in their stride...'. By way of illustration I cued up the 'volle dynamik' 2009 remix of Yello's 'Oh Yeah' [The Race; Mercury Records] and was positively startled by the attack of the synthesised percussion as it rattled right through Dieter Mieir's deep and rumbling vocals (another Fairlight effect, if memory serves).
Once again, all the elements of the set were in balance, the bass delivered with slick attack and no artifical bloom or boom. Indeed, its bass just descends very smoothly and quietly exits – so you are barely aware of the missing octave nor, in the modestly-sized rooms likely to play host to the A1s, will you miss it.
Neither, I might add, will you likely want for level because, insensitive though they are, the A1s soak up power and push out those SPLs as if the drivers were possessed. So if you are short on space but deep of pocket, the Magico A1s are Hobson's choice. Simple as that.
Hi-Fi News Verdict
For the A1 Magico has leveraged its years of engineering know-how, made sensible concessions to the bill of materials, and condensed the lot into a remarkably solid little speaker. Its design allows for great flexibility in placement, in-room, on-table or classic 'bookshelf' locations. And its sound is so smoothly extended and integrated that many an intermediate-sized floorstander will be put out to pasture.