Line Magnetic LM-34IA Integrated Amplifier Page 2
For auditioning, I initially wired the LM-34IA up to my regular PMC Twenty5.24 speakers [
HFN
May '17] and fed it with a Naim CD5XS CD player and Flatcap XS PSU.

Hollywood High
In this system the amplifier revealed a few pleasing tricks up its sleeve, including that delicious upper midband and treble insight that EL34s often do so well. This is my power tube of choice and the LM-34IA reminded me instantly why I'm a fan. Vocals of all types were reproduced beautifully and had an accomplished sense of clarity and space around them. I found myself purring with delight at Lyn Stanley's performance on 'Bye Bye Blackbird' from her recent Live At Studio A set [AT Music ATM3109], at times feeling as if had been transported to the heart of Hollywood and was in Capitol's Recording Studio A with her.

Equally, while the LM-34IA's top end proved creamily smooth it was still usefully detailed. Its overall balance certainly tended towards a slight softness in my set-up, but fine detail was still rendered intact. For example, softly tapped or brushed cymbals were well reproduced and had a lifelike nature to them.
So far, so good, yet further listening revealed the LM-34IA was rather over-blowing the midrange, so tracks more complex than acoustic 'audiophile' numbers could sound a tad strident. Similarly, while cymbals typically remained clear, they were often positioned a long way back in the soundstage. But I was arguably more disappointed by the LM-34IA's bass which, while hooked up to my PMC Twenty5.24 loudspeakers, could sound bloated with heavy mixes.
The solo upright bass on the Lyn Stanley track certainly had fine depth and there was no shortage of detail to the upper notes. But the further down the scale Chuck Berghofer went on his bass, the more the notes blurred. With more complex material, the amplifier grew unhappier still. The track 'Magic' from Kylie Minogue's new Disco set on CD [BMG 538633982] blundered along in a cheery enough manner, but lacked cohesion overall. Given how the amp's response will vary between speakers, a change was ordered.
First up was the Duevel Bella Luna Diamante, still resident in my listening room, yet this design was an equally unhappy bedfellow. Consequently I decided to connect the LM-34IA up to an old favourite in the form of Usher's S-520. Asked to drive a pair of small and simple two-ways the LM-34IA finally found its stride and started to come together.
Playing Big
The upright bass on the Lyn Stanley track now sounded more consistent across its frequency range, even if there was a tendency towards 'fruitiness' at the very low end. But this actually worked well with the diminutive Usher standmounts, endowing them with a good sense of weight. Equally, Kylie regained her crown as the 'Princess Of Pop', bounding along with enthusiasm.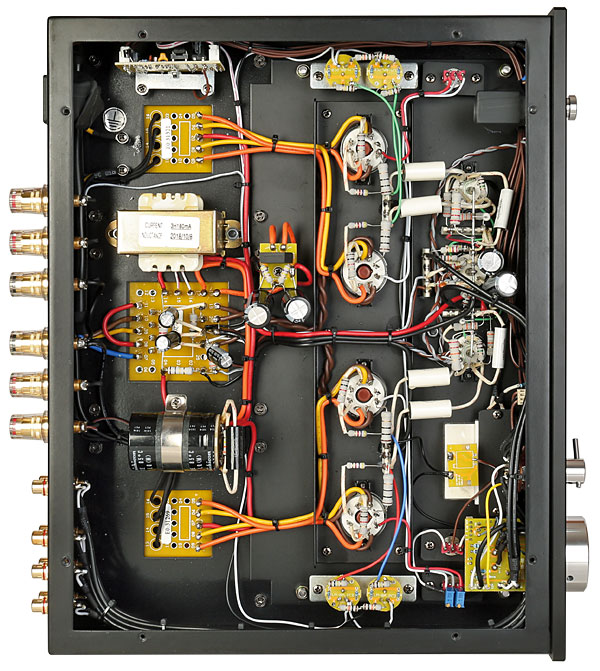 Still, more complex material is not really the LM-34IA's forte. With tracks comprising multiple layers of instruments, the LM-34IA could struggle on occasions to keep all the aspects clear. In the process, it would slightly lose sight of the overall musical message, subtle percussion effects wandering off into the background at times to become a little lost. However, with this in mind, it was not difficult to pick the right material to suit the LM-34IA's comfort zone, and here it performed admirably.
If the amp has a core strength, then this lies in the magnificent sense of space and image depth it can deliver. Even when playing source material where complex interplays or layers were less certain, the soundstage never shrank or began to collapse. I cannot recall the last time I heard the Usher S-520 loudspeakers sound so 'big'.
Ultimately, it was with simple, well-recorded acoustic material that the LM-34IA rewarded most handsomely. The emotion in Cara Dillon's voice on 'There Were Roses' from her Sweet Liberty CD [Rough Trade RTRADE CD123] was enough to bring a lump to the throat, while the accompanying piano sounded just as a piano should.
This is not an easy instrument to get right, and I've heard many a more expensive amp make a poorer fist of it. The LM-34IA showed another of its core strengths here, revealing the colour and 'soul' of solo instruments with real passion.
Hi-Fi News Verdict
Provided you are content to tweak output stage bias manually and have loudspeakers that are a sympathetic match, the Line Magnetic LM-34IA has a lot to recommend it. It's well made and showcases the strengths of EL34 output valves well. Rock fans might want to look elsewhere, but this amplifier can conjure up a wonderful sense of scale and atmosphere that suits jazz and simpler classical music to a tee.