Lindemann Musicbook Source & Power 1000 Network DAC/Pre and Power Amp Page 2
Kicking off with the system through its own DAC and network input via my Western Digital NAS, this combination rewarded with a commendably open and even sound. There's no sense of a shouty, chromium-plated upper midband or treble, nor does the bass boom and wallow. Instead, everything is kept in proportion and communicated without drawing attention to any particular instrument or performer, unless called for by the recording itself, of course.
Feed it some classic rock such as Dire Straits' 'Lady Writer' [Communique; Vertigo 800 052-2x] and you're fully aware that this is quite a dry-sounding late '70s rock production, with just a touch of softness and warmth around the edges. The system is transparent enough to tell you this without adding its own sonic pawprint to the music, allowing you to hear into the mix with ease, and follow the strands you so wish – or simply sit back and enjoy the overall effect.
Complete Control
Warp ahead a decade or so, and Guns N' Roses' 'Paradise' [Appetite For Destruction; Geffen Records GED 24148] sounds punchier, brighter and more sassy with a big sheen to hi-hat cymbal work and more impact to the drums – thanks to its very deliberate production and mastering. Here we're seeing Lindemann's Musicbook combo just telling it like it is.
The next key facet of its reproduction is its confident stereo imaging. This seems to spring from the sheer 'grip' of that 1000 power amp. It never feels short of breath, always seems to have control of what it and the loudspeakers are doing, and works to bring a general sense of precision to the system as a whole. It doesn't have a big, loose and fluffy sort of character; instead there's a lot of detail and insight to enjoy.
Together, this makes for a wide yet controlled soundstage, so cue up Crosby, Stills and Nash's 'Wooden Ships' [from their eponymous album; Atlantic 19117-2] and the first lead vocal pushes out far right, with the second lead far left. Meanwhile, the lead guitar is precisely located centre-right, with the rhythm guitar far left, and so on. The result is an expansive stereo mix that's far grander in scale than you might expect from simply looking at such 'compact' components! Perhaps there are more purposeful full-sized separates that will deliver an even bigger and deeper soundstage still, but no-one could never accuse this system of sounding flat.
Steady Hand
There's a tidiness to the sound too, that translates into a crisp, steady handling of rhythms. For example, the Crosby, Stills and Nash track was lovely to listen to, even if there was not quite the louche, relaxed gait that I've heard with bigger but arguably slightly more coloured-sounding systems. With this in mind, some might think it just a touch too controlled and ordered for more rousing programme material, but ultimately it comes down to taste.
For my part, when I fed the system some electronica in the shape of Thomas Dolby's 'One Of Our Submarines' [Golden Age Of Wireless; EMI 2679 152], I was genuinely impressed by how engaging its handling of the PPG Wave-powered bass groove was. The snare drum sounds were tight and well damped, and the song thumped along in a pleasingly purposeful way.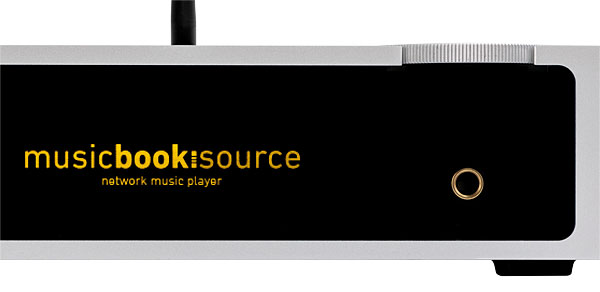 For most of my listening, I maintained the Musicbook Source in its PCM mode, because when the DSD option was selected the sound softened and seemed to step back from fine detail and dynamics. I've experienced this before when comparing these two formats, but the Musicbook Source did deliver a slightly more closed-in feel via DSD than I'm used to, even bearing in mind this is an LPCM-to-DSD conversion.
I should mention the Musicbook's analogue inputs which sounded subtly more opaque and less defined than the network input, just as their handling of dynamics was not quite as dramatic. The Thomas Dolby track carried the snare drum hits without quite the same drama, and his voice appeared just a touch less expressive than I'd enjoyed via the wired network input. And it's the latter, of course, that remains the Musicbook's raison d'être and in which capacity this little Lindemann combo never disappointed, regardless of the music played.
Hi-Fi News Verdict
The Lindemann Musicbook Source/Power 1000 combination is a highly impressive package – with plenty of power, very pleasing sound, undeniable versatility and excellent build and finish. Its few small niggles don't detract from the fact that this is one of the finest small 'style systems' around. It's well worth investigating if you're specifically looking for something that makes sweet music in a small space.