Kiseki Blue N.S. cartridge Page 2
Recommended loading is 400ohm, so I set my EAT E-Glo all-valve phono stage by ear and found 300ohm to be just right. The rest of the system consisted of an SME 30/2 with SME V arm, Audio Research REF 6 preamplifier [
HFN
May '16], and REF75SE power amp, Wilson Audio Yvettes [
HFN
Feb '17], and wiring from Crystal and Transparent.

Where's The Party?
Unfortunately for me, the day before the Kiseki arrived, I had returned the Bel Canto e.One phono stage, which would have been a natural for it given the price, but at least I had yet to return the test LPs to their respective library slots. It was straight in with the bombastic rock 'n' roll of Sam The Sham & The Pharaohs' mono 45s (2LP) collection, The MGM Singles [Sundazed LP5339].
While I readily admit that moving-coils are purchased by many for their lushness, refinement and overall comportment and display of politesse, it doesn't hurt to shock a system every once in a while. (Try Motörhead through Quad ESL 57s or Dylan's first acoustic LP through Yamaha NS1000s and you'll see what I mean.) When asked to play 50-year-old mono recordings destined for AM radio, the Kiseki Blue N.S. turned them into something altogether more palatable to the fussy ears of an audiophile.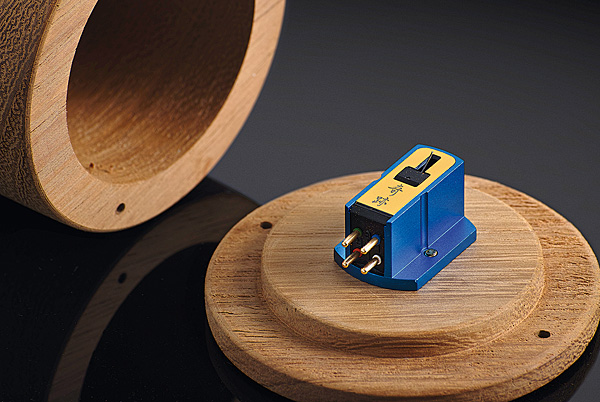 As deliberately raucous as is the band's biggest hit, 'Woolly Bully', the new Blue imposed on it a reduction in aggression. That, you might feel, defeats the object of a song conceived to fuel beer-soaked party-goers, but beer-soaked party-goers tend not to be the people I'd trust around a £1600 MC. Instead, I revert back to my usual stance of believing that music can be enjoyed out of context, although I would worry about anyone who listens to hip-hop, rave, grime, and suchlike for pleasure, away from a club or street-fight.
Feel The Width
Via the Blue N.S. the bellowing of the saxes enjoyed better portrayal than some might argue they deserve, but that would be snobbery: in an ideal world, a system should treat Marilyn Manson with the same equanimity as Yehudi Menuhin. Where the new Blue actually played into Sam The Sham's hands was down below, for the bass was rich, powerful and just right for encouraging foot-stomping. This replaced the upper frequency brashness, designed to make it leap out of a cheap radio, with a hint of mass and depth, such as would defy a 2in full-range speaker in a pocket tranny.
Where the Blue N.S. shines is in the warm-and-cuddly midband. The blatantly nasal vocal delivery retained its wonderfully sleazy quality, especially with the now-questionable 'Li'l Red Riding Hood', which joins 'Aqualung', 'Good Morning, Little Schoolgirl' and 'Sweet Little 16' as post-#MeToo no-nos. That said, this mono recording drips with atmosphere, meant to convey the menace of a walk in the woods, and the Blue N.S., by virtue of is VistaVision sound, even applies a sense of width to a single-channel LP.
While mono may be a self-indulgence on my part, killer stereo recordings are part-and-parcel of assessing all audio equipment, and 1960s stereo demo records are as good as they get. A particular fave, the Living Presence Stereo Sampler [Fontana SFXL52] is culled from the catalogues of Mercury, Philips and Fontana 'Living Presence' recordings, and contains bold, show-stopping tracks by Ray Davies & The Button-Down Brass, The Coffee Set and the Band Of The Scots Guards and others.
OK, so this isn't something you'd turn to for pleasure unless you're one who worships at the altar of Sousa, but it does put a system to the test. Brass is useful for taxing the treble, and – while the N.S. seemed a tad brasher than the N.O.S. – it has just the right amount of forward presentation to excite without jarring. This did not turn the already-vivid sound of the Yvettes into anything worryingly bright, but the N.S. does temper the sort of romance one might anticipate of a moving-coil if weaned on, say, early Ortofon SPUs.
New Old School
Blessedly, the delicious 'sheen' of the LP, which had convinced me last month of the Bel Canto phono stage's prowess, was unaffected, and the glossy, almost comforting caress that LPs of the 1950s and 1960s retain, above most that have followed, reinforced the period feel of the new Blue. I realise that I am coming perilously close to branding this as an exercise in deliberate retro, but I doubt that is so, given Kiseki's wont for declaring it 'new'.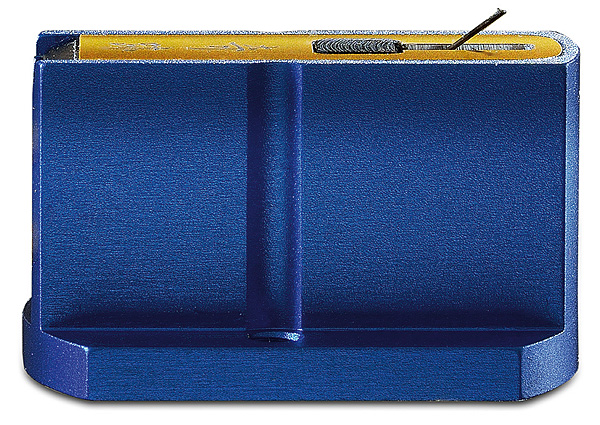 Where the sound is modernised comes from a hint more detail than was often the case for period phono cartridges. The beguiling softness and charm of the MCs of the 1970s and 1980s was not unlike that of valves, especially single-ended triodes and those Sultans of Softness the 300Bs.
Turning to well-recorded vocals, despite what some would describe as questionable practices in studios of the era, I span-up female vocals from Linda Ronstadt and this year's reissue from Mobile Fidelity of Heart Like A Wheel [MFSL 1-472]. In addition to her distinctive delivery are superb examples of A-list studio playing, and the Blue N.S. was adept at handling everything from acoustic guitar to punchy electric bass.
Critically, it conveyed the warmth of her voice, as well as the clarity. So it was somehow appropriate that this 2018 cartridge made its point with the sort of album its granddaddy would have been called upon to reproduce at hi-fi shows. At the risk of appearing indecisive, and not wishing to present a backhanded compliment, this cartridge is, simply 'nice'. And there ain't nuthin' wrong with that.
Hi-Fi News Verdict
Kiseki's Blue N.S., despite alleged 'newness', is – as editor PM says – 'old school'. For plenty of you, that's high praise. Along with Ortofon SPUs, EMTs, Denon 103s and other long-lived yet current MCs, with lush sound and massive soundstages, it's a perfect alternative to seeking out a 30- or 40-year-old MC in mint condition. The N.S. sounds faster than the N.O.S., if slightly less elegant, but at this price? A success.