KEF LSX Active Loudspeaker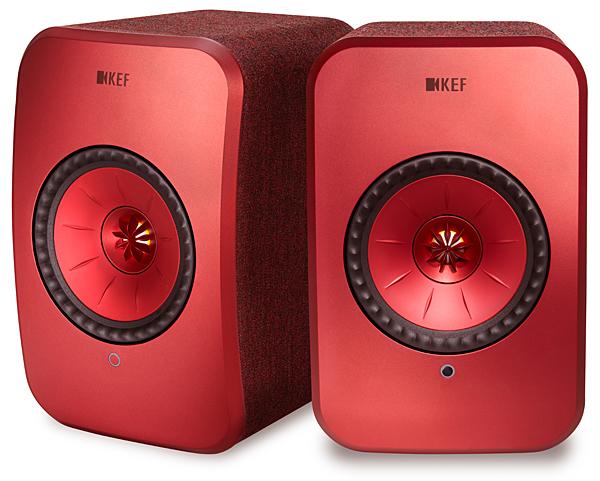 Clearly inspired by its LS50W, KEF's tiny 'wireless' system in a box is a big triumph
There are active speakers and active speakers. Some models claim to be 'active' but are really just powered, with a single amplifier within the speaker cabinet driving the tweeter and mid/bass unit via a conventional passive crossover, sometimes even with a stereo power amp in one speaker driving both it and a slave partner.
True active speakers have their crossovers upstream of the amplification, with separate amp channels dedicated to each drive unit, and only carrying the frequency range appropriate to that driver. Then there are what one might consider 'hyper-active' speakers, with built-in ADCs and DACs, a range of inputs and even wireless music streaming, whether from a network source or online services, or straight from a phone, tablet or computer using Bluetooth or something similar.
Neat And Complete
And that describes the KEF LSX, available in a range of colours and selling for £999. It's a complete hi-fi system crammed into a pair of extremely compact speakers. But the existence of the LSX should come as no surprise, for it's a development of the EISA Award-winning £1999 LS50 Wireless loudspeaker system [HFN Oct '17], itself based on the LS50 model [HFN Jul '12] launched as part of the company's 50th anniversary celebrations, and still a highly popular choice at around the £800 mark.

All three models have a common look, being based around KEF's 'tweeter within a woofer' Uni-Q drive unit. This concentric driver array was introduced in KEF's C-Series of 1988, after the discovery that high-power neodymium-iron-boron magnets could be made small enough for a viable tweeter inside the 'throat' of a mid/bass unit. The Uni-Q is now just about ubiquitous in the KEF range, from the top-end Reference series right down to the 11.5cm unit found in the company's E301 home cinema satellites.
It's used in full-range form in the LSX speakers we have here, mounted in a contoured baffle designed to ensure that sound is radiated outward, while reducing internal resonances. The Uni-Q concept has always been about delivering a 'point source' of sound, and this – plus the compactness of packaging the driver offers – makes it an ideal choice for a model as small as the LSX. In fact the speakers stand just 24cm tall, with their 15.5cm width and 18cm depth in proportion.
The choice of finishes – black, white, olive green or blue – plus the Kvadrat fabric wrap around the main body of the boxes, also means this is a very domestically acceptable design. The drive unit is anodised to tone or match the enclosure colour: it's silver in the black or white speakers, a light gold in the olive green, and colour-matched to the red and blue versions.
A range of accessories is available too. The slender S1 floor stands are £300 a pair; the £180 B1 wall brackets can be swivelled or angled; and the £135 P1 Desk Pads are perfect for 'desktop audio' applications, giving the speakers a slight upward tilt toward the seated listener. Furthermore, the speakers offer adjustable bass extension, with a three-position setting making it possible to compensate if the rear-ported speakers are used too close to a wall, for example.
Behind that 11.5cm drive unit, with a 19mm tweeter at its centre, is amplification rated at 30W for high frequencies and 70W for the mid/bass, all under the control of KEF's 'Music Integrity Engine' DSP, the latter also offering adjustable equalisation via a KEF app running on Android or iOS tablets and smartphones.
Wired Too
As with the LS50W, the righthand LSX speaker is the master, with all the inputs to its rear and the control systems built-in while the left is the slave, having its own crossover and amplification. The LSX offers the choice of wireless connection between the two speakers, or linking them with an Ethernet-type cable. A 3m connecting cable comes in the box, but it's possible to extend the distance using easily available 'computer cables' should you want to go down the wired route. A mains cable will be needed for each speaker, however.
The speakers also offer both wired and Wi-Fi connection to a home network, through which they can stream music from local storage (for example on a computer running DLNA/UPnP server software or a NAS device) or online services including Spotify Connect and Tidal. Both Bluetooth with aptX and Apple AirPlay 2 are available, and the LSX is also Roon compliant.
Physical audio connections run to optical digital and 3.5mm stereo analogue inputs, while there's also an analogue subwoofer output, should you feel the need for more bass or perhaps want to use the speakers in a larger space.