Icon Audio Stereo 40 MkIV Integrated Amplifier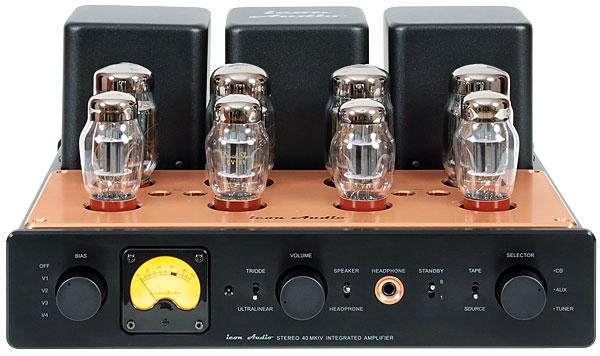 Promising more power, better sound and greater flexibility, will this latest incarnation of a longstanding 'audiophile favourite' tube integrated meet the challenge?
The first Stereo 40 tube integrated amp arrived in the year 2000, and according to Icon Audio's founder and chief designer David Shaw, 'is the heart of what we do'. It's the metaphorical ham sandwich of the valve amplifier world – the staple diet of audiophiles wanting a simple, affordable, user-friendly integrated that offers classic tube sound and some interesting features too. This new £2200 Stereo 40 MkIV sits bang-smack in the middle of the range and, as claimed, is uncommonly versatile.
It is ready to work with a wide range of output valves from EL34s to KT88s, so there's plenty of room for future experimentation. Furthermore, this integrated offers a choice of Triode or Ultralinear output stage configuration. The former gives a claimed 30W and the latter 50W, both best suited to loudspeakers of medium-to-high sensitivity. These numbers are usefully up on its MkIIIm predecessor [HFN Mar '13], which I felt to be a tad underpowered.
Giant Steps
Designer David Shaw is modest about the Stereo 40, calling it 'a mishmash of concepts with several nods to ideas of the giants of the past like GEC, Blumlein, Williams, Philips, etc.' The amplifier isn't fancy, or unnecessarily complex, which makes it great for newcomers to the genre, but has evidently been refined over time. This latest version gets tweaks to its custom-wound tertiary output transformers, with an additional third winding key to the amplifier's compensation (feedback) network.
Designed in the UK, the amplifier is hand-assembled in China with point-to-point wiring and silver PTFE audio cable. A choke-regulated power supply is used, with selected passive components. The new MkIV version also features a redesigned cascode driver circuit utilising four 6SN7 triodes, alongside the same number of KT88 output valves. A motorised volume control is also fitted, working with the supplied remote handset.
As valve amplifiers go, the Stereo 40 MkIV is pretty compact, measuring 390x210x410mm (whd). It weighs a chunky 22kg, making a trip to the osteopath likely if you don't lift it correctly. Much of that weight is down to the PSU and output transformers, but this is an 'old school' amplifier with a thick pressed-steel chassis, and feels commensurately rugged.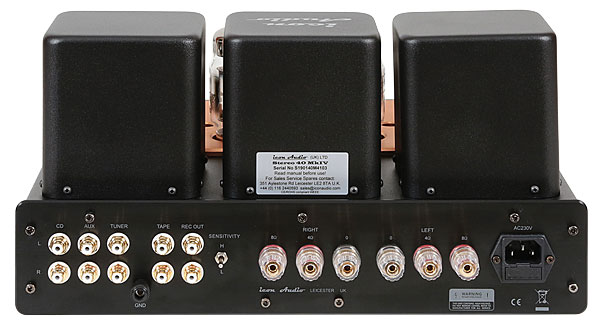 The copper trim plate on the top is an attractive and distinctive styling touch, and the retro front panel bias meter is redolent of something you'd see in Bletchley Park. Round the back can be found gold-plated binding posts with taps for 4 and 8ohm loudspeakers, plus four pairs of unbalanced RCA line inputs, and a tape monitor circuit. There's also a toggle switch for sensitivity, offering a choice of high or low gain. Personally, I would have liked this to have been fitted to the amplifier's front fascia for easier access, considering it's just as useful as the Triode/Ultralinear mode switch.
Getting up and running with this amp is simple enough. However, the first time you use it, it's essential you remember to adjust the valve biasing correctly using the aforementioned meter and set-up knob.

Charm School
In short, this new Stereo 40 MkIV has much of the appeal of a good valve design and relatively few of its flaws. It's a clean, sweet and engaging-sounding amp that develops a pleasingly panoramic soundstage thanks, in part, to its reassuring grip over the loudspeakers at hand. I judge the true mettle of any valve amp by its ability to drive real-world loudspeakers, because poor quality output transformers often saturate, and/or wheeze as they try to wrest control of tough loudspeaker loads. In this respect, the Stereo 40 MkIV sounds surprisingly powerful for its price.
However, my impressions were mildly complicated by the choice of operating modes the amp offers. With both Ultralinear and Triode operation and two sensitivity settings, this integrated is effectively several amplifiers in one. To my ears and in my system, it sounded best in Triode mode with sensitivity set to High. In Ultralinear mode, there was a perceived improvement in power, but the music typically sounded coarser and less composed from bottom to top. For example, playing Steely Dan's 'Aja' [Aja; MCA Records VDP-27] in Ultralinear mode with sensitivity set to High, bass was fuller and more exuberant but had less grip. Also, the midband wasn't quite as organic-sounding while the treble was a little gritty.