Hi-Res Downloads, September 2022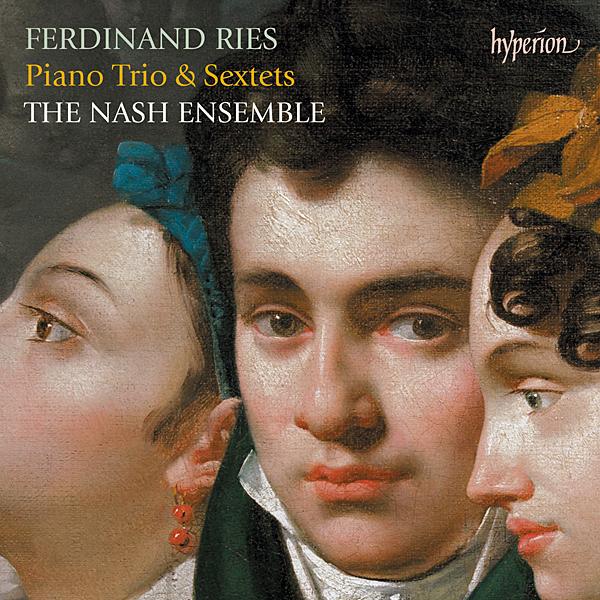 Nash Ensemble
Ferdinand Ries: Piano Trio & Sextets (192kHz/24-bit, FLAC)
www.hyperion-records.co.uk
; Hyperion CDA68380
The 'house band' of London's Wigmore Hall – oh, alright then, its Resident Chamber Ensemble – won the Gramophone Contemporary Music Award 2021 for its recording of John Pickard's The Gardener Of Aleppo (2016) with Martyn Brabbins. Here, however, it turns its focus to music more historical, the form of works by 18th/19th century German musician and composer Ferdinand Ries, who was both a student of Beethoven and the great composer's informal agent – perhaps explaining why the term 'lesser known' more or less defines his work. Although Ries wrote symphonies, operas and much more, this glorious-sounding set concentrates on his music for piano and chamber ensembles, which is hugely appealing on the showing here – not least due to a glowing Hyperion recording of the musical forces, with both excellent dynamics and beautiful detail. AE
Sound Quality: 90%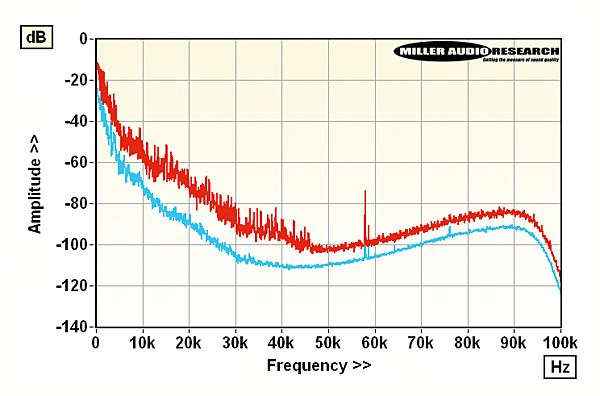 Lab Report
The practical bandwidth of the Steinway is ~14kHz but the accompanying string harmonics take this up to ~40kHz – well within the range of the 192kHz sample rate of this recording. The spuriae at ~58kHz is untidy but inaudible. PM
---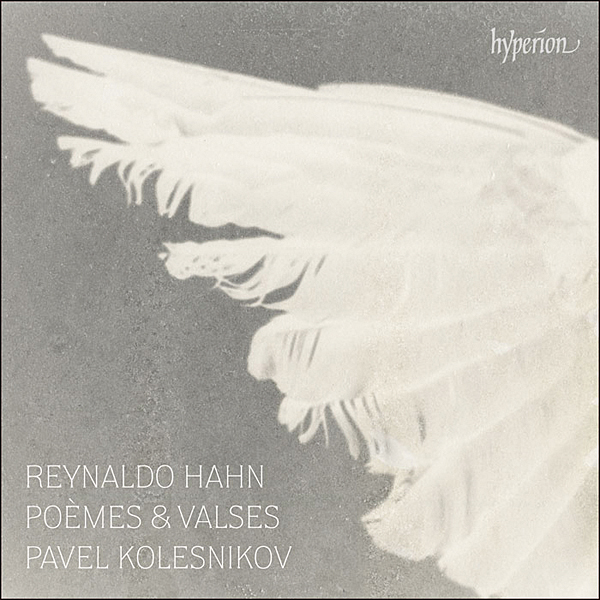 Reynaldo Hahn/Pavel Kolesnikov
Poèmes & Valses (192kHz/24-bit, FLAC)
www.hyperion-records.co.uk; Hyperion CDA68383
Here's a voyage of discovery on two levels: the first is the beautiful writing for piano by Reynaldo Hahn (1874-1947), comprising a huge number of mainly very short pieces. The second is the playing of Siberian-born pianist Kolesnikov, who made his debut not much more than a decade ago, winning prizes and plaudits including the huge Honens International Piano Competition back in 2012, when he was just 23. He studied piano and violin before concentrating on the former, which is a win for the listener as he shows wonderful delicacy of touch with these reflective miniatures. It isn't an album to give your speakers a workout, but as a recital for calm, reflective moments it'll take some beating. However stressed you are, this generous 72 minute set will take away the cares and leave you wonderfully chilled – and a little in awe of the beauty of it all. AE
Sound Quality: 90%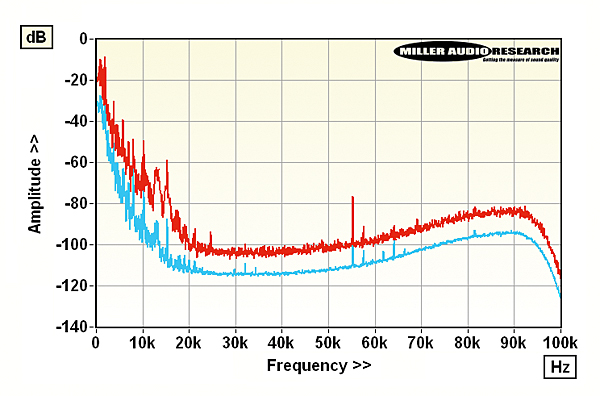 Lab Report
Close-miking means the weight of Yamaha's 9ft CFX concert grand piano rarely makes its presence felt in what is a very quiet recording. Peaks are often just –10dBFs with RMS levels around –30dBFs. Dynamic range is still excellent. PM
---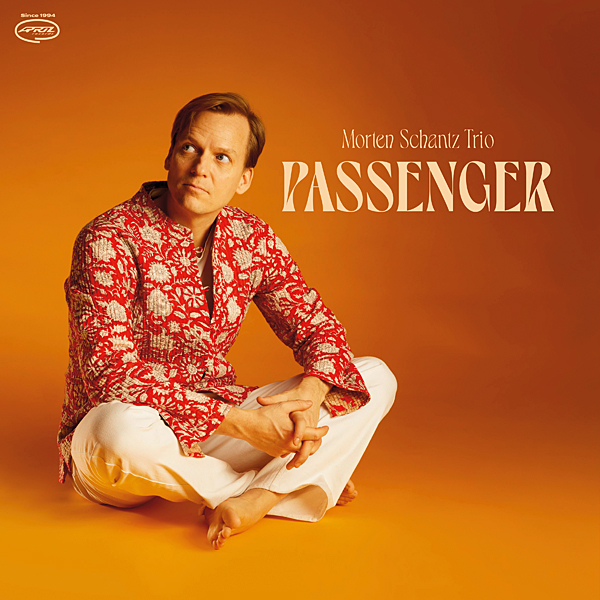 Morten Schantz Trio
Passenger (96kHz/24-bit, WAV)
www.aprilrecords.bandcamp.com; April Records n/a cat. no.
This studio album by Danish pianist Schantz, and Morten Ankarfeldt on bass and Janus Templeton on drums, follows 2014's Unicorn and 2017's Godspeed, and it's no surprise to discover that all three musicians are as awarded as they are acclaimed. In fact, the trio has been touring and recording together for a decade and a half, and it shows in the easy rapport between them, and the near-laser-locked precision with which they can drive a rhythm. Yes, it's a pretty typical piano trio jazz album, with soulful slow numbers like 'Hidden Island', the snappy but all too short 'Dynasty' and the stately closing title track, but there's a fine combination of dynamics and detail in the recording, plus excellent musicianship throughout, from Schantz's light touch on the keys to the way Ankarfeldt and Templeton drive the music along. Ignore the slightly cheesy cover shot, and enjoy. AE
Sound Quality: 85%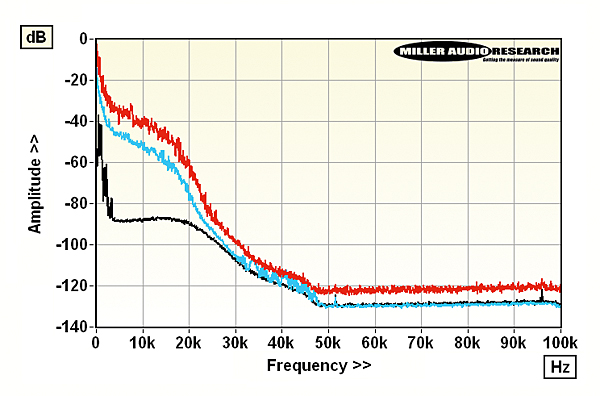 Lab Report
With all tracks normalised to –0.58dB the best is made of this recording's slightly below-average dynamic range – analogue noise is at the ~15-bit level [black trace, Graph]. Otherwise the bandwidth of this 96kHz file beats that of standard CD. PM
---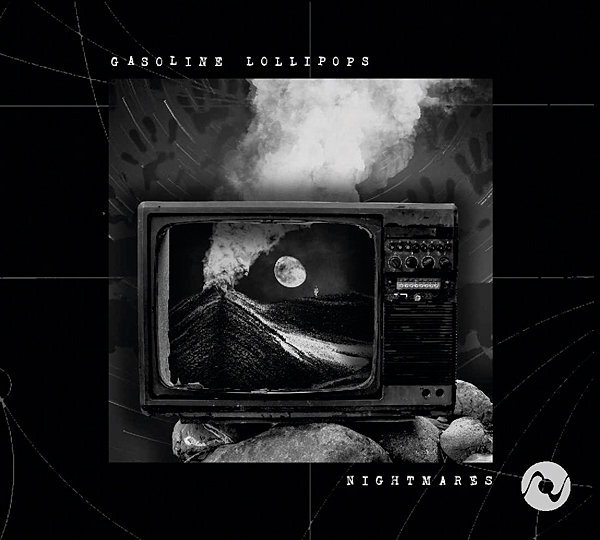 Gasoline Lollipops
Nightmares (DSD64; 44.1-192kHz/24-bit, FLAC)
www.psaudio.com/products; Octave Records 0026
One of the joys of reviewing is discovering unfamiliar bands and releases, and this set from Colorado-based Gasoline Lollipops is definitely a case in point. There's nothing very nightmarish about what we have here, but instead a classic rock/roots album fronted by the remarkable careworn voice of Clay Rose. He's described in his bio as being 'raised between an outlaw, truck-driving father in the mountains of Colorado and a country song-writing mama in the sticks outside of Nashville, Tennessee', and having 'a penchant for open roads and trouble making', which may be a spot of legend-making, but he and his band produce a set with a real sense of the darkness of rural America, full of attention-grabbing, beautifully recorded – yet not over-produced – tracks. Shades of Tom Waits? Perhaps – but this outfit has a compelling sound all its own. AE
Sound Quality: 85%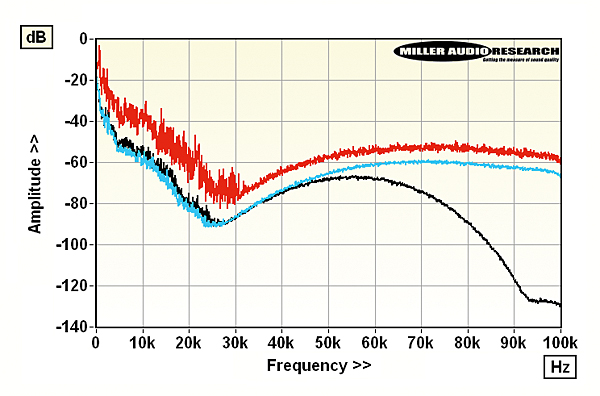 Lab Report
Tracks 3, 4, 6, 8 and 10 hit the 0.0dB endstops in PCM guise [black trace] but are typically 2-4dB lower in the DSD file (except trk 10). As the PCM offering is a conversion of the original DSD64 file, the DSD download will likely win out. PM
---
Kalaha & Hilal Kaya With The Aarhus Jazz Orchestra
Tutku (48kHz/24-bit, WAV)*
www.aprilrecords.bandcamp.com; April Records n/a cat. no.
How does 'an energetic fusion of jazz, Turkish psychedelic rock and '80s' inspired synth-pop' sound to you? If you like the idea, here it is, as Danish world music quartet Kalaha join forces with vocalist Hilal Kaya and the acclaimed Aarhus Jazz Orchestra for a mix of Eastern influences and driving tunes, all backed up with swirling synths and hefty stabs of big-band brass. It's an intriguing and infectious mix, with captivating textures and instrumental timbres, plus a wide, deep soundstage. The follow-up to last year's Mystafa, this album puts Danish/Turkish singer Kaya's vocals front and centre, and swings between small-scale pop to the big, heavy sound of the full ensemble. At times intimate, and then celebratory, it's all decidedly exotic and at the same time huge fun. Well worth a listen – you could just love it! AE
Sound Quality: 80%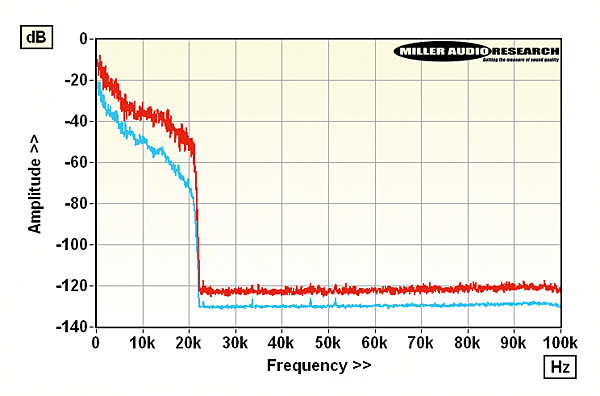 Lab Report
Every entry here is normalised to –1.0dB except for the title track (–2.8dB) while the sharp 22kHz cutoff suggests this is a 48kHz upsample of a 44.1kHz/CD file. Most tracks are pushed hard but the recording is otherwise 'clean'. PM