Hegel Reference H590 amplifier/network DAC Page 2
That's what gives this amplifier not only its remarkable grip and control, but also makes it largely resistant to the vagaries of the speakers with which it's used. If there's a 'drive anything' amp on the market, this is quite possibly it, as PM explains in our
What's In A Watt?
sidebar.
A quick note on using the H590 for network streaming: in common with some similar amps, it's purely a renderer, and needs to be used with a third-party app running on a smartphone or tablet as the control 'link' between a NAS – or the Internet – and the amp. Hegel suggests Linn's Kinsky app, which seems perfectly sensible, and recommends the use of QNAP NAS devices for music storage, which also won't get any argument from me, as I run no fewer than five of them!

Taming The Beast
Whether you use analogue sources, local digital ones or stream over a network, the only way to describe the H590 is mighty impressive – which may be one description or two. If you expect all that power means it handles music with all the finesse of a nuclear-powered icebreaker pounding its way through the floes, you'll be a very long way from the reality. Yes, this amp will drive hard – harder than any of us are really ever likely to need, however large our room or recalcitrant our speakers, in fact – but more to the point is that this 'beast' of an amplifier has a remarkably light and precise touch, albeit allied to devastating dynamic ability when the music requires.

Not so demanding on that dynamic slam is Alison Krauss and Union Station's Live set [Rounder 11661-0515-6; DSD64], where the amp delights with the warmth of the live ambience and the excellent clarity of the harmonies, not to mention Krauss's voice. The acoustic instruments have a fine sense of finger on string, the upright bass is deep and powerful, and the snappy playing of 'Choctaw Hayride' has an inescapable, foot-tapping swing to it.
Keep the Texas vibe going with some vintage ZZ Top, and the H590 does its 'no substitute for cubic inches' thing in swaggering style, shifting gear from plaintive blues to downhome boogie with 'Brown Sugar' on the band's first album [The Complete Studio Albums 1970-1990 boxset, Warner/Rhino; 192kHz/24-bit download]. The guitars are already powering hard on this early style-setting package, and the rhythm section is absolutely unstoppable.
Move on to that glorious break in the middle of 'Cheap Sunglasses' from Degüello, and the drive of the Hegel amplifier makes it clear how much more refined the band's recordings had become within less than a decade, but without losing sight of the soul at the heart of the music. Fast, heavy and yet so detailed, the H590 does this kind of blast to perfection without ever breaking its composure.
Cannon Fire
Warming to the seemingly limitless dynamics of the amp, whether used with my PMC OB1 speakers or the smaller Neat Iota Xplorers [HFN Jul '18], it seemed rude not to play The Who's explosive 'Won't Get Fooled Again' [Who's Next; Polydor UIGY-9596; DSD64 download]. I wasn't disappointed, for the lead guitar and vocals had striking clarity, every note The Ox grumbled out was readily audible and, of course, the drums were like controlled cannon fire – just as it should be.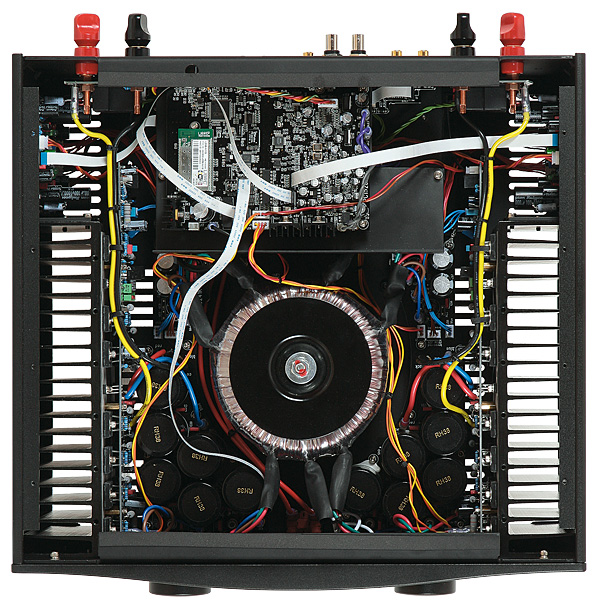 So after playing that three or four times at ever-increasing levels, during which I discovered that the H590 is quite possibly the definitive 'it just goes louder' amplifier, a respite in the form of Reference Recordings' John Williams At The Movies [RR-142; 176.4kHz/24-bit download], and his march from Spielberg's movie 1941. Oh dear, here we go again, as the opening woodwind builds into big bold brass and great crunches of drums, courtesy of the Dallas Winds conducted by Jerry Junkin. And that's before I got to their take on 'The Star Spangled Banner' with the percussion section doing a full-on fireworks display!
Switching between the H590 in streaming mode and fed via both digital and analogue inputs from my Naim NDS/555PR DR network player proved there was really nothing in it beyond a slightly greater sense of restraint and precision from the Norwegian amp's digital section. This was perhaps best in evidence with the delicacy of Xiayin Wang's reading of Rachmaninov's 'Etudes-Tableaux' [from Chandos CHAN 10724; 96kHz/24-bit] where the extra detail in the shaping of each note via the streaming H590 was traded off against a bit more fluidity and flow from the NDS.
That this amplifier does all it does, and can still rival a digital player ticketed at more than its £9000 price, is nothing short of remarkable – but then this is an utterly compelling amplifier.
Hi-Fi News Verdict
Big, powerful and, yes, expensive, the Hegel flagship is anything but brutish, combining the confidence of clout in reserve with a delicacy and refinement you might not expect. It's certainly high-end, but makes no concessions to ease of use or flexibility, not least thanks to its excellent digital platform. In fact, it's one of the most 'complete' integrated amplifiers we have ever tested. Outstanding!