GoldenEar BRX Loudspeaker

Now owned by AudioQuest cable's parent company, GoldenEar has added the compact Bookshelf Reference X to its range – the final design from longstanding CEO Sandy Gross
Looking at the BRX (Bookshelf Reference X) loudspeaker, it's easy to feel slightly unnerved by the amount of, well, 'technology' that's been squeezed into its compact dimensions. But then we should remember it hails from American brand GoldenEar, a company that – under the auspices of founder Sandy Gross – has always seemed to approach loudspeaker (and subwoofer) design a little differently to many rivals.
Gross, who also established Polk in 1972 and Definitive Technology in 1990 before setting up GoldenEar in 2010, has now departed, leaving shortly after its 2020 buyout by The Quest Group, parent company of cable specialist AudioQuest. Yet the development of the BRX, unleashed in the UK thanks to GoldenEar's new distribution, predates Gross's departure, and bears the usual hallmarks.
Plastic Fantastic
Not for GoldenEar a real wood or veneer cabinet in a naturalistic finish, instead this 308x205x311mm (hwd) speaker features a moulded plastic enclosure that's wider at the rear than the front and finished in 'hand-rubbed' piano black lacquer. This makes it lighter than you might expect, and it all looks very swish, although perhaps not entirely in tune with the modern trend for discreet styling. The supplied (metal) grilles, which snap magnetically into place, aren't quite as smart, but they're more likely than fabric designs to keep the BRX's drivers safe. The general build quality of the speaker also appears excellent.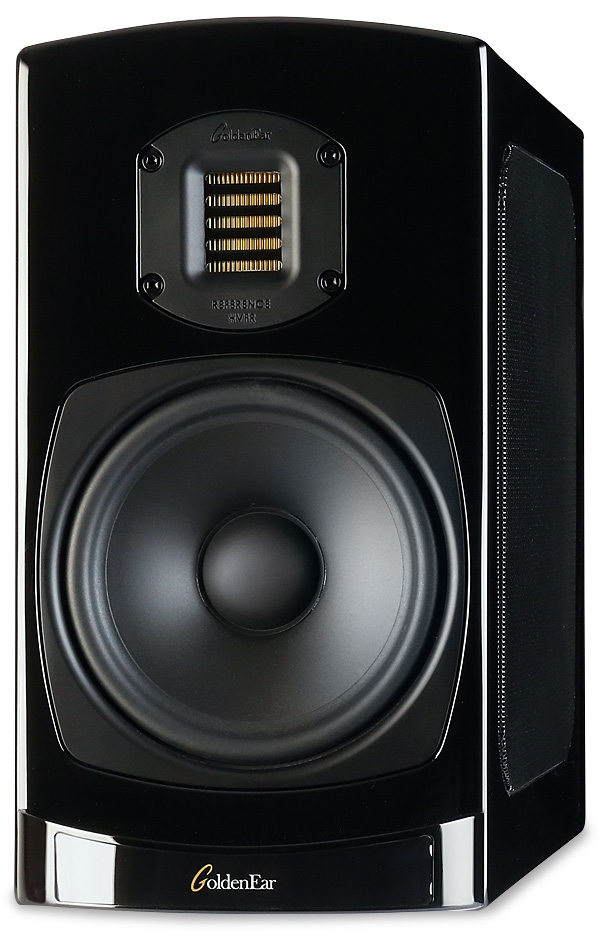 Priced £1499, the BRX tops GoldenEar's Bookshelf Series above the older, trapezoid-shaped Aon 2 (£900) and Aon 3 (£1100) models. Indeed, the speaker clearly enjoys more 'trickledown' from the company's floorstanding Triton Series, which begins with the £1600 Triton 7 and £3995 Triton 2, and extends through a quartet of active/passive hybrids, ending with the £11,000 Triton Reference [HFN Jun '19].
As with most GoldenEar designs, the BRX benefits from the use of Auxiliary Bass Radiators as well as the company's HVFR (High-Velocity Folded Ribbon) tweeter technology. On this model, the drivers are directly borrowed from the Triton range. The distinctive gold-coloured HVFR, which claims a high-frequency reach to 35Hz, is described as being the same as found on the Triton Reference, and below it on the BRX's front face is a 150mm bass/mid driver, also a 'Reference' design, working to a 3.3kHz crossover. This unit is actually smaller than that fitted to the Aon 3, and replaces the earlier driver's 'Multi-Vaned Phase Plug' with a more conventional dustcap. Cone geometry, we're told, has been computer modelled and 'formed with a proprietary curve', while its 'special formulation of polypropylene' improves stiffness and damping.
Big On Bass
On each side of the BRX's cabinet are large grilles that cover the pair of side-facing 165mm ABRs. With these in place to tune the speaker's bass response there's consequently no sign of a reflex port on the BRX's rear – all you'll find is an inset cove housing its single set of binding posts.
The fact this allows a flush-fit cable installation is a minor detail but this also suggests the BRX speakers can be placed near a rear wall if desired, though boundary loading from not just one but three bass units needs to be taken into consideration. GoldenEar's own recommendation for 'balanced bass' and 'optimal midrange clarity' is a minimum 20cm distance from the rear wall, and as much as possible from either side. Toe-in is also recommended, and tweeter positioning to be at ear height – not that GoldenEar sells any specific loudspeaker stands to match.
A catch-all amp power recommendation is 20W-250W, the minimum figure notable for being double that of the Aon 2 and Aon 3 bookshelf speakers, despite all three sharing the same nominal 4ohm impedance and 89/90dB sensitivity ratings. So is this premium compact model a hard 'drive'? PM's Lab Report would suggest so, although I found the speakers well catered for by an Arcam Class G amp and more than adequately handled by a moderately punchy Marantz NR1710 receiver.

A Thrilling Ride
GoldenEar says its ethos is to create 'a voice with as little overt character as possible', which to me sounds like a pledge for neutrality over heightened detail or warm bass. This is an honourable intention but doesn't mean the BRX is without its own sense of character. Listening to this speaker was a thrilling experience, the way it blended deep, expansive bass with an expressive, well-resolved mid and treble being quite remarkable at the price.